Projects
The official start of the WCW Pallas Cat Conservation Project is a fact now, since the contract with Zoo Lyon have been signed, in order for us to concentrate on in-situ and ex-situ conservation, like with all other projects, or to start with be a support on many levels to the wild Pallas cat, with great help from captive ambassadors (of Zoo Lyon) for which we also like to realise much more natural space. Our contactperson for this new project is Berengere Desmet, and it is a great add to the Wild Cats World projects world-wide again!!!!  Soon a special page will be dedicated to this new project and our new "collegue" dedicating herself to this brandnew challenge and project.
Education, Raising awareness….is one of the most essential projects WCW is keeping very busy with, and is very much focused on. Very essential indeed, as while the full focus seems to be on lions, cheetah and cuddlefarms these days, the leopard species is disappearing so fast in lots of areas, being in much more danger than everybody was thinking.
Of course we also keep communicating and collecting stories and data on ground level, like from the farmers in South Africa, the fenced private areas and the hunting farms.
No surprise to confirm ridiculously numbers of predators are killed on a daily basis. Also predators but also prey animals are being captured, and kept in a captive situation for economical reasons.
Every now and then very touching stories are shared with us, like this one of our respected follower Susanne Kruger, who's dad was a farmer in South Africa and lived close to the leopard peacefully. Here's her story, like there could be many more, if people, and esp. farmers and hunters change their attitude and opinion.
"my parents lived on a plot which had 10 cottages and farmers all around in a mountainous area in Lydenburg. Every so often a male leopard traversed the area. My dad had hiked the mountains and then saw this leopard few times and also found its spoor. There were sheep on the plot, chickens and cattle on the farms. Only we knew of the leopard's existence (pronounced as: it didn't prey on farm animals!!!) The day after my dad passed, this leopard sat few meters from the fence, as if to say good-bye, and disappeared into the bush. ♡♡♡♡♡ Leopards don't just attack humans for no reason".
SAVE THE INCREDIBLE LEOPARD
(pictures: Bahati & Bella, daughters of Feline & Felipe, growing up beautifully with their parents, amongst our other dear leopards!)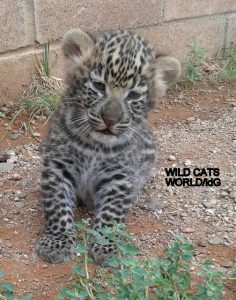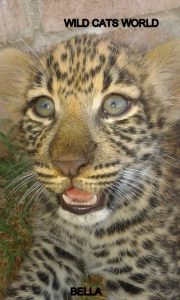 The habitats of big cats are diminishing all over the world
Forcing them to co-exist with humans in urban environments
Meet Lily, the leopard brought to streets of Camden to raise awareness for this issue
Enjoy and share this hilarious awareness video!!!
The focus of our project in South Africa at this moment is our co-operation with three incredible Private Game Reserves (names mentioned at final stage) in the Eastern Cape, to have our leopard youngsters (Solo, Olive and later Bahati & Bella) released. The Reserves are very interested in leopards from our bloodlines and our ultimate mission is to have them released, and live wild and free roaming.
Of course as always the only obstruction, or delay, is by applying for the permits, or better: to have the forest dept. grant the permits.
While the leopards in certain parts of South Africa, like the Free State, are doing well in some National Parks and Private Game Reserves, the leopardpopulation in the Eastern Cape is almost extinct, and now also confirmed that even the Cape Leopard Population near Cederberg/Capetown, is having far more dramatic numbers than first was claimed.
While in the (Eastern) Cape not just the Cape Leopard is roaming freely, of course also the common African Leopard does have a place in this area, like in the whole of Africa, if people let them.
Nature Conservation is reluctant to grant permits for a release of common African Leopards in the Eastern Cape, for some not-valid reason, claiming "just" the Cape Leopard is living in this area of South Africa.
Of course we, and the managment of the Private game Reserves, don't take no for an answer, and are working hard behind the scenes to collect info, to hand in motivation letters along with the application for the permits.
Maybe a good idea for all to read the following article, confirming how dramatically the numbers have declined in the Cape, and that is almost impossible to collect data, and to sight leopards in this area. Like we are saying all the time: leopard conservation, in-situ and ex-situ, is most essential at this moment. So the person basically saying "NO" to a release in the foremost Private Game Reserves in the Eastern Cape, will in fact be responsible to the leopard getting extinct in this area. Do they want to be responsible for this?
http://wildlifeact.com/blog/drakensberg-leopard-survey-preliminary-report/
"…….the complete absence of leopards is concerning. In total the survey effort was 2 334 days – substantially higher than the average survey effort in KZN of 1 692 days*. While this may not have been a sufficient period to obtain enough leopard pictures to generate a population density estimate, we would have expected to obtain some leopard pictures. Camera trap surveys in the mountainous regions of the Western Cape where leopard densities are similarly low (1 leopard per 100km2) have typically recorded at least 1 photo per 100 days of camera trapping.
*This is calculated by multiplying the number of camera trap sites / stations by the number of days spent in the field.
For example, studies in the Cederberg Mountains and Little Karoo both recorded leopards at a rate of approximately 0.012 leopard captures per day (Martins 2010, Mann 2014). A similar capture rate in the Drakensberg would have yielded around 27 leopard captures during this survey. While this is a coarse measure, it does show that leopard capture rates in the Drakensberg are much lower than have been recorded in other, reasonably analogous areas.
While it would be premature to suggest that leopards are absent from the southern Drakensberg, these results confirm a more general trend of extremely low leopard numbers in marginal habitat areas. This is of concern as these areas are generally considered to support extant leopard populations and account for a significant proportion of leopard habitat in South Africa (Swanepoel et al. 2013).
The results of this Drakensberg leopard survey suggest that, while leopards may persist in the Drakensberg, their numbers are possibly too low to constitute a functioning population. While monitoring leopard populations in mountainous areas is difficult and time-consuming, these are important refugia and habitat links in the context of the broader South African leopard population. We recommend further research to establish whether leopards are still extant in the southern Drakensberg, as well as to identify possible management interventions that could allow for population recovery."
On Thursday 16 Feb 2017, a leopard was hit by a car in Bainskloof Pass near Wellington. The animal sustained severe injuries, including a broken back as well as internal trauma, and sadly had to be put down.
The Cape Leopard Trust Boland Project was notified of the incident by partner organisation CapeNature, and a CLT researcher inspected the carcass to take various morphometric measurements and some samples.
The leopard was a beautiful and healthy adult male. He was known to us from camera trap photos as a territorial male in the larger Bainskloof area, and was referred to as BM30 (Boland Male #30). He was quite large for a fynbos leopard, weighing in at 37kg and was estimated to be around 5 years old. Although the loss of such a magnificent animal is extremely unfortunate and certainly undesirable, the local leopard population is healthy. BM30's home range will most likely be taken over by a strong young male who had been waiting for an opportunity to hold a territory.
Leopards being hit and killed by vehicles is fortunately not a regular occurrence in the Western Cape. However we would like to draw attention to the possibility that it can – and does – happen, and every time it does it is an unnecessary loss of life. Almost all incidents happen at night, on mountain passes and roads going through mountainous terrain. Leopards have been hit by vehicles on Piekenierskloof pass south of Citrusdal, Michell's Pass outside Ceres, Bainskloof, the N1 through Du Toitskloof, Franschhoek pass and on the R44 coastal road between Gordons Bay and Rooiels. We would like to extend a call to action to all motorists using these roads to please exercise caution and drive slowly – not only for the sake of leopards, but also their prey and other small carnivores. Countless mammals get run over by cars on the roads leading through and around the mountains every day. Caracal, mongoose, genet, polecat, honey badger, porcupine, rabbit, hare, dassie, etc – all fall victim to reckless driving and speeding on our roads.
We ask that you share this widely and encourage everyone you know to take a moment to consider the wildlife which often has no choice but the use the roads that now traverse their fynbos habitat.
Photo caption:
A camera trap photo of BM30, taken between Eerste and Tweede Tol in Bainskloof.
Insert: a photo taken soon after the accident by a passer-by.
Shareable weblink: http://bit.ly/BM30Bains
Our black-footed cat female Diva once had a litter of three kittens, with on this picture little Boy. Daddy was our late male Blacky. Of course we hope for a repeat now with our new male Spotty.
Having worked with/for the species for years now, we know the many difficulties and the challenges. Despite that, this conservationproject for the smallest catspecies of South Africa, second smallest of the world, is at all time very essential.
The WCW black footed cats are of course officially registered in the South African studbook. In our project we are working with all kinds of organisations sharing info and facts, and giving education on different levels! Releasing is the mission in all our breeding programs but as for the BFC it is most essential first to indeed successfully breed, meaning all kittens grow up raised by their mothers in a healthy way until adulthood, to be self sustaining for many years to come after that, hopefully when time is right back into the wild.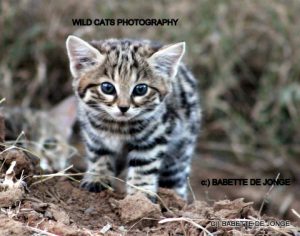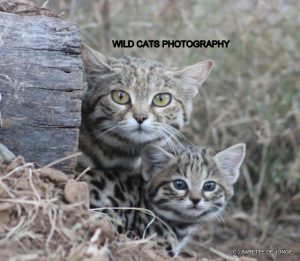 "Best thing to show you my love, was to let you go!!!"
Another (young) victim to the horrible kidney failure. R.i.p. dear daddy Max, we will miss you terribly.
We are grateful what you meant to us and you were an incredible ambassador to your species, leaving a legacy of 2 pretty daughters and 1 handsome son, and your female Louise who will miss you a lot, already is.
Your spirit will always be with us my boy, and with every mouse or rat we feed your family you will be in our thoughts.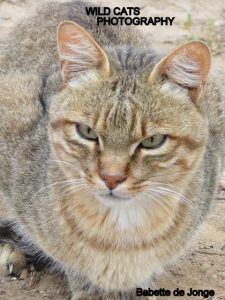 One of our leopardfemales Feline (daddy Felipe) gave birth to two healthy cubs on Tuesday 10th of January 2017. The two girls we have named Bella & Bahati. Our leopardcubs are named after a wild leopardfamily we followed in Kenya for a while. Bella was the grandmother, who had a daughter Olive so that's why Bella and Olive. The youngest daughter of Olive (who sadly passed away after a lion attack) was Bahati.
Feline is a very exceptional mom again, who again allowed CEO/Founder Babette to be at the birth again, and after, just like with her first litter. Unbreakable bond. The cubs are drinking well and growing fast. Behind the scenes we are working on a release in a great Private Game Reserve for our first youngsters Olive & Solo (we had a few requests already, though some have difficulties obtaining the right permits)for them to  live wild as part of the Big Five.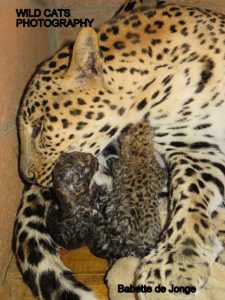 Our black-footed cat ambassadors, females Diva & Lilly and male Spotty, are doing fine. It is great to see them so active and enjoying each other's company. Of course our hope and aim is for our females to be able to raise some successful litters of kittens, but it is up to Spotty to help us with that.
Note: The black-footed cat, also called small-spotted cat (Felis nigripes), is the smallest African cat and endemic to the southwestern arid zone of the southern African subregion. It is listed as Vulnerable on the IUCN Red List since 2002, as the population is suspected to decline due to bushmeat poaching, persecution, traffic accidents and predation by domestic animals.
At Wild Cats World the black-footed cats conservation project is a very essential one. In every possible way we hope and try to contribute to this incredible but sadly very endangered species!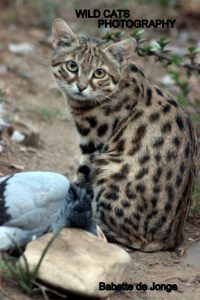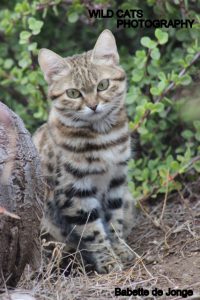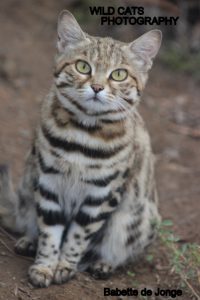 As announced before, in the new issue of the Dutch domestic cats magazine Kattenmanieren, again a fabulous article on WCW and all wild catspecies. In this issue an extra touch of the wild, so also extra pages dedicated to the wild relatives of the domestic cats. Mention of all species, and of course focus on the WCW species African wildcats, Black-footed Cats, Caracals, Cheetahs, Leopards and Servals, with page filling picture of one of the ambassadors of each species. Black-footed cat Diva starring on the cover.
For sale now in the better bookshops in the Benelux, but for who wants to enjoy photography and education by WCW founder/CEO Babette de Jonge, you can order issues by writing to:
Janine Verschure (editor), info@kattenmanieren.nu. After payment for the magazine and postage she will send you the ordered copy.