Projects
EXTRACT FROM THE FOLLOWING THIRD-PARTY SOURCE: News24
Paris – The leopard population in a region of South Africa once thick with the big cats is crashing, and could be wiped out within a few years, scientists warned on Wednesday.
Illegal killing of leopards in the Soutpansberg mountain range has reduced their numbers by two-thirds in the last decade, the researchers reported in the Royal Society Open Science journal.
"If things don't change, we predict leopards will essentially disappear from the area by about 2020," lead author Samual Williams, a conservation biologist at Durham University in England, told AFP.
"This is especially alarming given that, in 2008, this area had one of the highest leopard densities in Africa."
The number of leopards in the wild worldwide is not known, but is diminishing elsewhere as well. The "best estimate" for all of South Africa, said Williams, is about 4 500.
What is certain, however, is that the regions these predators roam has shrunk drastically over the last two centuries.
The historic range of Panthera pardus, which includes more than half-a-dozen sub-species, covered large swathes of Africa and Asia, and extended well into the Arabian Peninsula.
Leopards once roamed the forests of Sri Lanka and Java unchallenged.
Today, they occupy barely a quarter of this territory, with some sub-species teetering on the brink of extinction, trapped in one or two percent of their original habitat.
Leopards were classified last year as "vulnerable" to extinction on the International Union for the Conservation of Nature's Red List of endangered species, which tracks the survival status of animals and plants.
South Africa recently suspended trophy hunting of leopards, though experts agree this is not a major cause of the population decline.
Bleak findings
A 2008 census of leopards in the 6 800km² Soutpansberg found a robust population of nearly 11 adult cats for each 100km².
To find out how the carnivores had fared since then, Williams and his team set up four dozen motion-triggered camera traps across the area, and left them in place from 2012 to 2016.
The cameras captured a total of 65 individual leopards during the four-year period: 16 adult males, 28 adult females and 21 younger cats.
They also fitted eight adults with GPS collars to track their movements – or lack thereof.
Only two of the GPS-tagged leopards survived the monitoring period. Three were done in by snares, one was shot by a local resident whose cattle had been attacked, and two went missing, probably killed since they also disappeared from camera surveillance.
A statistical analysis of the results showed "a 66% decline over a period just over 7.5 years", the study concluded.
Ironically, the bleak findings helped conservationists and local officials raise money to hire a "community engagement officer".
"One of the things he does is help local people adopt non-lethal techniques" to prevent leopards from attacking cattle and other livestock, including the use of guard dogs, Williams added.
But the clash between humans and big carnivores, experts agree, is mostly due to humanity's expanding footprint, especially in Africa, whose population is set to expand by more than a billion before mid-century.
As a result, the habitats of most wild megafauna are diminishing, and getting chopped up into smaller and smaller parcels.
"It is extremely alarming that the trends that we are reporting exemplify trends in large carnivores globally," Williams said.
Studies in Africa of lions, black-backed jackals and bat-eared foxes have showed similar rates of decline.
One of the projects focused on (wild) leopards Wild Cats World is supporting; very essential for the very endangered Javan leopard. A smashing job done on ground level by Wanicare Foundation and Cikananga Widllife Center. We cannot thank them enough for all the work they do for our precious leopards and their endangered population. A project really worth supporting. If anyone considers a donation, please let us know!! Here's the March up-date!
The Javan leopard (Panthera pardus melas) is an endemic species to Java and currently classified as critically endangered species on IUCN Red List, since there are certainly less than 250 mature individuals, possibly even less than 100 left in the wild (Ario et al., 2008). The Javan Leopard is critically endangered as a result of pet trade, poaching, habitat loss and fragmentation but also due to a decline of prey which forces leopards to enter villages to find food. In the last years the number of Javan leopard – human conflicts have significantly increased, and Cikananga Wildlife Center evacuated 9 conflict leopards over last 4 years.
"Here's some news on the leopards. At the end of March we were involved in 3 Javan leopard conflicts!! The first one occured in Gunung Halimun Salak National Park. Here we were called in as a leopard was found stuck in a trap, seriously injured. We went there immediately and luckily the situation was less serious than expected, although it was of course very stressfull and bad for the leoapard. Its paw was firmly stuck but fortunately not very injured. We tranquilized the leopard and released it from the trap that was actually for wild boars (illegal of course!). After consultation with local people and the rangers of the NP we had the leopard released in the same area (only further into the forest). In this area were no leopard and human conflicts, there were never leopards caught in this way and there was still a lot of  prey for the leopards to hunt. The local population even was in favour of the leopards. And since the animal wasn't badly injured, knowing with almost 100% certainty this was his own territory, it was the best option to release straight again. We didn't hear anything after this, so a happy ending for this leopard.
For us, this was also a good learning process and in this way we could also see what's important in the future, things we had not thought of before in our endeavours to rescue the leopards. So this can be included again in the leopard release management plan and document we are working hard on.
On the way back to Cikananga we got a call that a leopard conflict was happening in the area of Cianjur. The police was already involved, and they were trying to capture a leopard. We went there and it turned out to be a young very weakened leopard. The story told by the locals; the leopard walked to this village and did kill life stock has caught and was trying to attack people. Considering the bad state the leopard was in, we have strong doubts about the story as it was told but it's always hard to really know the true story behind a leopard capture or kill. As the leopard was already caught, scrawny, dehydrated and weakened, and as the story about what had happened to and with the leopard was so unclear, we decided to take him to Cikananga. Release him again would be too risky. As she was so very weak it was not possible to use anesthesia in order to do full medical check and tests on diseases. We aren't even sure about the sexe of the leopard but we think it is a female. She is now regaining strength, does eat each day and we gave antibiotics as she smelled like she was suffering from some sort of infection. Further on she got deworming and daily vitamins.  Hopefully she can endure aneasthesia for a quick checkup soon. We think she is approx 1.5-2 years old. The third case was a leopard, trapped not far from Cikapuh who was in a very bad state, very weak. Presumably poisoned.  Not much we could do there and we soon heard she indeed died."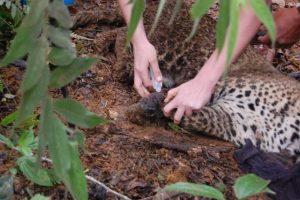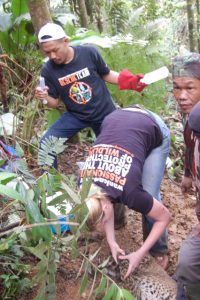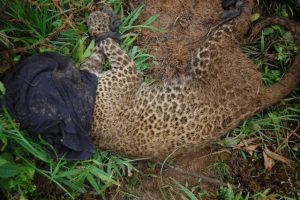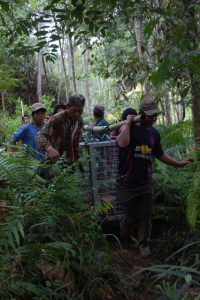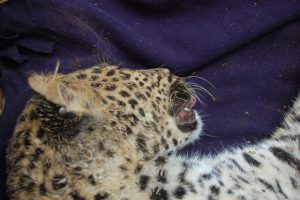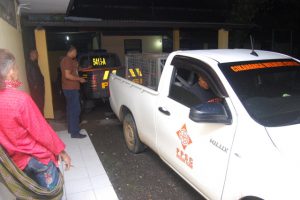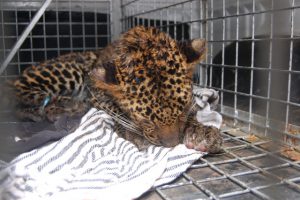 In the night of the 1st/2nd of April 2017 our female serval Joy gave birth to 3 healthy kittens. The trio is drinking well and Joy is an excellent mom, grooming them and being very protective.
Fortunately daddy Norrick is feeling much better again; we are so glad and grateful we managed to pull him through the wars when he was suffering renal failure. We decided not to give up on him and so far, so good.
The little family is together and not long before the kittens will start wandering around, giving the parents a lot of work. The kittens will stay with us for as long as possible. We do have requests
from Private Game Reserves who want to release one or more of our servals. We will first give the family enough time to be together and to teach the kittens all that is essential, after that we
will consider looking into the requests we received, as of course the aim of our project is to support the species in the wild.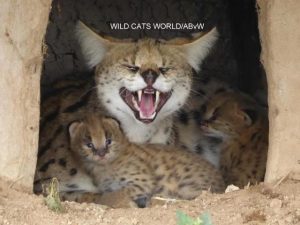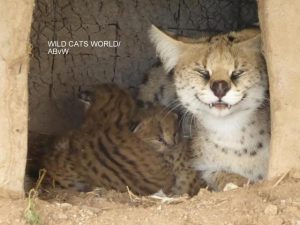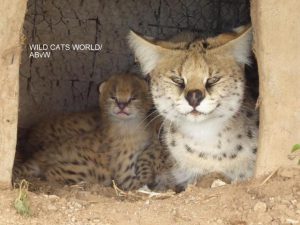 As announced on March 16, 2017 , the WCW Pallas Cat Conservation Project is become a reality since we signed the contract with the Zoo de Lyon.
I hear already people saying, but there are pallas cat at Zoo de Lyon. Wrong, they have 2 pallas cat but not visible from the pubic( infortunately) due to the fact that they are looking for fund to build a brand new enclosure.
The WCW Pallas cat Conservation Project could be split in 2 sub-projects:
Help and support Zoo de Lyon to raise funds for work related to the Pallas cat . Conservation in-situ and ex-situ.
The other one which is the most important one is to raise funds for the PICA project – Pallas's cat International Conservation Alliance.
First of all , we would like to thank Zoo De lyon to enable us to use the picures of their pallas cat as our ambassador for our project.
Let's talk about the PICA Project :
This project was launched in March 2016 by Nordens Ark Zoo, Royal Zoological Society of Scotland, Snow Leopard Triust and Fondation Segré.
Project Aims
Map Pallas cat distribution more accurately using camera trapping technology
Gain a better understanding of the veracity of the "recognised" Pallas's cat sub-species
Aid field researchers in the provision of educational material for local villages / schools within range countries
Enhance the global Pallas cat network
Aid future species assessments through the IUCN/SSC Cat Specialist Group
Highlight the importance and value of collaboration between zoos and field projects
Currently our projects are focusing in Nepal, Kazakhstan, Mongolia and Iran and are not only raising the profile of the species throughout these countries but giving us a clearer picture of the threats toward Pallas cat populations. As an elusive species that is rarely seen by man our researchers are using trail camera technology to shed new light on Pallas cat behaviour and in turn making future conservation efforts more achievable.
To enable this project to work , and due to the fact that Pallas cat is not iconic as other big cats, that we do not have a lot of information and research on him, we will focus to have camera trap in the area where we think there are some and also in captivity. But also which from my point of view to develop with PICA a standardised education materiel, to run awareness campaign for promoting Pallas cat on the web, social media and why not in school
What you can do to help us to achieve all this with PICA?
"Adopt" one of our ambassadors ( pictures and stories will come soon)
Be part of our project
Help us and talk about Pallas cat around you
Bérengère Desmet (France) is in charge of the new Pallas Cat Conservation Project for Wild Cats World.
For more info, you can visit the web site of WCW and Zoo de Lyon and also the Facebook pages.
Zoo de Lyon : http://www.zoo.lyon.fr/zoo
Wild Cats World : http://www.wildcatsworld.org/ 
Zoo de Lyon : https://www.facebook.com/#!/ZOO-DE-LYON-page-officielle-117423834961596/?fref=ts 
Wild Cats World: https://www.facebook.com/#!/Wild-Cats-World-122586544451718/?fref=ts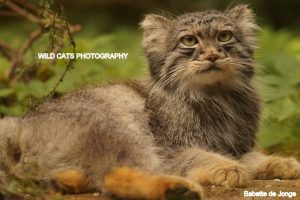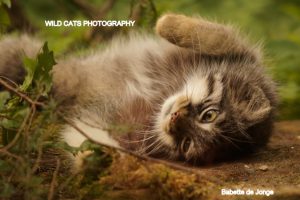 The official start of the WCW Pallas Cat Conservation Project is a fact now, since the contract with Zoo Lyon have been signed, in order for us to concentrate on in-situ and ex-situ conservation, like with all other projects, or to start with be a support on many levels to the wild Pallas cat, with great help from captive ambassadors (of Zoo Lyon) for which we also like to realise much more natural space. Our contactperson for this new project is Berengere Desmet, and it is a great add to the Wild Cats World projects world-wide again!!!!  Soon a special page will be dedicated to this new project and our new "collegue" dedicating herself to this brandnew challenge and project.
Education, Raising awareness….is one of the most essential projects WCW is keeping very busy with, and is very much focused on. Very essential indeed, as while the full focus seems to be on lions, cheetah and cuddlefarms these days, the leopard species is disappearing so fast in lots of areas, being in much more danger than everybody was thinking.
Of course we also keep communicating and collecting stories and data on ground level, like from the farmers in South Africa, the fenced private areas and the hunting farms.
No surprise to confirm ridiculously numbers of predators are killed on a daily basis. Also predators but also prey animals are being captured, and kept in a captive situation for economical reasons.
Every now and then very touching stories are shared with us, like this one of our respected follower Susanne Kruger, who's dad was a farmer in South Africa and lived close to the leopard peacefully. Here's her story, like there could be many more, if people, and esp. farmers and hunters change their attitude and opinion.
"my parents lived on a plot which had 10 cottages and farmers all around in a mountainous area in Lydenburg. Every so often a male leopard traversed the area. My dad had hiked the mountains and then saw this leopard few times and also found its spoor. There were sheep on the plot, chickens and cattle on the farms. Only we knew of the leopard's existence (pronounced as: it didn't prey on farm animals!!!) The day after my dad passed, this leopard sat few meters from the fence, as if to say good-bye, and disappeared into the bush. ♡♡♡♡♡ Leopards don't just attack humans for no reason".
SAVE THE INCREDIBLE LEOPARD
(pictures: Bahati & Bella, daughters of Feline & Felipe, growing up beautifully with their parents, amongst our other dear leopards!)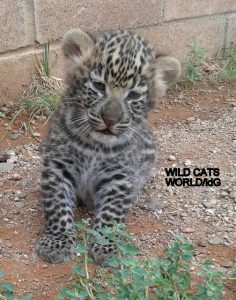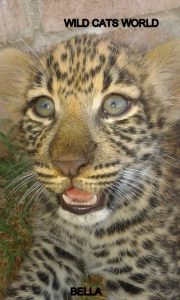 The habitats of big cats are diminishing all over the world
Forcing them to co-exist with humans in urban environments
Meet Lily, the leopard brought to streets of Camden to raise awareness for this issue
Enjoy and share this hilarious awareness video!!!
The focus of our project in South Africa at this moment is our co-operation with three incredible Private Game Reserves (names mentioned at final stage) in the Eastern Cape, to have our leopard youngsters (Solo, Olive and later Bahati & Bella) released. The Reserves are very interested in leopards from our bloodlines and our ultimate mission is to have them released, and live wild and free roaming.
Of course as always the only obstruction, or delay, is by applying for the permits, or better: to have the forest dept. grant the permits.
While the leopards in certain parts of South Africa, like the Free State, are doing well in some National Parks and Private Game Reserves, the leopardpopulation in the Eastern Cape is almost extinct, and now also confirmed that even the Cape Leopard Population near Cederberg/Capetown, is having far more dramatic numbers than first was claimed.
While in the (Eastern) Cape not just the Cape Leopard is roaming freely, of course also the common African Leopard does have a place in this area, like in the whole of Africa, if people let them.
Nature Conservation is reluctant to grant permits for a release of common African Leopards in the Eastern Cape, for some not-valid reason, claiming "just" the Cape Leopard is living in this area of South Africa.
Of course we, and the managment of the Private game Reserves, don't take no for an answer, and are working hard behind the scenes to collect info, to hand in motivation letters along with the application for the permits.
Maybe a good idea for all to read the following article, confirming how dramatically the numbers have declined in the Cape, and that is almost impossible to collect data, and to sight leopards in this area. Like we are saying all the time: leopard conservation, in-situ and ex-situ, is most essential at this moment. So the person basically saying "NO" to a release in the foremost Private Game Reserves in the Eastern Cape, will in fact be responsible to the leopard getting extinct in this area. Do they want to be responsible for this?
http://wildlifeact.com/blog/drakensberg-leopard-survey-preliminary-report/
"…….the complete absence of leopards is concerning. In total the survey effort was 2 334 days – substantially higher than the average survey effort in KZN of 1 692 days*. While this may not have been a sufficient period to obtain enough leopard pictures to generate a population density estimate, we would have expected to obtain some leopard pictures. Camera trap surveys in the mountainous regions of the Western Cape where leopard densities are similarly low (1 leopard per 100km2) have typically recorded at least 1 photo per 100 days of camera trapping.
*This is calculated by multiplying the number of camera trap sites / stations by the number of days spent in the field.
For example, studies in the Cederberg Mountains and Little Karoo both recorded leopards at a rate of approximately 0.012 leopard captures per day (Martins 2010, Mann 2014). A similar capture rate in the Drakensberg would have yielded around 27 leopard captures during this survey. While this is a coarse measure, it does show that leopard capture rates in the Drakensberg are much lower than have been recorded in other, reasonably analogous areas.
While it would be premature to suggest that leopards are absent from the southern Drakensberg, these results confirm a more general trend of extremely low leopard numbers in marginal habitat areas. This is of concern as these areas are generally considered to support extant leopard populations and account for a significant proportion of leopard habitat in South Africa (Swanepoel et al. 2013).
The results of this Drakensberg leopard survey suggest that, while leopards may persist in the Drakensberg, their numbers are possibly too low to constitute a functioning population. While monitoring leopard populations in mountainous areas is difficult and time-consuming, these are important refugia and habitat links in the context of the broader South African leopard population. We recommend further research to establish whether leopards are still extant in the southern Drakensberg, as well as to identify possible management interventions that could allow for population recovery."
On Thursday 16 Feb 2017, a leopard was hit by a car in Bainskloof Pass near Wellington. The animal sustained severe injuries, including a broken back as well as internal trauma, and sadly had to be put down.
The Cape Leopard Trust Boland Project was notified of the incident by partner organisation CapeNature, and a CLT researcher inspected the carcass to take various morphometric measurements and some samples.
The leopard was a beautiful and healthy adult male. He was known to us from camera trap photos as a territorial male in the larger Bainskloof area, and was referred to as BM30 (Boland Male #30). He was quite large for a fynbos leopard, weighing in at 37kg and was estimated to be around 5 years old. Although the loss of such a magnificent animal is extremely unfortunate and certainly undesirable, the local leopard population is healthy. BM30's home range will most likely be taken over by a strong young male who had been waiting for an opportunity to hold a territory.
Leopards being hit and killed by vehicles is fortunately not a regular occurrence in the Western Cape. However we would like to draw attention to the possibility that it can – and does – happen, and every time it does it is an unnecessary loss of life. Almost all incidents happen at night, on mountain passes and roads going through mountainous terrain. Leopards have been hit by vehicles on Piekenierskloof pass south of Citrusdal, Michell's Pass outside Ceres, Bainskloof, the N1 through Du Toitskloof, Franschhoek pass and on the R44 coastal road between Gordons Bay and Rooiels. We would like to extend a call to action to all motorists using these roads to please exercise caution and drive slowly – not only for the sake of leopards, but also their prey and other small carnivores. Countless mammals get run over by cars on the roads leading through and around the mountains every day. Caracal, mongoose, genet, polecat, honey badger, porcupine, rabbit, hare, dassie, etc – all fall victim to reckless driving and speeding on our roads.
We ask that you share this widely and encourage everyone you know to take a moment to consider the wildlife which often has no choice but the use the roads that now traverse their fynbos habitat.
Photo caption:
A camera trap photo of BM30, taken between Eerste and Tweede Tol in Bainskloof.
Insert: a photo taken soon after the accident by a passer-by.
Shareable weblink: http://bit.ly/BM30Bains
Our black-footed cat female Diva once had a litter of three kittens, with on this picture little Boy. Daddy was our late male Blacky. Of course we hope for a repeat now with our new male Spotty.
Having worked with/for the species for years now, we know the many difficulties and the challenges. Despite that, this conservationproject for the smallest catspecies of South Africa, second smallest of the world, is at all time very essential.
The WCW black footed cats are of course officially registered in the South African studbook. In our project we are working with all kinds of organisations sharing info and facts, and giving education on different levels! Releasing is the mission in all our breeding programs but as for the BFC it is most essential first to indeed successfully breed, meaning all kittens grow up raised by their mothers in a healthy way until adulthood, to be self sustaining for many years to come after that, hopefully when time is right back into the wild.