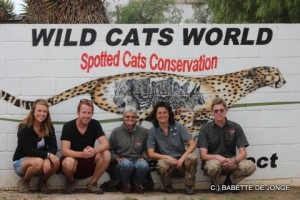 The stories of the Wild Cats World volunteers…
Also see Volunteering at Wild Cats World.
2018: different mission, vision and pursue of (certain) projects of Wild Cats World.
Watch this space and page for more info next year. At this moment lots going on behind the scenes, (difficult) decisions made!!!
No change as for: wanting the best for the (endangered) cat(species) in the wild and in captivity.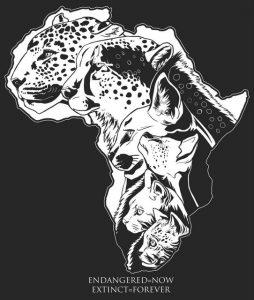 With their immense home ranges, Black-footed Cats spend about 70% of the night hunting. They move between 4.5 and 16 km, averaging 8.5 km per night. These distances represent odometer readings of the tracking vehicle, while 16 km moved by the truck would correspond to more than 30 km moved by the cat zig-zagging between bushes and termite mounds.
https://wildcatconservation.org/black-footed-cat-project/black-footed-hunting-diet/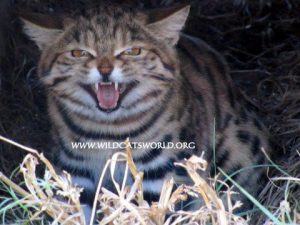 Cub was likely left in the safety of a sugarcane field in Shirur, Pune, when mother was going on hunt, said experts who released it and saw the mother carry it away.
(Mumbai, India – the place where they can live peacefully close to leopards; ed.)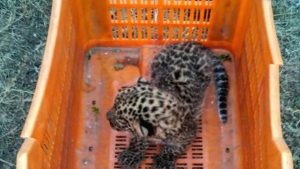 THIS WEEK ONLY! Wild Cats World is thrilled to announce that we've partnered with FLOAT to bring you limited edition "Endangered is Now, Extinct Forever" shirts. Tees available this week only! For every shirt sold FLOAT will donate $8 to Wild cats World to help us Save the Wild Cats around the globe. Head on over to www.float.org and SHOP today – lots of fun colours to choose from!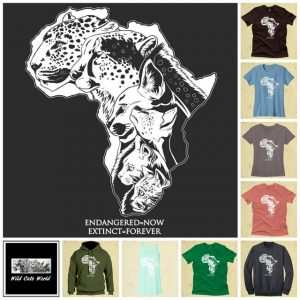 Watch this space – a new "For the Love of all things" Wild Cats World campaign is coming up end of this month, offering shirts with a new exclusive and smashing design for you all to order and wear, to show you care about the good cause of "Wild Cats Conservation" and to support our case, as with more and more programs starting, and us vividly supporting causes that fight for survival in the wild (our main mission nowadays!), we cannot get enough funds in!!!
The new design featuring the species we have in our one captive project, the sanctuary & conservation project in S.A., the leopard, cheetah, caracal, serval, African wildcat and Black-footed cat, though we of course also support the Pallas cat and all other amazing wildcats species around the world, so by buying these great shirts you will also support that!!!
Soon coming up, so don't miss it as it is only for sale for a certain period of time to make it more exclusive!!!!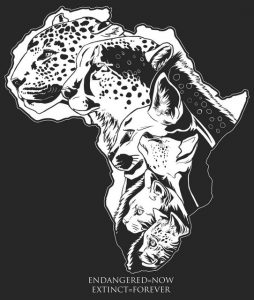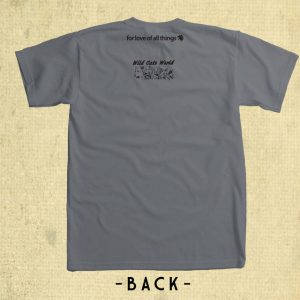 We recently started a new conservation Project for the Pallas Cat (Otocolobus Manul), supporting new partner Lyon Zoo, France. Our project is supporting Lyon Zoo, raising funds for the PICA project and to give the resident male and female in the Zoo a great new home in the hope they are going to breed successfully.  
To help us with this Lyon Zoo gave us permission to find (symbolic) adoption parents for the male or female (or both) in order to get funds in for the essential Pallas Cat Conservation program, supporting the wild species. Look at our special Ambassador-page how to adopt.
Project background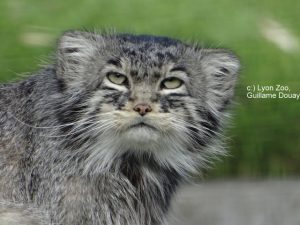 The Pallas's cat (Otocolobus manul) European breeding programme (EEP) and International studbook (ISB) have been held and coordinated by the RZSS, Highland Wildlife Park for several years and although they are only listed as Near Threatened by the IUCN Red List, they are, as a species, declining in numbers and are highly understudied in the field with their presence or absence unknown in keys areas.
As the holder of these programmes it is important that we take a pragmatic approach to species management and do what we can to improve our understanding of this animal, both in captivity and in the field. After communication with the Pallas's cat working group, of which we are a member, and further financial support from several European Pallas's cat collections 4 in-situ field support projects were chosen across the Pallas's cat range. This work will not only increase our un
derstanding of the species globally but it will highlight key areas that will allow for better targeting of conservation efforts in range countries and at the same time aid our efforts with the captive breeding programmes.
Currently our projects are focusing in Nepal, Kazakhstan, Mongolia and Iran and are not only raising the profile of the species throughout these countries but giving us a clearer picture of the threats toward Pallas's cat populations. As an elusive species that is rarely seen by man our researchers are using trail camera technology to shed new light on Pallas's cat behaviour and in turn making future conservation efforts more achievable.
Project Aims
Map Pallas's cat distribution more accurately using camera trapping technology
Gain a better understanding of the veracity of the "recognised" Pallas's cat sub-species
Aid field researchers in the provision of educational material for local villages / schools
 within range countries
Enhance the global Pallas's cat network
Aid future species assessments through the IUCN/SSC Cat Specialist Group
Highlight the importance and value of collaboration between zoos and field projects
Please sign and share this petition!!!
Help us to say YES and state your opinion; please sign and share!!!!
"If things don't change, we predict leopards will essentially disappear from many areas in South Africa by about 2020″. (Samual Williams, a conservation biologist at Durham University). A census was done recently in both the Eastern, Western and Northern parts of South Africa: the Cape Mountains, Drakensberg, Soutpansberg/Limpopo Area all showed a dramatic decrease of numbers. Leopards were classified last year as "vulnerable" to extinction on the International Union for the Conservation of Nature's Red List of endangered species, which tracks the survival status of animals and plants. So signs for the leopard are also far from good!!
https://www.change.org/p/south-african-government-finall-call-for-the-leopard/c/657053626
The start is there of the ultimate book about our Pride – the leap of leopards in our conservation project . Will take some time for it to appear on the bookshelves, but this has to be the document – the final bit of leopard conservation.
Last week there was a meeting in Port Elizabeth of the DEDEAT Officials, deciding about leopard conservation and whether or not granting permits to the amazing Private Game Reserves in the Eastern Cape (Amakhala, Kariega, Samwhari) who all had a interest in releasing leopards…..our leopards. Some officials with no knowledge decided NOT to grant permits. They just grant permits for captive leopards, capturing and relocating wild leopards on farms, and soon partly on hunting of leopards again. Captive cheetah and lions will never be released either was confirmed, but that was already decided. Since we are the only serious conservation project with leopards, wanting to release and contribute to the leopards without exploiting or hunting them, this was a road without any footprints just yet, but now it is also a NO to the leopard.
I discussed with leopard specialists in other provinces and they also confirmed the situation for the leopard in South Africa is very bad. Releasing captive cats no matter how much ready they are, is also there not an option, as even the wild leopard has a problem to survive everywhere at this point. Referring to Indonesia, the same situation there, not even possible to relocate wild (problem) leopards….all ending up in a sanctuary.
So, for us a very bad situation….we want to do good but aren't allowed to. So, for us and the leopard a lot will change. This book is mainly covering our whole project from A to Z, with sadly not the outcome we hoped for. We worked so hard on it, and there was a bit of hope, but different turn of events sadly.
Of course the leopard ambassadors will have a life long home with us in our sanctuary. The hope is to one day being able to make a camp of 20-100 HA, but then help from others is needed big time. A place not a problem but just the funds to make it happen. We want so much more for the leopards but sadly Officials decided it is better to have them extinct in near future. So the sanctuary and awareness/education part is the only thing left for us as leopard 'conservation' project…..think we have to castrate the males too, in order to keep the Pride a happy permanent life together. Sad, sad, sad……..But then again the same Officials decided to grant permits to trade in lionbones, a yes to more exploit of (captive) lions. How much worse can it get???
These are two reasons for declining permits to the Reserves:
1) they do not want to dilute the eastern cape gene pool with non -Eastern cape genetics. This they will not change their mind on. TRAGIC PART IS THERE'S NO SUCH THING AS EASTERN CAPE GENE POOL!!!!!!!! THE AFRICAN LEOPARD IN THE OLD DAYS COULD ROAM FREELY EVERYWHERE IN AFRICA.
2) they do not want to set a precedent which will allow any Private reserve to apply for import permits for non-Eastern cape (captive) leopards.
They can be released after sterilizing them so they cannot breed, but this is not an ethical option in conservation, and dangerous too in wild situation as for change in behaviour. Of course with the smaller cats like serval, African wildcat and black footed cats the option of releasing is still there!!!! So the focus is on that as for true conservation!!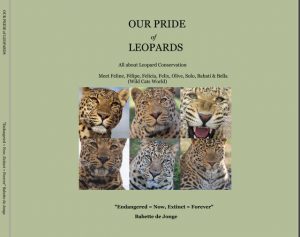 EXTRACT FROM THE FOLLOWING THIRD-PARTY SOURCE: News24
Paris – The leopard population in a region of South Africa once thick with the big cats is crashing, and could be wiped out within a few years, scientists warned on Wednesday.
Illegal killing of leopards in the Soutpansberg mountain range has reduced their numbers by two-thirds in the last decade, the researchers reported in the Royal Society Open Science journal.
"If things don't change, we predict leopards will essentially disappear from the area by about 2020," lead author Samual Williams, a conservation biologist at Durham University in England, told AFP.
"This is especially alarming given that, in 2008, this area had one of the highest leopard densities in Africa."
The number of leopards in the wild worldwide is not known, but is diminishing elsewhere as well. The "best estimate" for all of South Africa, said Williams, is about 4 500.
What is certain, however, is that the regions these predators roam has shrunk drastically over the last two centuries.
The historic range of Panthera pardus, which includes more than half-a-dozen sub-species, covered large swathes of Africa and Asia, and extended well into the Arabian Peninsula.
Leopards once roamed the forests of Sri Lanka and Java unchallenged.
Today, they occupy barely a quarter of this territory, with some sub-species teetering on the brink of extinction, trapped in one or two percent of their original habitat.
Leopards were classified last year as "vulnerable" to extinction on the International Union for the Conservation of Nature's Red List of endangered species, which tracks the survival status of animals and plants.
South Africa recently suspended trophy hunting of leopards, though experts agree this is not a major cause of the population decline.
Bleak findings
A 2008 census of leopards in the 6 800km² Soutpansberg found a robust population of nearly 11 adult cats for each 100km².
To find out how the carnivores had fared since then, Williams and his team set up four dozen motion-triggered camera traps across the area, and left them in place from 2012 to 2016.
The cameras captured a total of 65 individual leopards during the four-year period: 16 adult males, 28 adult females and 21 younger cats.
They also fitted eight adults with GPS collars to track their movements – or lack thereof.
Only two of the GPS-tagged leopards survived the monitoring period. Three were done in by snares, one was shot by a local resident whose cattle had been attacked, and two went missing, probably killed since they also disappeared from camera surveillance.
A statistical analysis of the results showed "a 66% decline over a period just over 7.5 years", the study concluded.
Ironically, the bleak findings helped conservationists and local officials raise money to hire a "community engagement officer".
"One of the things he does is help local people adopt non-lethal techniques" to prevent leopards from attacking cattle and other livestock, including the use of guard dogs, Williams added.
But the clash between humans and big carnivores, experts agree, is mostly due to humanity's expanding footprint, especially in Africa, whose population is set to expand by more than a billion before mid-century.
As a result, the habitats of most wild megafauna are diminishing, and getting chopped up into smaller and smaller parcels.
"It is extremely alarming that the trends that we are reporting exemplify trends in large carnivores globally," Williams said.
Studies in Africa of lions, black-backed jackals and bat-eared foxes have showed similar rates of decline.
One of the projects focused on (wild) leopards Wild Cats World is supporting; very essential for the very endangered Javan leopard. A smashing job done on ground level by Wanicare Foundation and Cikananga Widllife Center. We cannot thank them enough for all the work they do for our precious leopards and their endangered population. A project really worth supporting. If anyone considers a donation, please let us know!! Here's the March up-date!
The Javan leopard (Panthera pardus melas) is an endemic species to Java and currently classified as critically endangered species on IUCN Red List, since there are certainly less than 250 mature individuals, possibly even less than 100 left in the wild (Ario et al., 2008). The Javan Leopard is critically endangered as a result of pet trade, poaching, habitat loss and fragmentation but also due to a decline of prey which forces leopards to enter villages to find food. In the last years the number of Javan leopard – human conflicts have significantly increased, and Cikananga Wildlife Center evacuated 9 conflict leopards over last 4 years.
"Here's some news on the leopards. At the end of March we were involved in 3 Javan leopard conflicts!! The first one occured in Gunung Halimun Salak National Park. Here we were called in as a leopard was found stuck in a trap, seriously injured. We went there immediately and luckily the situation was less serious than expected, although it was of course very stressfull and bad for the leoapard. Its paw was firmly stuck but fortunately not very injured. We tranquilized the leopard and released it from the trap that was actually for wild boars (illegal of course!). After consultation with local people and the rangers of the NP we had the leopard released in the same area (only further into the forest). In this area were no leopard and human conflicts, there were never leopards caught in this way and there was still a lot of  prey for the leopards to hunt. The local population even was in favour of the leopards. And since the animal wasn't badly injured, knowing with almost 100% certainty this was his own territory, it was the best option to release straight again. We didn't hear anything after this, so a happy ending for this leopard.
For us, this was also a good learning process and in this way we could also see what's important in the future, things we had not thought of before in our endeavours to rescue the leopards. So this can be included again in the leopard release management plan and document we are working hard on.
On the way back to Cikananga we got a call that a leopard conflict was happening in the area of Cianjur. The police was already involved, and they were trying to capture a leopard. We went there and it turned out to be a young very weakened leopard. The story told by the locals; the leopard walked to this village and did kill life stock has caught and was trying to attack people. Considering the bad state the leopard was in, we have strong doubts about the story as it was told but it's always hard to really know the true story behind a leopard capture or kill. As the leopard was already caught, scrawny, dehydrated and weakened, and as the story about what had happened to and with the leopard was so unclear, we decided to take him to Cikananga. Release him again would be too risky. As she was so very weak it was not possible to use anesthesia in order to do full medical check and tests on diseases. We aren't even sure about the sexe of the leopard but we think it is a female. She is now regaining strength, does eat each day and we gave antibiotics as she smelled like she was suffering from some sort of infection. Further on she got deworming and daily vitamins.  Hopefully she can endure aneasthesia for a quick checkup soon. We think she is approx 1.5-2 years old. The third case was a leopard, trapped not far from Cikapuh who was in a very bad state, very weak. Presumably poisoned.  Not much we could do there and we soon heard she indeed died."