Monthly Archives:
March 2014
Yes, on ground level they are still working hard to make the release of the wild leopards Sawal and Dimas a fact. Sadly, things in Indonesia are not going fast, as you can expect of a country with an attitude "if not today, there's always tomorrow!"
But currently there's a meeting with Ciremai National Park to talk things through about the release and to put camera traps in the centre of this Park to continue with the assessment in that area. It is a difficult project as there's little info and experience in the release of Javan leopards and no knowledge of suitable area to do a release as such in which the leopards will be safe.
The leopards are fine under the circumstances but the situation is far from ideal of course and we all cannot wait to give back their freedom. Help is offered now from a person experienced in surveys, camera trapping etc. so let's hope this will speed up the assessment in the Ciremai National Park. Our fundraising #3 is still on for 5 more days, for everyone who still wants to support this release project and everything to do with it, a very valuable and time consuming operation. In the meantime we keep you up-dated whenever there's news!!
15 MARCH 2014, AMSTERDAM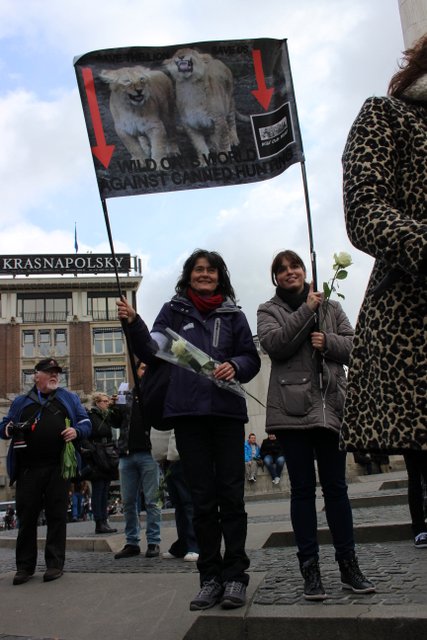 On 15 March 2014 the world united in a Global March for Lions. The March against Canned Hunting. These photos are taken during the participation (read: joining the march against Canned hunting) of Wild Cats World in the Amsterdam-March to give you all an impression of a very successful day, with many thanks to foundations Four Paws, SPOTS & WAR International for the organisation of this march.
All participants support the call on our governments to BAN the deplorable Canned Hunting Industry. We will raise awareness to educate the rest of the world regarding every stage of the life-cycle of torture of a canned lion – the world needs to know and stop supporting the cub-petting and walk with lions experience – the first steps of untold misery for cubs ripped away from their mothers soon after birth. The fraudulent luring of ignorant volunteers who pay for the "privilege" to "care for" the cubs – all destined to be killed in an enclosed camp where they will have no way of escape. Often shot numerous times to prevent "spoiling" the trophy with a shot in the head, which will be mounted on a foreign wall and the bones exported to Asia for bogus medicine – all for top dollar.
Many supporters did join the march for the lion (and other victims of this ugly killing business) against CANNED HUNTING!