Monthly Archives:
August 2014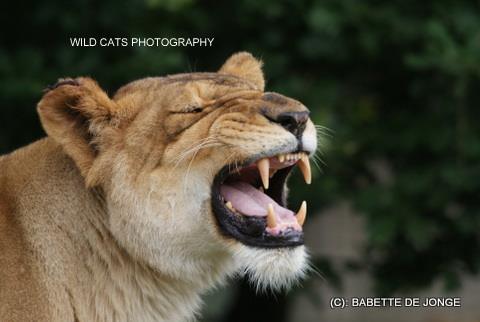 There are good reasons for the lioness on the enclosed picture to have a good 'laugh' as we just got confirmation that 2 more lions (males, brothers) have been freed from Canned Hunting. They will have a happy life at the huge property of Madame X (in cooperation with Wild Cats World). There they will join the 5 other fortunate lions (2 males, 3 females) so it is quite an achievement.
In short, Madame X is a celeb – who doesn't want her name to be mentioned, which we of course respect – who asked Wild Cats World (Babette de Jonge) to help her fulfill her dream. She wants to give a wonderful life to a bunch of lions (intended for Canned Hunting) and in the future hopefully cheetahs (if the WCW cheetahs have some offspring). With her 100 ha of land in Europe (with an African climate) she can already give them lots of space. She wants to acquire even more land with some mountainous terrain. We will keep you informed, even though we cannot share all the details, which is for the better as in conservation there are always negative forces at work with their own agenda's.
Shortly Madame X will write an article to explain her motivation and why she asked WCW for support and expertise. She will also reveal what her project aims to do against Canned Hunting and for the cats rescued. Note that the cats involved were "rescued" and not bought for a ransom that would supporting the ugly business of Canned Hunting! The latter is also one of the reasons why she doesn't want her identity to be revealed.
As she (and we) say: "it is all about the cats and not about our egos! " We wish more projects thought like this!
Also see the -X- Project main page.
For true die-hards or genuine caretakers we in Wild Cats World have a special offer. We do offer people the chance to come and work for a longer period of time at our Spotted Cats Conservation project in South Africa. We give you the opportunity to spend time in South Africa and actually work with the amazing African wildcat species in our project, like leopards, cheetahs, servals, caracals, African wildcats and Black-footed cats, caring for them, spending time with them and learning about them, having the ultimate African experience for a longer period of time. A different way of volunteering without the extra volunteering costs.
There's accommodation in Kirkwood (close town near our farm), room(s) for rent for a very good monthly price. It is important to ask for availability and book in advance as we can only have 2 (or max. 3) people at the same time. This opportunity is just for volunteering periods for one month and more.
For general information, see Volunteering
If you are seriously interested and want more information then please contact us!