Monthly Archives:
January 2015
Today Wild Cats World and Wanicare Foundation/Chikananga Wildlife Center will have another meeting to discuss the progress of the Javan leopard Release Program. We will discuss new ideas, plans and possibilities to achieve what's best for the Javan leopard species and especially for the three wild-captured leopards (Dimas, Sawal and Ciemas) in the Rescue Center that are still waiting to be released.

We told you earlier that as much as we love to release them 'yesterday', it is not quite as simple. Many wild leopards are being caught due to conflicts with humans and their rapidly decreasing natural habitat. The problem right now is that there's no space left in the rescue center to give home (preferably temporarily) to the caught leopards. Instead they will go to a zoo, with no chance to be ever released again for sure.
Because a safe habitat for release is difficult to find, we would like to increase better medium-term enclosures for more leopards, but that means having lots of new camps and enclosures built. Alas, this is a very costly business as we know only too well of the S.A. projects where we gave the best possible space to the 4 African leopard ambassadors (all born in captivity). The question also is if it is wise to invest so much money in infrastructure at the Rescue Center, as we also need it big time to make the releases possible.
So we have lots of things to contemplate, to discuss and decide about. We hope to be able to come to some decisions in the meeting today.
The good times have arrived as more sightings are possible now of our black-footed cat female DIVA and her three cute kittens. Here's already one picture; two of the curious kittens. More will follow later in a special photo album.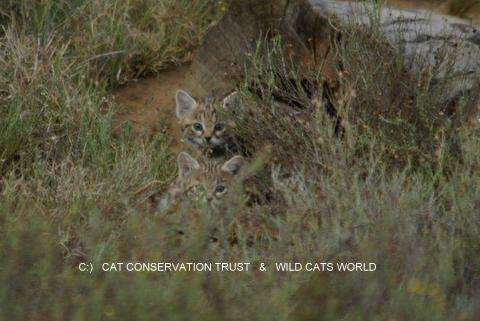 Of course you can already see more on the WCW Facebook page where we give daily up-dates about all our projects and ambassador cats. Thank god all is still going well with the three kittens and also with mom DIVA (and dad BLACKY). The kittens are 6 weeks old. Of course still exciting times as with BFC anything can happen, but so far they doing so well and Diva is such a wonderful and protective mom. Three kittens in a first litter is not bad at all!!!