Web Master
Like with every ending of a year we look back to what has been the past year. We gained, we lost, like every year. But of course we had a few highlights too. The relocation of four young leopards born at Wild Cats World, to live wild, in March 2018. Also we had two special births, at the black-footed cats and the leopards, all off spring growing up healthy.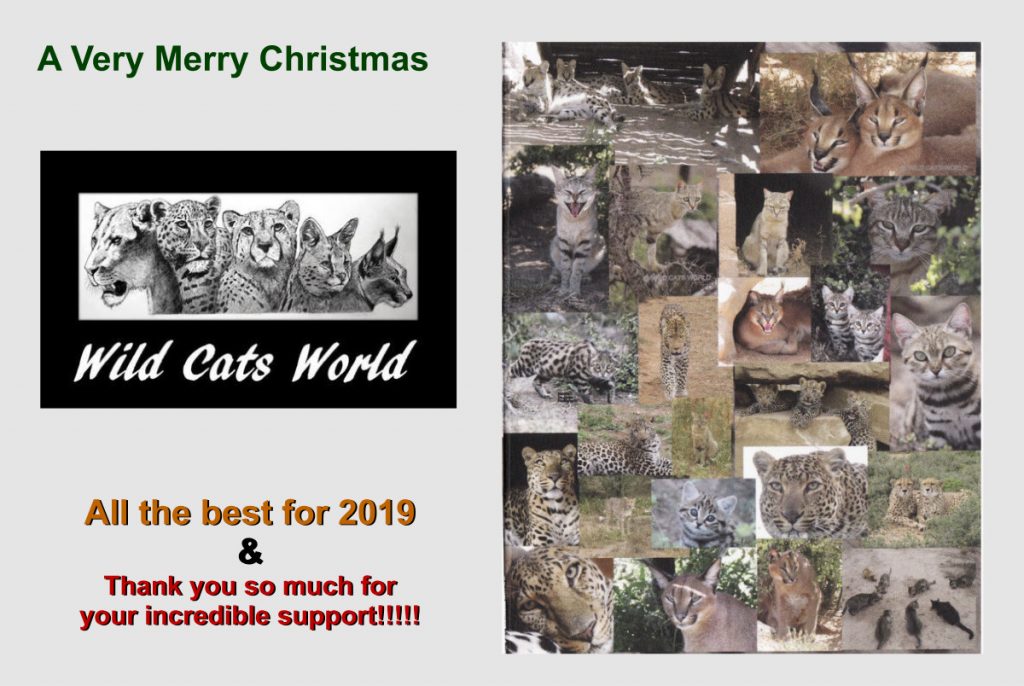 So, we can only look back and say 2018 was very successful. We came closer to our actual mission and vision and that of course feels great. Also, we learnt so much again. About what is happening in conservation. But also we learnt a lot again about people. The intention for the New Year, is to focus even more on the cats and how to do our projects without getting distracted to "noise". To be true to our own way of doing things, with welfare of the cats (as always) in mind only. To not waste time on social media too much anymore, and mostly in closed groups. Not to be confused by what others have to say.
A road we started to follow this year already, giving us a much better feeling. At Wild Cats World the cats and their well being is what matters most!
Apart from supporting the species in the wild, our main focus. We dedicate all we have to the Conservation projects and sanctuary in South Africa, with our important ambassadors. African wildcats, Black-footed cats, Caracals, Cheetahs, Leopards and Servals. The lions we rescued from the ugly Canned Hunting industry all have great forever home at other places.
We very much appreciate the continuous support by lots of followers. Some even so generous to support us with a yearly donation. We cannot thank you enough; as non-profit foundation we need all support we can get. The more we can do of course. But even without, it doesn't stop us from giving the cats the best and to grow – in every sense of the word.
Have a blessed festive season. Merry X-Mas & All the Best for 2019!
Thanks!
The African leopardcubs @ Wild Cats World meeting their daddy for first time without a fence between them.
Enjoy this incredible video of African leopard (Panthera Pardus Pardus) mom Feline and her three wonderful cubs, playing & grooming.
At Wild Cats World.
Video by: Babette de Jonge, founder/CEO Wild Cats World
Glad to inform you all that the Canned Hunting Project by Madame X supported by us in Wild Cats World is still going strong. The purchase of 100 HA of land in Europe and the relocation of already 7 lions destined for the ugly Canned Hunting business in S.A. was already a fact in 2014.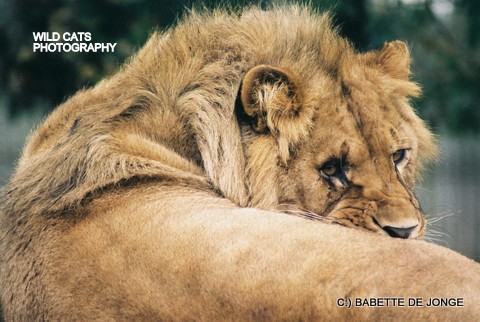 Today Madame X managed to pursuade one of the "bad guys" to give up another male lion who was about to be sold, not for the right reasons. The end of a life full of cuddling, and interaction for big money with humans all day. The lion will be welcomed by his new Pride and a proud Madame X. This year we will pay another visit to this magical place and if approved of by Madame X we will publish some more pictures of the fortunate lions (so far..) and all the space they
have now.