Big Cats
Like any non-profit organisation we of course also rely on kindness of sponsors and on donations/adoptions. With the ambassadors eating around 22 kilo fresh game meat each day, providing them with the best of care, medical treatment and camps/enclosures, you can imagine how much your support is needed and appreciated. Beside this we currently have many other (co)-projects world-wide supporting the wild species and natural habitat, and also for this it is money, money. money that is needed.
So if you are looking for a nice Christmas present for yourself or your beloved ones? Try the (symbolic) adoptions we can offer you, of cheetahs, leopards, caracals, servals African wild cats or Black-footed cats? We thank the kind adoption parents and sponsors who have helped us so greatly already. More…
(WCW i.c.w. Madame X)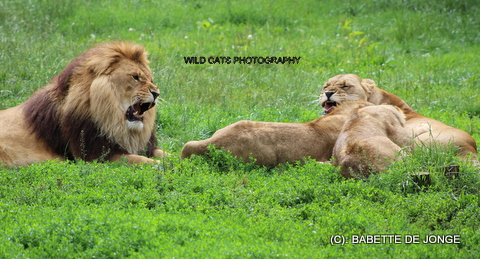 Five Canned Hunting lions recently moved to a 100 HA safe place. They went ballistic their first moments with space and safety, and no more cuddling people or guns pointing at them and their relatives. This is what you call a rescue.
Thanks Madame X for really doing something for these lions, and for letting us take part in this huge project. For not wanting any praise and not needing any funds….. you did it and no one so far has done the same!!!! We are looking forward to more projects like this in your company…… we are still aiming on free ranging cheetahs and with you everything is possible!!!! Soon we will share some more pics of the lions in their new territory.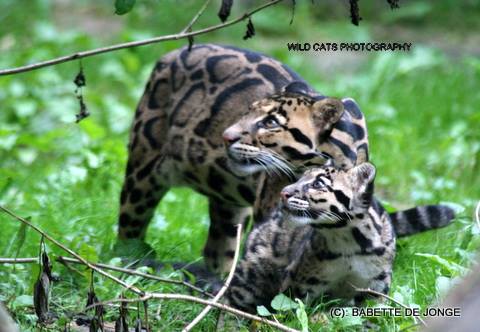 Babette and Anton (WCW/WCM) say a big thank you to the befriended Wuppertal Zoo team for naming the 3 months old clouded leopard cub BATON as a combination of our two names. We think it is a very original name and are honoured they named the gorgeous one after us!!
Hi Madame X here. Babette asked to write and explain to you all, the meaning of our association & project. This photo, a lady incognito, representing my position in this project. A little background info. A singer for life, some say I'm famous, all inferior to what's happening to the lions, but now I'm retired I have time for other passions in life. Photography of African and Asian wildlife one of them, how the mutual liking of myself and Babette got renewed. I got to know her back in the 80s as genuine and sweet girl, true to what and who she believed in, treating me as celeb always with utmost respect.
B. wrote me asking to be the human ambassador for her amazing project & foundation Wild Cats World. We had long talks, time passed, meanwhile I observed from a distance how her foundation functioned and had myself informed about many other orgs, conservationists, projects and sanctuaries, visited countries, had long talks. I managed to purchase meaningful land in European countries, in the South and some up North where I originally belong. Land not for myself but to help to make this dream and huge project come true. Years back Babette and myself got in touch again, I explained not becoming ambassador for WCW, but expressed my deep wish to be part of something big to give a better life to animals and esp lions, cheetahs. WCW was my first choice, this organisation, well no words to waste, is there for cats for animals and for them only. The respect and discretion to me and my choice to stay 'in cognito" & Babette's understanding this is why I won't be able to be ambassador for her foundation, was the start to talk further. We talk about years of preparation, now Babette has my permission to give up-dates as this is an essential project, a personal fight against the Canned Hunting business.
I am in favour of not just yet fighting the aggressive way but by other means. Fame and means help but in the whole picture there's only one thing that matters and that is the lions and to get them out of this "situation" and to be able to offer them the moon, the stars and safety. I can and with Wild Cats World by my side we will be able to achieve the unthinkable. Please don't ask too many questions,don't judge but support us, support the lions and please if you love the wild cats support Babette & Wild Cats World."
Yours faithfully, Madame X, Canned Hunting -X- Project.
Also see the -X- Project main page.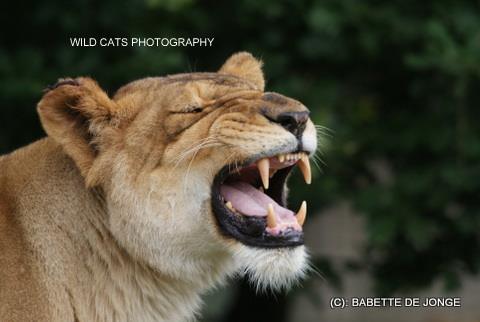 There are good reasons for the lioness on the enclosed picture to have a good 'laugh' as we just got confirmation that 2 more lions (males, brothers) have been freed from Canned Hunting. They will have a happy life at the huge property of Madame X (in cooperation with Wild Cats World). There they will join the 5 other fortunate lions (2 males, 3 females) so it is quite an achievement.
In short, Madame X is a celeb – who doesn't want her name to be mentioned, which we of course respect – who asked Wild Cats World (Babette de Jonge) to help her fulfill her dream. She wants to give a wonderful life to a bunch of lions (intended for Canned Hunting) and in the future hopefully cheetahs (if the WCW cheetahs have some offspring). With her 100 ha of land in Europe (with an African climate) she can already give them lots of space. She wants to acquire even more land with some mountainous terrain. We will keep you informed, even though we cannot share all the details, which is for the better as in conservation there are always negative forces at work with their own agenda's.
Shortly Madame X will write an article to explain her motivation and why she asked WCW for support and expertise. She will also reveal what her project aims to do against Canned Hunting and for the cats rescued. Note that the cats involved were "rescued" and not bought for a ransom that would supporting the ugly business of Canned Hunting! The latter is also one of the reasons why she doesn't want her identity to be revealed.
As she (and we) say: "it is all about the cats and not about our egos! " We wish more projects thought like this!
Also see the -X- Project main page.
From our partner in Indonesia in the Javan Leopard release program (wanicare foundation): Up-date leopards Sawal and Dimas.
"Still no positive news to tell about the release of Sawal and Dimas. We are still waiting for news and… results from the camera traps the rangers of Ciremai National Park promised us to locate in the mid area of the national Park. We hope we can release at least 1 of the leopards there, but first we need to be sure this area is suitable for another leopard. The whole release program takes too long and it is very frustrating. Next to the fact that there seem not to be any suitable areas left in Java to release leopards, we are also depending on others like National Parks, Forestry Dept. and investigators which doesn't seem to be in a hurry. This makes it very complicated for us.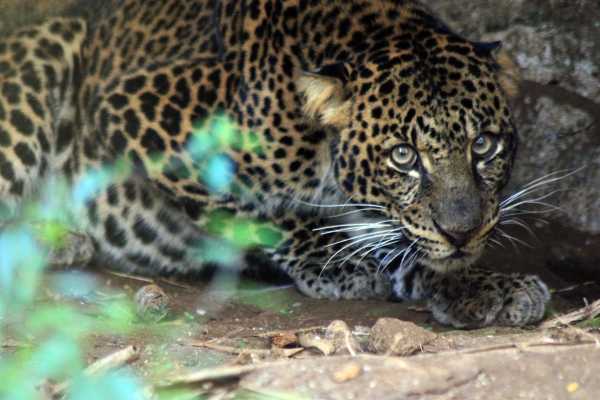 Besides that the situation of the Javan leopard in general is still very sad and it only becomes worse. Human conflicts are still continuing and the fact that there are so many human-leopard conflicts in Java the last years, is a sign that there's not much space left, not much of the natural habitat so this makes it even more difficult to actually release "our" leopards but we will do our utmost to make this happen.
Although the situation for Dimas and Sawal is not ideal, they are both still fine. Last week they got their yearly vaccination and they are in good health, still very wild and shy towards humans. What makes it even harder for a relocation of leopards, as it seemed to be the case in India, the leopards get stressed and more aggressive, esp. to humans, because of a relocation to new and unknown habitat. Not easy to release wild cats back into their natural habitat, but for both Wanicare and Wild Cats World this is the ultimate mission!
We keep you up-dated and thank you all for your support !"
(not the ones on this photo)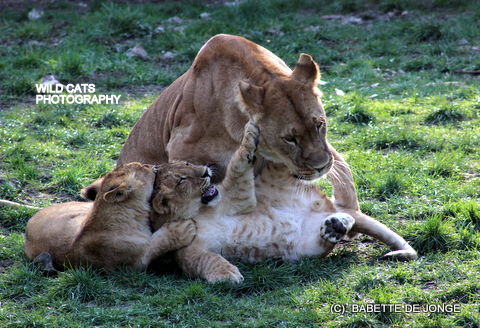 Behind the scenes we have several projects either started by us in Wild Cats World or supported by us. We already informed you a while ago about the celeb, Madame X, that asked our help to make her dream (and the one of some lions and cheetahs) come true. She has lots of influence, land and well yes, the funds, we support her with the knowledge and suggestions how to make this project work.
Canned Hunting in South Africa is a big issue…..and even though there's still a lot of people who believe in the fairytale to bring (captive) lions from Overseas (like Europe) to South Africa for the so-called promised release in the wild. Well sorry people, this is never going to happen! Bringing water to the sea isn't going to help. There's a lot of lions in South Africa waiting on the hunting lists, help them instead of bringing more lions to SA…ending up in a private project or sanctuary (1 ha is the average size you can offer in SA) in SA so you might as well keep them the same way in e.g. Europe. In South Africa you cannot release captive born lions and cheetahs without 100% certainty of the family tree or studbook. So no circus or zoo lion will ever be released.
We in our captive SA project, rescued 2 lions out of Canned Hunting before, and after all the hassles (headaches) that caused us, we decided lions are no go for our SA project, but of course we still fight for this species like for all wildcat species, big or small. So when Madame X (a celeb who doesn't want her name revealed) offered this chance of a lifetime, we started searching for lions to start a nice Pride, for a long life in the best of circumstances with lots of space (talking to start with about 1000 HA and more). Negotiating with Canned Hunting breeders is so much easier when a celebrity is involved. She just confirmed us today 5 lions were taken from the Canned Hunting List and offered to the Madame X project: 2 male lions (brothers) and 3 females (sisters). No need to mention that this project will be ethical in every way, so no BREEDING involved! It is a start…..
As for cheetahs we aim for (hopefully) our own off spring to give the same future to as these lions. As for the problems mentioned above, the lions will not be kept in SA but in a European country with the right climate and equal space. We hope if this project seems to turn out 100% to the satisfaction of Madame X we can mention to her starting with a similar project for snowleopards.
So much more opportunities when there's enough funds. Celebs usually are not very interested to help out projects for endangered cats but when they ask our help to be part of a project this huge, it is a big compliment. You will understand we have to be very discrete about this project so sadly we are not able to give you all inside info, but just to share with you the best news that at least another 5 lions are safe, ready for a wonderful future!
Also see the -X- Project main page.
Soon a young new male cheetah will arrive at Wild Cats World. He will be named Sunny.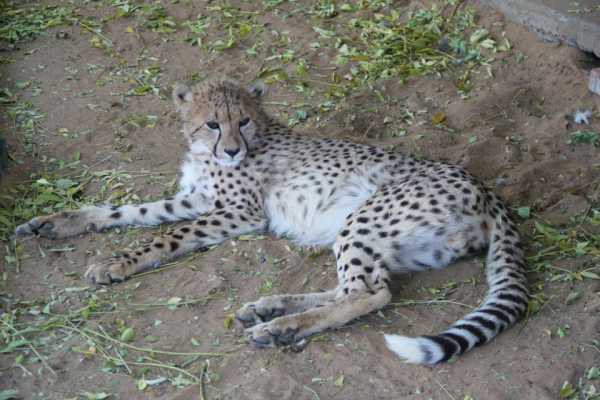 Like the other two cheetah ambassadors at the Spotted Cats Conservation Project, Speedy & Spiky, also Sunny is semi-wild, or motherraised. The Wild Cats World cheetahs will live in huge camps far from the other WCW projects, to give the cheetahs a relaxed and stress-free life, far from the tourist-zone.
Born: Steitlerville(SA), October 2013
Ambassadors Wild Cats World:
Leopards: Feline & Félipe, Felix & Felicia
Cheetahs: Speedy, Spiky & Sunny
Black-footed Cats: Diva, Beauty & Blacky
African wildcats: Sid & Louise
Caracal: Leo
Serval: Joy
Surf to a wonderful docu about caracal mom Tetha and her 3 adorable kittens, filmed on foot in the Addo, in South Africa. Tetha was released there and successfully raised this litter of kittens. Sadly she did die. Watch and enjoy – and get convinced that caracals should be in the wild, to survive and be left in peace by humans (farmers, rangers….)
Although the situation where Dimas and Sawal are living in right now isn't ideal, they are both fine. They are active, hunting and eating well. The caretaker at the sanctuary is giving them live prey once a week. On other days they get their food in different ways to give them enrichment: meat hanging on a rope, or hidden in a carton box that is hanging in their enclosure. Unfortunately we still haven't found a suitable release site for them. It really is a difficult situation as there are not so many suitable areas left and the better areas are already occupied by other leopards. Besides, there's so many human-leopard conflict.
At this moment we are still focusing on the Ciremai National Park. One male leopard has been spotted there, but more research needs to be done in the middle of this National park. Although we are very happy with the help and cooperation with the National Park, the research isn't going as fast as we hoped for. We are depending on their officers and they are also the ones who place the camera-traps to see if there are more leopards around.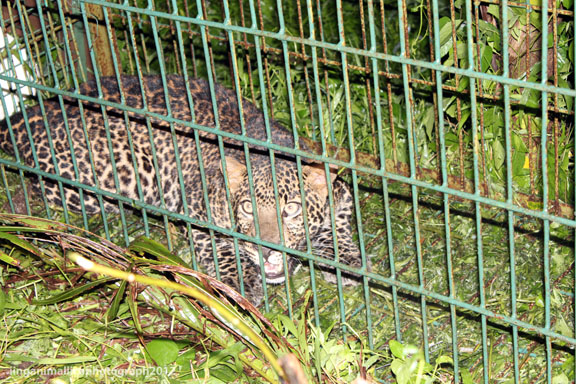 If it appears so there's just one male around in this area, the question still would be if it is wise to release our two males there as well, as they no doubt will start searching for females and if they are not around in this National park they will probably start looking outside. If they leave the area we can start all over again as there will be conflicts with humans again. There's just too little space for wildlife and leopards left on Java and not much better elsewhere in the world.
An other option is Cikapu area. The Forest Department talked to us about this area as it seems there are no leopards around here but they are interested to get some there. But before this can happen lots of work needs to be done, to have this area better managed as a lot of people are entering this area. Also the usual habitat assessment needs to be done first, so before we actually know for sure it is suitable, many months will pass… and still many more funds are needed.
Just for you to know, we continue to work hard on this and hopefully next time there will be better news about the release of our two leopard friends Sawal and Dimas. Keep them in your prayers and if you have anything to spend, please fund and support the leopards with the help they so desperately need.