Team WCW

Team Wild Cats World
Babette de Jonge, Founder/CEO Wild Cats World; CEO/owner/caretaker S.A. project.
Anton Buijen van Weelden, maintenance, caretaker & sponsor S.A. project
Zanell McCarthy, caretaker SA project (see photo)
Inge de Groot, caretaker SA project (see photo)
Paul Hoogeveen, webmaster Wild Cats World & Wild Cats Magazine
Bérengere Desmet, Responsible person WCW Pallas Cat Conservation Program (in progress)
January 2018 – Welcome to the WCW S.A. team: Zanell McCarthy!!!
We (and above all the resident cats of the native S.A. species in the sanctuary/conservation programs S.A.) are blessed to have found the lovely person Zanell, passionate about animals & nature to support our team of caretaker/owners, giving the daily excellent TLC to all the cats, big and small, wild and lesser wild. Fantastic to have another dedicated and experienced caretaker on board, who only wants the best and no exploit!!!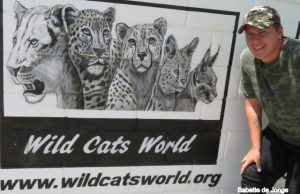 Photos by our volunteers/visitors on Facebook
Also see Volunteers at work.