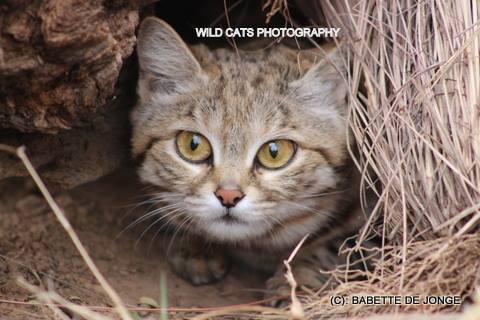 We are so happy to introduce you another (adult) female to the blackfooted cat family. Luckily no sad history with this girl. She was born in captivity on a farm in the North West Province and the owners are selling this farm so they were looking for a great new home for this little girl. She was born in November 2011 and she is a very valuable addition to our project for this very endangered catspecies. If all goes well she will be the future partner of Blacky.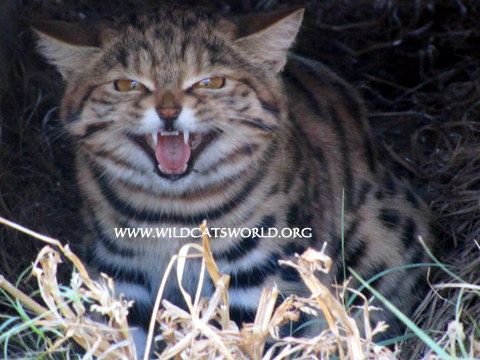 Oh yes, Diva is a true black footed cat, compensating her small size with a great character!
Nov 2013 – Black footed cat Diva, a great spy and huntress…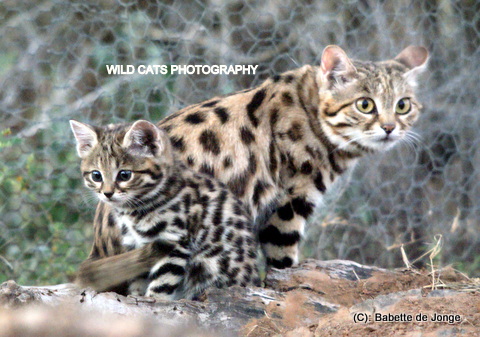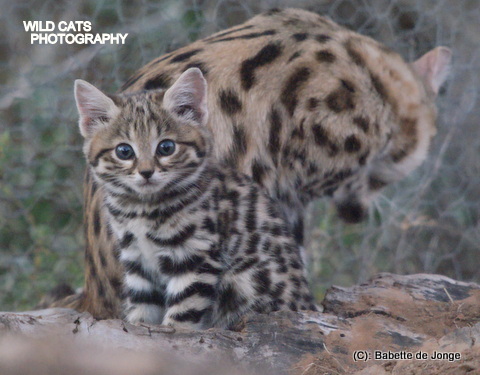 Our female black footed cat Diva is very busy at nighttime. She is spying on the neighbours (chicken) but also on the mice visiting the neighbours, often also running through her enclosure and the one of Blacky. Great enrichment as it seems!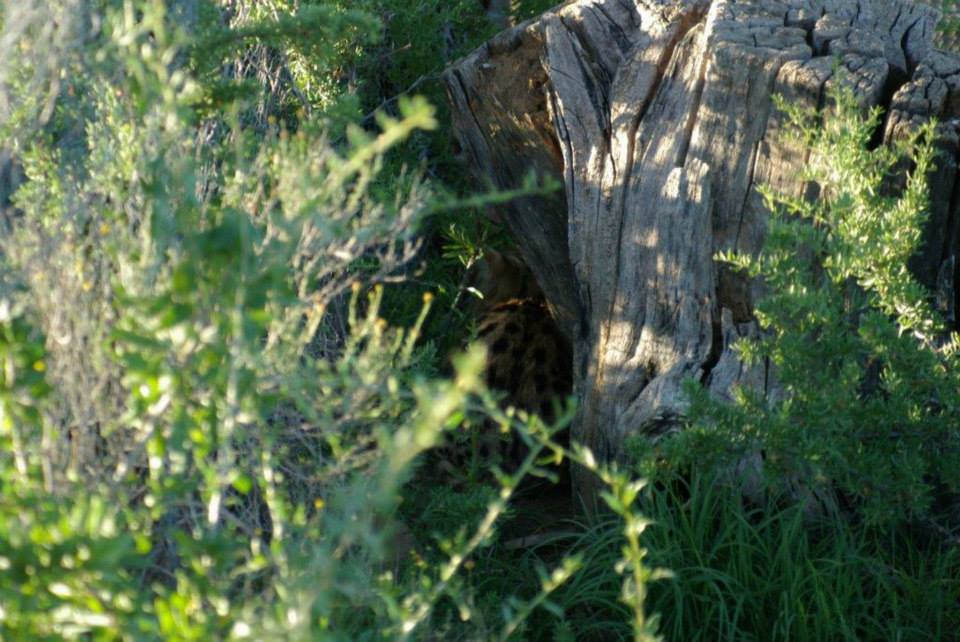 Well hidden away, Diva has found a good spot to spy on the neighbours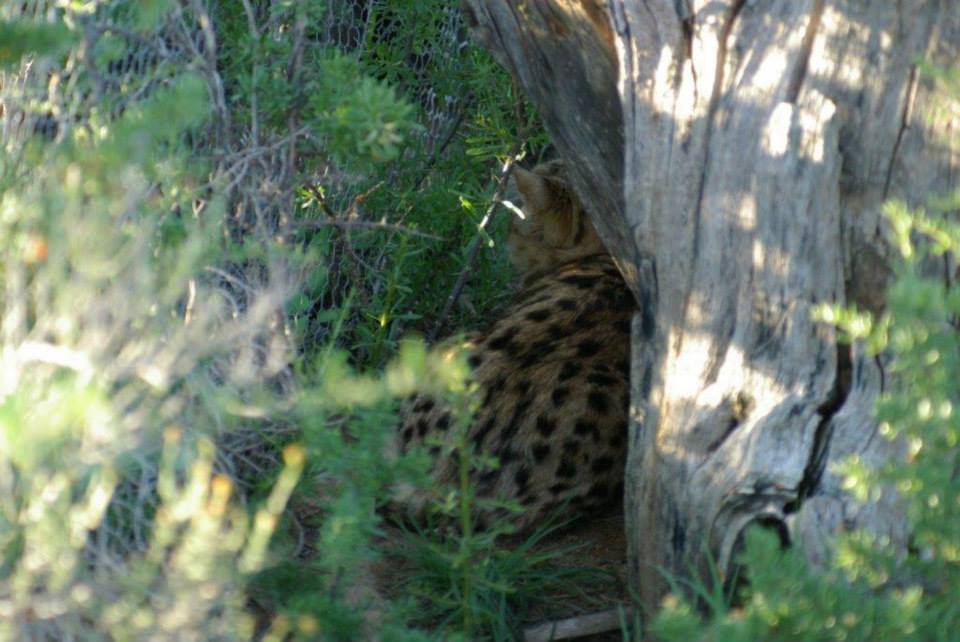 Yes there she is, concentrating on mice and chicken… — at Cat Conservation Trust.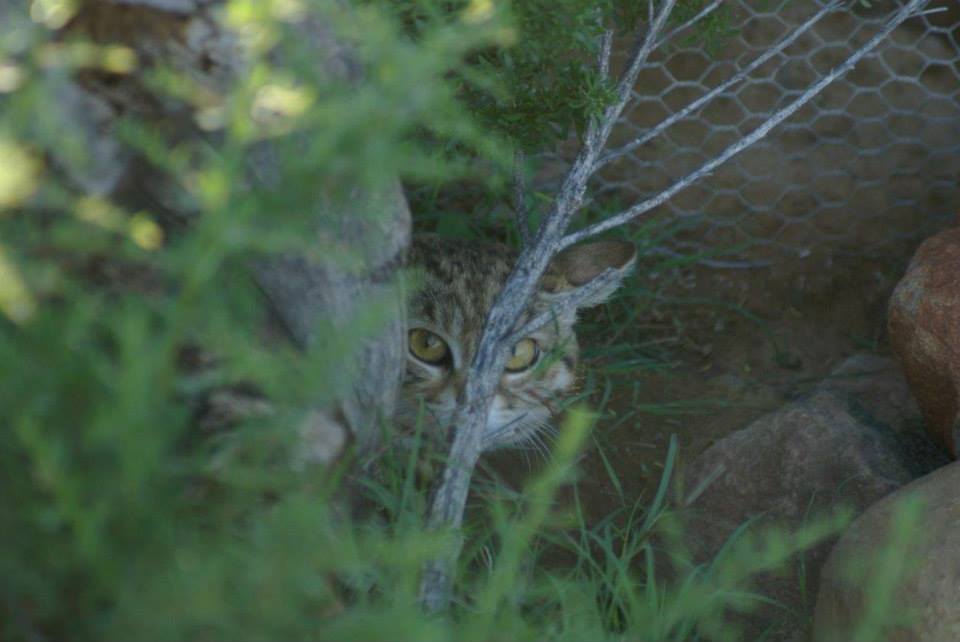 Not amused to have company at a time like this…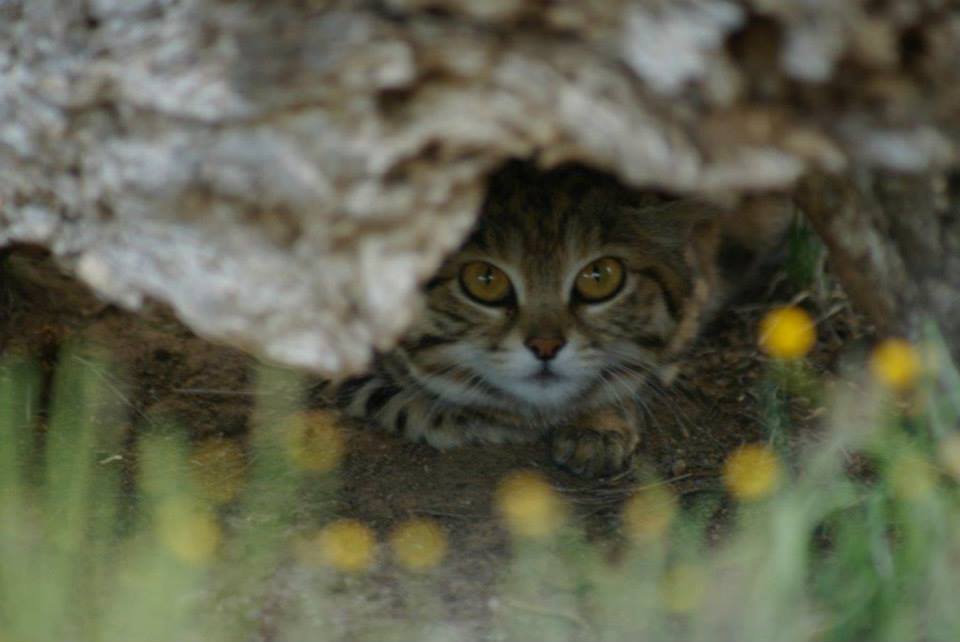 She is so gorgeous…..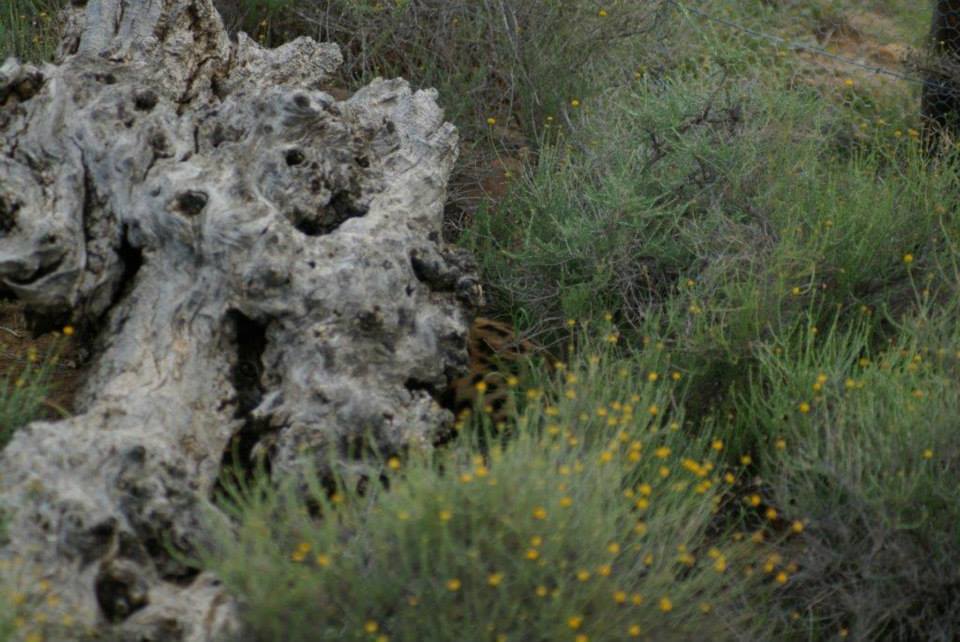 …hiding behind a log… can you see me?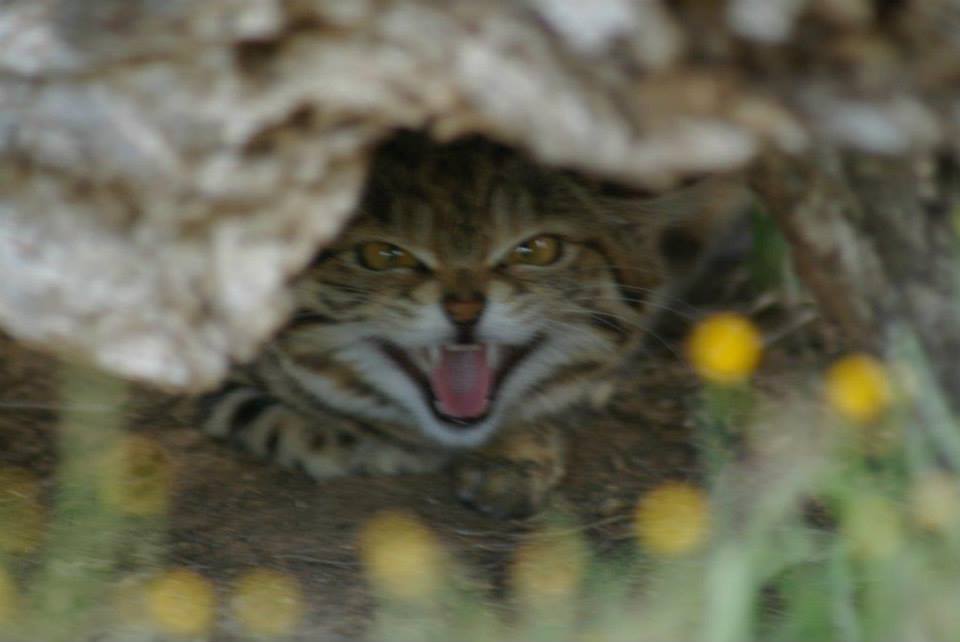 Now Diva thinks it is not funny anymore… get out of my way, you are spoiling my chances to hunt! 🙂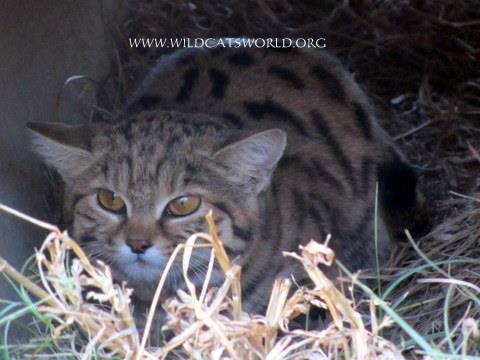 Oct 2013 – Diva's Arrival
Our ambassador black footed cat, female Diva, arrived this morning at her new home at "Clifton", due to a new co-operation of Wild Cats World & Cat Conservation Trust. We started this second alliance, in order to have the best results and possibilities in the Black Footed Cat Conservation Project. At Clifton all expertise and passion is there to make the project an even bigger success. On the photos you can see we gave the right name to the little lady, as she truly behaved like a Diva.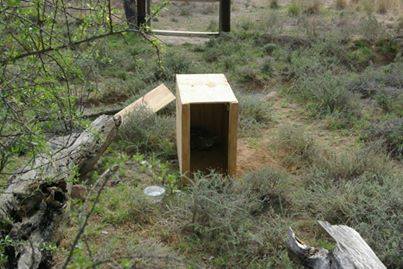 Arriving in the transportbox, from the Free State all the way to the Eastern Cape.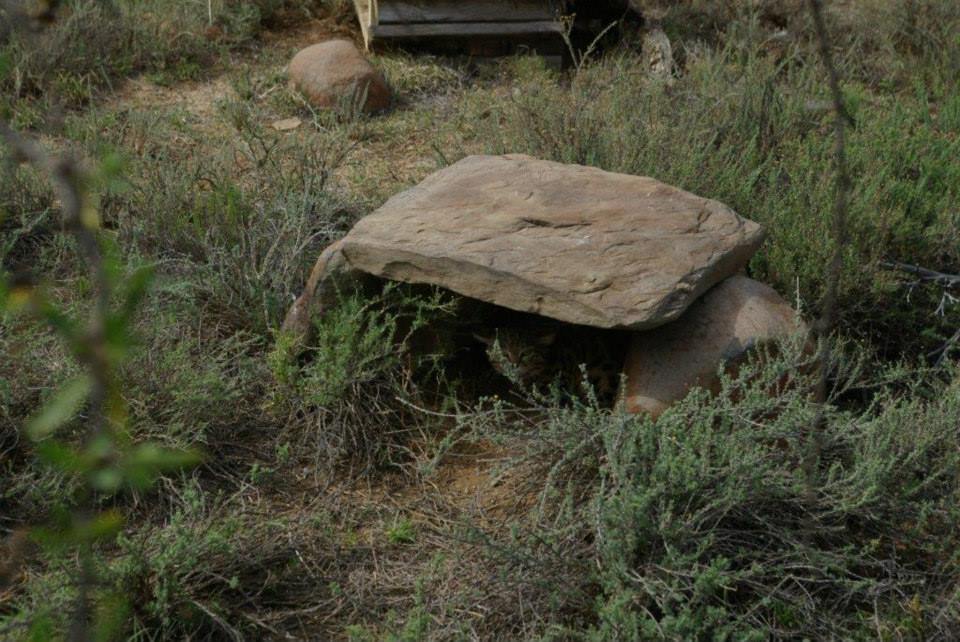 This is the place Diva picked to have a rest after her long travel from the Free State to the Eastern Cape, SA.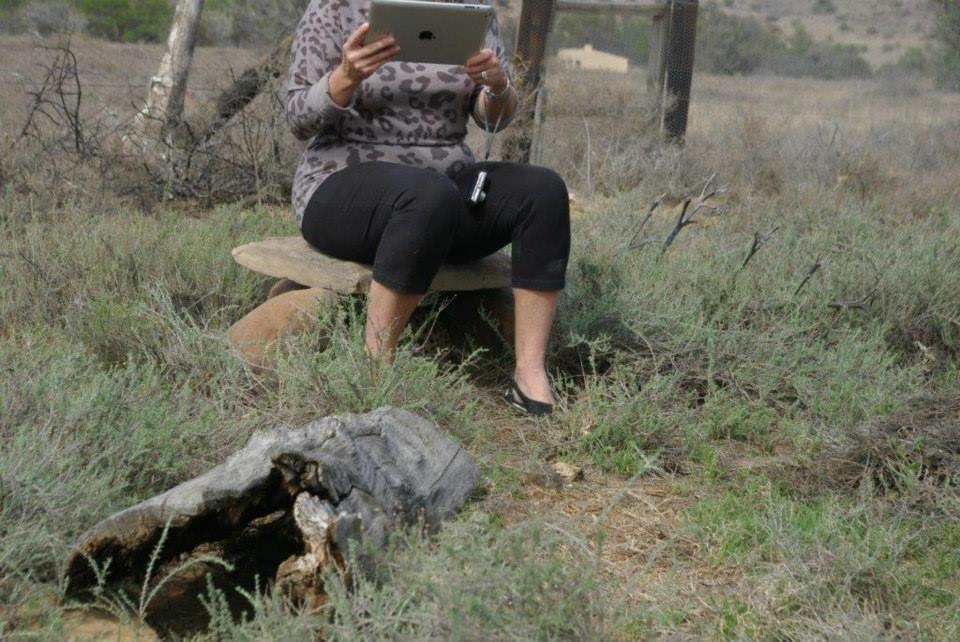 This lady helping Marion Holmes of CCT to move Diva, was sitting on the roof… Diva didn't mind. Look at the next photos how she got in.. .sadly the pics are not in the right order.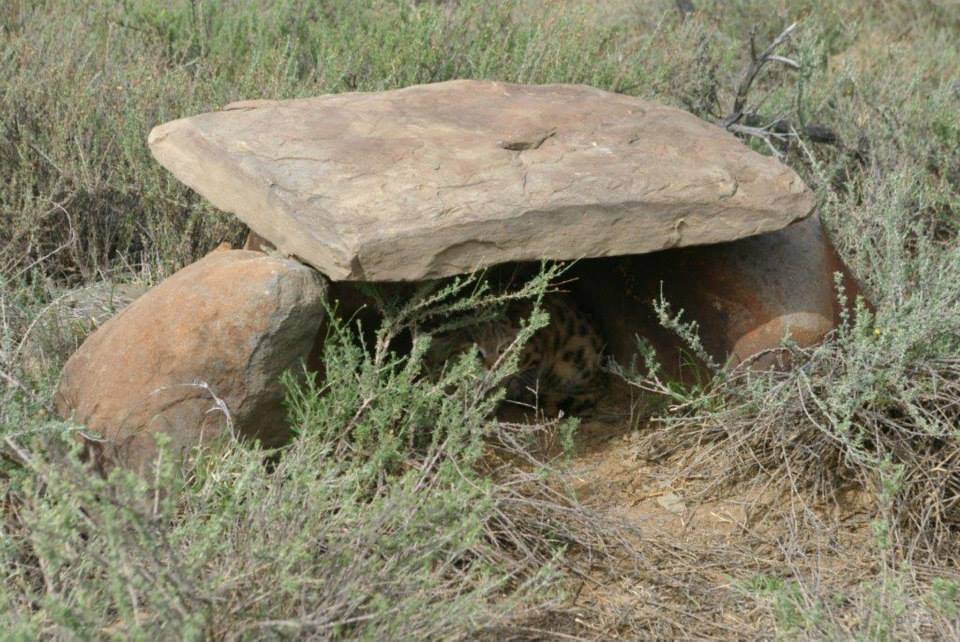 Finally some peace and quiet after a long travel in my new home.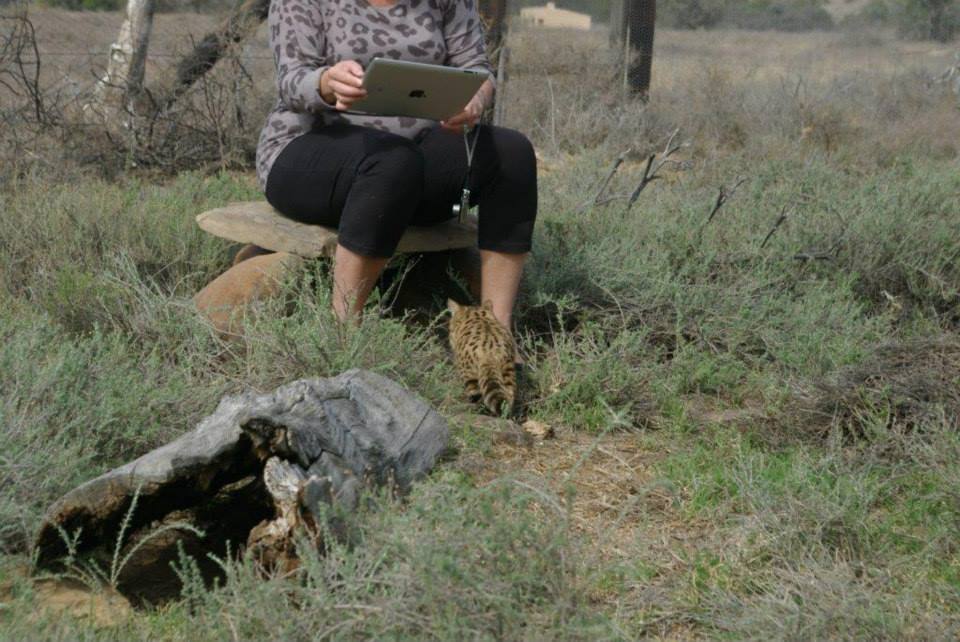 Arrival of a true Diva. She picked this place to go to even though the woman was sitting in the way and on the roof. Diva just walked on through her legs, and looked up to the woman hissing "get out of my way!"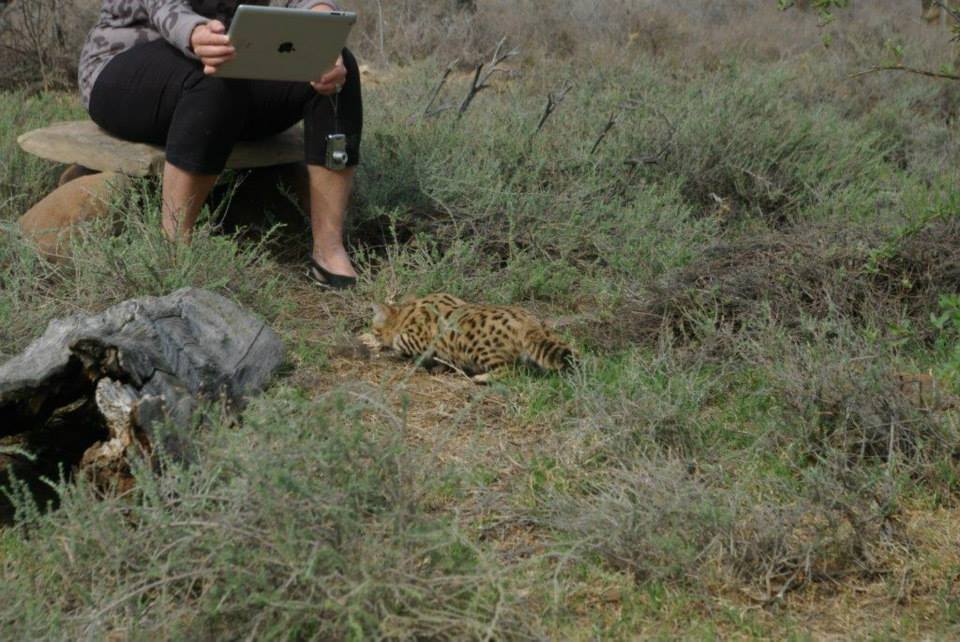 That's where I want to go, so just get out of my way….or I just walk between your legs. Diva was pretty much at ease after her long travel and arriving at her new home…with new people (sitting in the wrong place).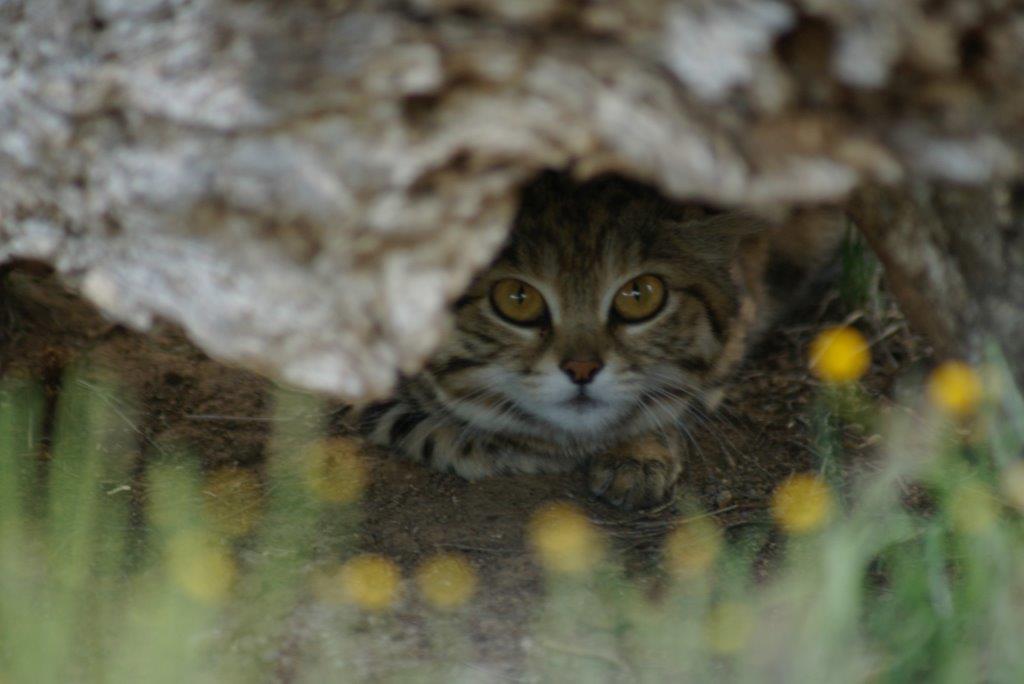 January 2014 – Since we started our alliance with Cat Conservation Trust first the WCW black footed cat female Diva moved there, later joined by male Blacky in order to be introduced and form a couple at a later stage. We went there last week to open up between the two for further introductions and to monitor the first moments to see for ourselves how much both of them like each other, see photos.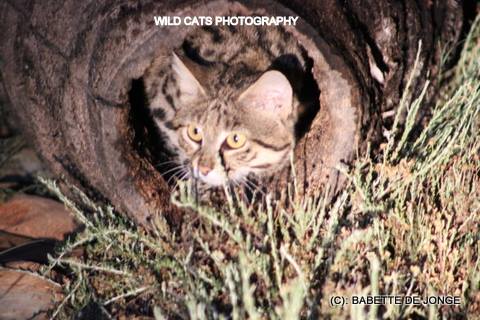 Shortly after opening up, we could find Blacky near Diva….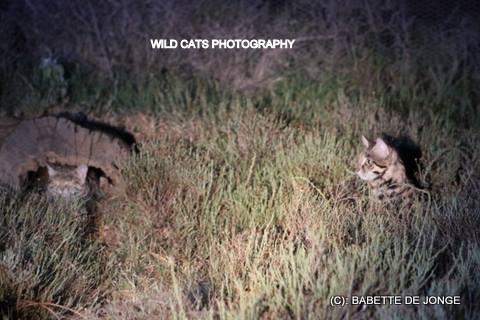 Blacky found Diva, called for her and made toilet to look extra attractive…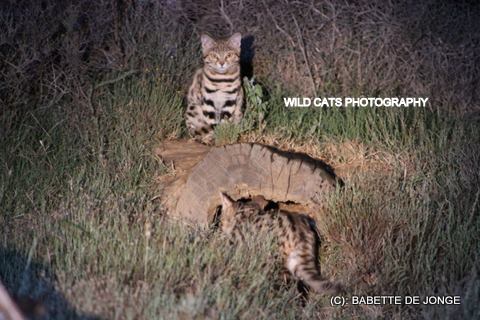 Blacky exploring Diva's hiding place…she already got out and watches Blacky…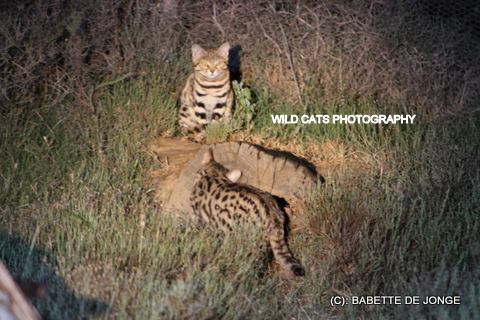 Coming closer….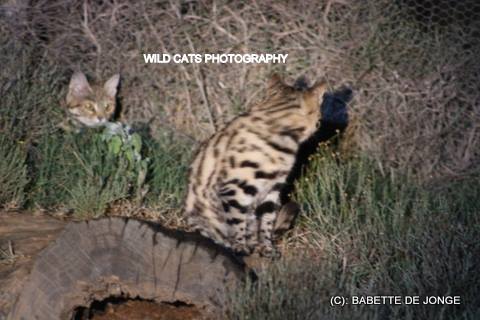 Now Diva wanted to see this gorgeous male from up close…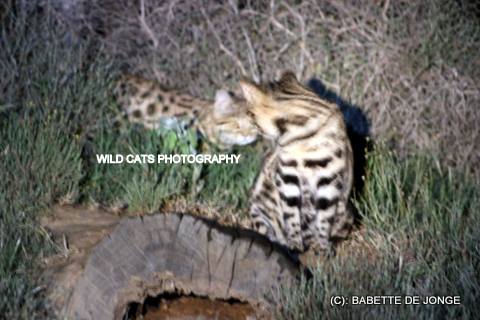 And nose to nose they said hello and disappeared together in the night……we just left them with some privacy…..with good hope for the future!!!
Marion Holmes from CCT later confirmed to us that she noticed a clear difference in Blacky's behaviour, not being as "hissy and stampy" as before. One morning she found the two lying cosely together at Blacky's favourite spot. Promising for the future….as this couple is very important for the future of this very endangered, and difficult to breed/keep wild catspecies…the smallest of South Africa.
January 2017
Our black-footed cat ambassadors, females Diva & Lilly and male Spotty, are doing fine. It is great to see them so active and enjoying each other's company. Of course our hope and aim is for our females to be able to raise some successful litters of kittens, but it is up to Spotty to help us with that.
Note: The black-footed cat, also called small-spotted cat (Felis nigripes), is the smallest African cat and endemic to the southwestern arid zone of the southern African subregion. It is listed as Vulnerable on the IUCN Red List since 2002, as the population is suspected to decline due to bushmeat poaching, persecution, traffic accidents and predation by domestic animals.
At Wild Cats World the black-footed cats conservation project is a very essential one. In every possible way we hope and try to contribute to this incredible but sadly very endangered species!
Update June 15th 2017
With tears still flowing, we have to share the sad news with you all that black footed cat female Diva passed away this morning between
8 and 8.30 am
. We had Diva hospitilized (at our vet) during the period May 3rd until June 13th for three times as she clearly wasn't well, and she wasn't eating properly.
We feared for the usual illnesses like amyloidosis and kidney failure killing so many black-footed cats but the symptoms turned out to be different. She was tested positive for ehrlichiosis, infection of a brown tick, usually more of a dog-disease but also some humans and cats suffer from it.
With the treatment and tests we fought for her life with all our power – but we lost!!!  Diva came 'home' on June 13th and the intention was to continue her treatment there, as it would give her less stress being back in her natural environment and close to her friends Lilly & Spotty. Sadly it wasn't meant to be, and our little girl died in the morning of Thursday, June 15th, leaving us behind devastated.
R.i.p. little girl – you deserve it!!!