Paul
Here's the first pictures of the amazing leopards Olive, Beau, Bahati and Solo in their new huge camp, Phase I of their re-wilding programme, though the people involved instantly saw the wild already is truly in them.
The four young leopards were born in our facility, with the sole purpose of being released, and it is only because of Eastern Cape Officials not granting permits to the Private Game Reserves to release (our) leopards, uncastrated that is, this process did take longer than expected.
A few "sanctuaries" were contacted but were as expected not interested in true leopard conservation or well- being, but just on personal grudges & gain, and small talk, for which we are very grateful as a brand new door opened with the best of space for the leopards, and a new chance for a release in a National Park and Private Game Reserve that already showed interest.
Phase I is to relocate the four to a new place that offered the best of wild space, where they will stay without any human interference for the coming time.
So amazing and touching to see the four beauties, who have been born and raised at our place, in their new area, showing true leopard behaviour. How wonderful having to search for them, and get a glimpse. A dream coming true, and a huge step forward to reach our actual mission.
Of course we know that at any time, all have a say, and there's always negative people around, who try to make something so beautiful look ugly. This doesn't affect us though, and for sure doesn't affect the leopards, who had a wonderful life already growing up with a loving leopard family, in our best care, and now received the ultimate proof of our love for them: a way to freedom. So let's hope this will be as good as we all hope and think it will be.
Everything needs time and lots of funds, but rest assured that we always do what we promise, and the next promise is to the remaining leopards and other species in our care, we only reach for the ultimate improvement for them as well!!!
WILD CATS WORLD FOR THE WILD CATS!!!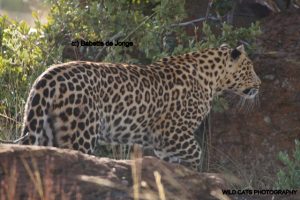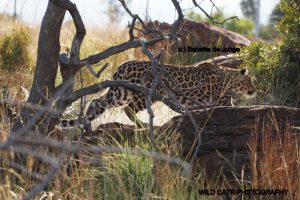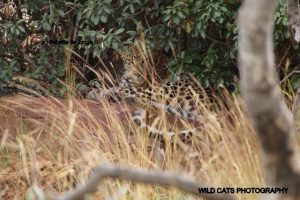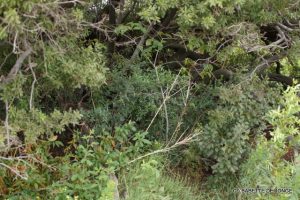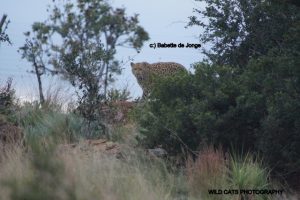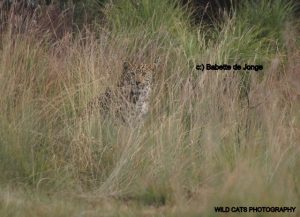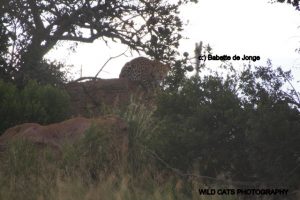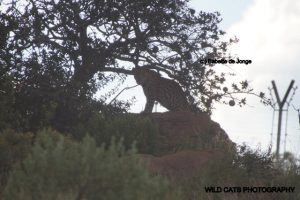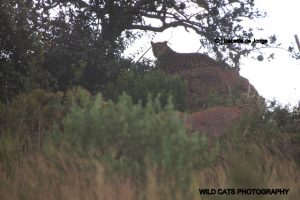 The four young leopards born and raised (by their mothers/parents) at Wild Cats World have been successfully relocated to a huge re-wilding (phase I) camp in Mpumalanga Province, where lots of rehabilitation and releasing of leopards already had been done. Happy to say Olive, Solo, Beau & Bahati are settling in nicely, but we didn't expect anything else of a highly adaptable species like the leopard. For the first re-wilding they will stay here, and the next step will be relocation to a huge boma in the National Park en Private Game Reserves (non-hunting) that showed interest in them already.
The project is named Phoenix-four, after the wild female 11 months old Phoenix. She has been rehabilitated and will be joining our leopards for further re-wilding. But she indeed is truly wild already. Plan for now is to have her with the 2 B's, Olive will be with a rehabilitated gorgeous male and Solo with a gorgeous wild female…. All suitable leopards will be released in the wild again.
This is all made possible with the incredible help and dedication from a wonderful team. First of all CJ and Paul from Wild Heart Wildlife Foundation (WHWF), Deon, Onderstepoort vets and University Pretoria. Without all of them we, Dutch, wouldn't be able to make this possible. So very grateful for this.   Dreams coming true now!
In short the (one and only true) story of the Phoenix-Four: the 4 youngsters have been born at our project with sole purpose to be released. Their parents we rescued from a hunting list and exploited life, and we gave them the best life possible. These human-raised leopards gave birth and raised successfully the youngsters who are much wilder already than the parents, but will in the coming time be wild enough for a release. They show the right behaviour already. With our project we wanted to reach the unthinkable (for many…) as for rescue of exploited leopards, bonding with them closely, having them live peacefully as a group, with still huge respect to the owner and caretaker through every stage. Raising the cubs successfully, who are ready to go wild. Only one more stage and our mission is complete!!!!!!
Keep following the leopards!!!! Remember: if this all succeeds, THERE'S HOPE FOR THE SPECIES!!! And isn't that what we all want???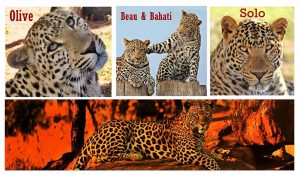 The info on this sign is shared at our S.A. conservation project, to avoid misinterpreting, unintentionally or intentionally, the essential conservation work we do for the leopard species (Panthera Pardus), the South African leopard, but also our support to the Javan Leopard, Indian Leopard, Nepal Leopard but also other subspecies, if ngo's need our support in knowledge or funds.
As for the African leopard (Panthera pardus pardus) we are at the bound of the next big step, which will lead us to the ultimate mission: a donation of fresh blood back to the wild.
The four young leopards (Olive, Solo, Beau and Bahati) who were born and raised successfully at our place are moving out shortly to another Province, to a huge re-wildings camp (details follow shortly), and after the right period of time they will as it looks now move to a huge boma part of a wonderful National Park who showed interest in the ultimate release.
Of course we had a bit of a setback when Officials in the Eastern Cape didn't grant permits for an earlier release to the Private Game Reserves, Amakhala, Kariega and Samwhari, who wanted to release (our) leopards, which also left us with full house at our sanctuary, because the youngsters have grown up now, and difficult to decide where to start looking for a new forever home or better possibility for a release, and now a new door opened for us and our leopards, and an even better one!!
Everything takes time, as some people don't realize. The 'experiment' of  keeping of leopards in a group ('Pride), and of course our close bond with the adult leopards, above all with the females also when they gave birth, is for some a matter of dispute, and envy, but we have and had a vision & a mission, and we are coming closer to reach the unthinkable, ultimate thing. 
So watch this space for more info to come in the (near) future.
Little Chui, proud son of Felicia and Felix, born in December 2017 (see photo) has now the important job to tease the remaining adults, so that they don't have to miss their older 'kids' too much.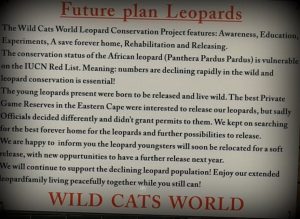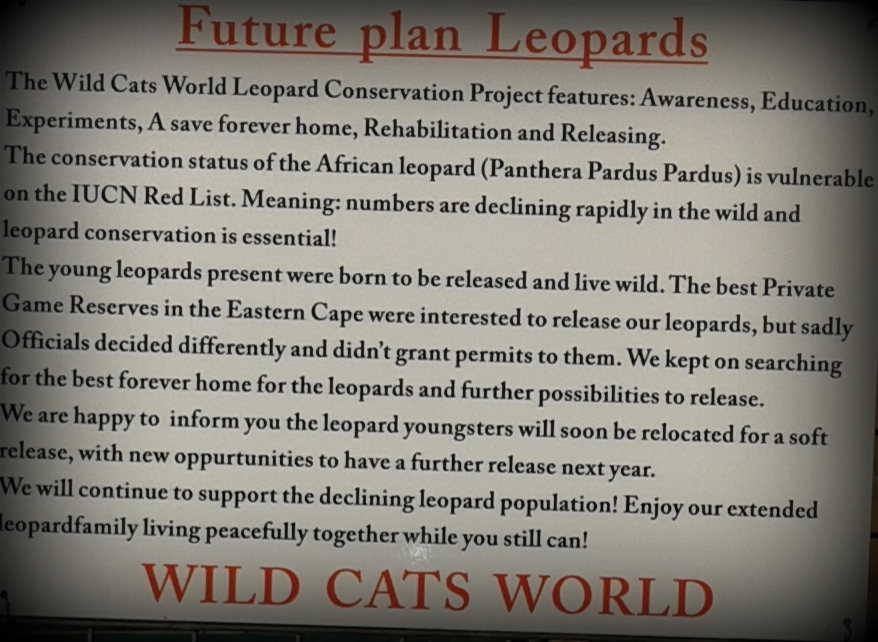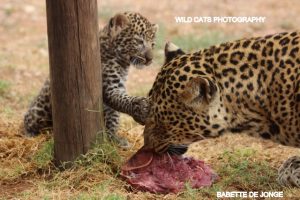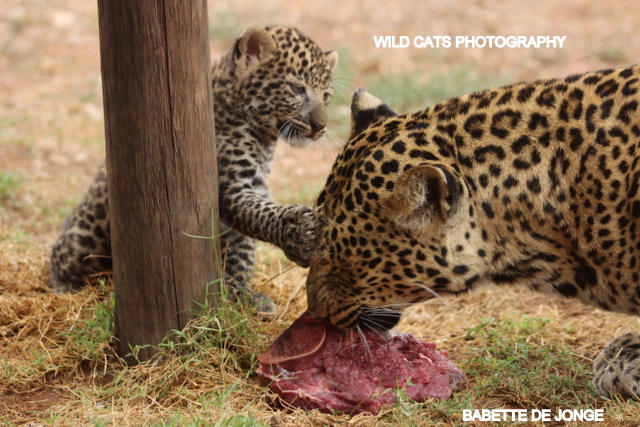 Conservation of the smallest (spotted) cat of South Africa, second smallest of the world, is extremely essential. So we are glad to be part of this. Our cats (couple and kittens) will be part of the BFC stress measurement, the research done by/for University of Pretoria. This because there's such a huge decline in captive black footed cats the last few years, and poor to no breeding results (in South Africa, but also in Europe). Also the wild species is under threat. For a year samples will be collected and taken to the lab for further investigation, and it will be compared to samples of the wild black footed cats. We can only learn more about this species, and have to do our best to save it and have the numbers increased again.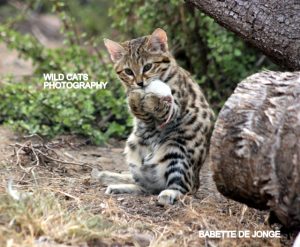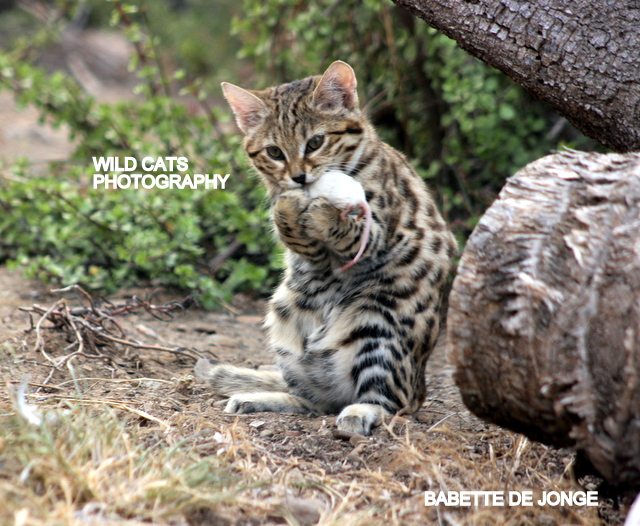 It is a male & a female….
28/12/2017: Our black footed cat kittens, 13 weeks old, are now officially sexed. Like it already crossed our mind, it is one boy and one girl. So: if anyone has a great suggestion for appropriate names??? We are still thinking ourselves too….Names of the parents are Lilly & Spotty, we also had black-footed cats named Diva, Beauty, Blacky & Footy….so names a bit short and appropriate for the smallest cats(species) of South Africa.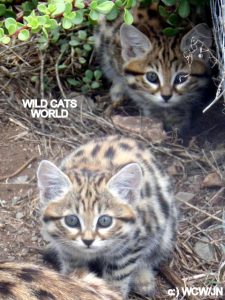 Thanks to our volunteer Julia Nietsbert for this wonderful picture of our two treasures.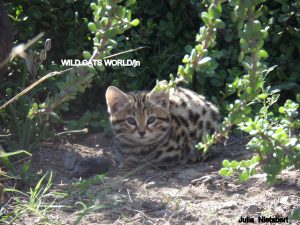 On 
Thursday October 28th
 our black-footed cat female Lilly gave birth to 2 kittens. It is her first litter (proud daddy is our male Spotty) and she was a caring and very protective mom from the start. Since black-footed cats and more so their kittens are very vulnerable to diseases, often causing a premature death, we didn't want to share the happiness of the birth too soon.  They are 12 weeks old now and still doing well and for some time they already started eating mice, rats and pigeon by themselves, natural food for the black footed cats, like for any other small cat.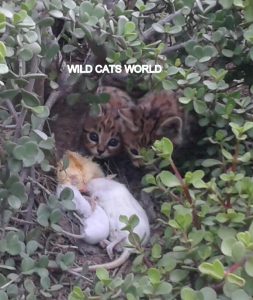 The kittens are very welcome as they are very essential for their species, as well as for our conservation program.  We haven't officially sexed the kittens yet, but have reason to believe they are two males. We will let you know once sexed and named of course. Herewith already some nice pictures by caretaker Inge and from our volunteer Jule Nietsbert from Germany.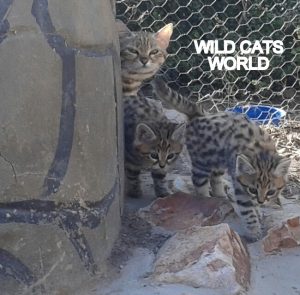 Lilly and her kittens are also starring in a Japanese documentary, which will be presented next year to educate children and their parents about South African native species. Also our serval Joy, caracals Nina/Leo and Thilido, as well as our leopard Bella will be starring in the same documentary.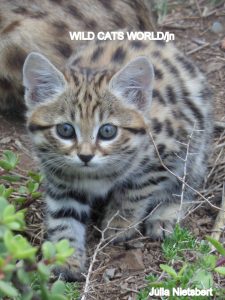 With the end of another year coming close, I like to look back on the year 2017 and look ahead to a brandnew year 2018. Looking back on 2017, we look back with mixed feelings. On the whole we had a good and stable year. Highlights were the births at our leopards, servals and black-footed cats. The females Feline, Felicia, Joy and Lilly being excellent mommies, and also the daddies Felix, Felipe, Norrick and Spotty proved to be proud and caring daddies. Like in every year we sadly also had to say goodbye to a few beloved cats. This year we had to loose African wildcat male Max, serval daddy Norrick, who lived 8 months longer after proper treating his kidney failure, but sadly a second blow was too much and we had to let him go. A huge loss was also to loose black-footed cat female Diva; cause of death: ehrlychia, which mostly occurs with dogs caused by the brown tick. R.i.p. to all three who touched our hearts and will never be forgotten.
Major setback for us and the leopard Conservation project in S.A. was to get confirmed Nature Conservation Officials won't grant permits to the Private game Reserves Amakhala, Kariega and also not to Shamwari, to release (our) leopards. This caused a problem for us, since we did breed with the leopards for release and they were actually "ordered" to be released. So now I had to carefully think and plan ahead. The big question was: how to continue with the leopards and Leopard Conservation Program. Also for the Javan Leopard in the Release Program there were still no releases possible. This all is a very sad situation for the leopard and for us wanting the best for all leopard species who are under threat.
This setback won't keep us from doing what's best for the leopards, and we will continue to fight for their welfare and contribute to their survival. Priority is now to find a next-best forever home for the young leopards, since a release isn't very likely anymore, even though we keep trying in other Provinces. We did look around to see what the options were, and also asked a few sanctuaries if they could help out. Sadly for leopards it is very difficult to find the right place, as we only settle for the best of course. BUT…..I am happy to say, 2018 might turn out to be a very good and interesting year for us after all, with new hopes and possibilities for the leopards and our projects in S.A. I will start investigating the offered space and opportunities in January, and I must say I am very exited and passionate to do so.
So watch this space for up-dates on this any time soon. For the young leopards this for sure will be the best solution, and who knows in the end still a life in the wild is within their reach. Very close to that anyway!! In 2018 I will also make some changes in the continuation of the other projects we are involved in with Wild Cats World. More about that also soon on this website.
For now I like to wish you all a very Merry X-mas and all the best for the New Year. Thanks from the bottom of my heart for all your support, in every way, and for following Wild Cats World, all projects and beloved cats and species. We keep in touch!!!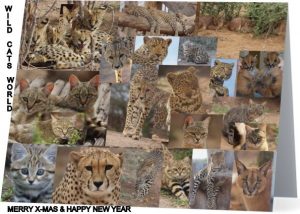 Warm wishes,
Babette de Jonge
Founder/CEO Wild Cats World
2018: different mission, vision and pursue of (certain) projects of Wild Cats World.
Watch this space and page for more info next year. At this moment lots going on behind the scenes, (difficult) decisions made!!!
No change as for: wanting the best for the (endangered) cat(species) in the wild and in captivity.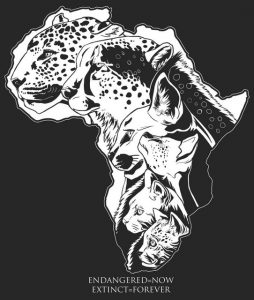 With their immense home ranges, Black-footed Cats spend about 70% of the night hunting. They move between 4.5 and 16 km, averaging 8.5 km per night. These distances represent odometer readings of the tracking vehicle, while 16 km moved by the truck would correspond to more than 30 km moved by the cat zig-zagging between bushes and termite mounds.
https://wildcatconservation.org/black-footed-cat-project/black-footed-hunting-diet/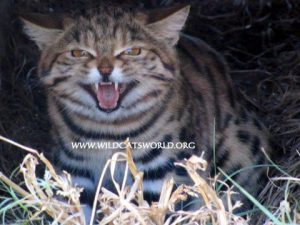 Cub was likely left in the safety of a sugarcane field in Shirur, Pune, when mother was going on hunt, said experts who released it and saw the mother carry it away.
(Mumbai, India – the place where they can live peacefully close to leopards; ed.)