Ambassador Felipe – leopard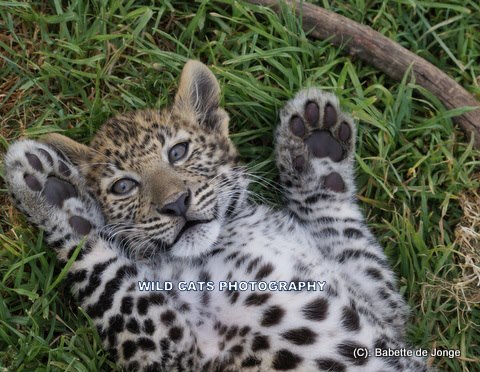 Félipe was born October 1st, 2012, and came to us to be a partner of our female ambassador Feline.  He also came from he famous list offered to all kind of wrong places in the petting and hunting industry, so we can indeed call it a rescue, offering him the best life possible, not being exploited in any way.
Félipe successfully sired the two  litters of Feline, with two daughters (Olive & Kali) and two sons (Beau & Bahati). We sadly lost Kali, for sure due to clumsiness of Feline and the other female Felicia, but Olive as well as Beau & Bahati left on 16th of March 2018 for a soft release. And we are extremely proud of that.
Do you like Felipe and his story and you want to support in our plead to give him the best life possible, you can (symbolically) adopt him, or any of the other leopards.
October 2013: Meet Wild Cats World's ambassador leopards Feline, Felix, and Félipe in their 'den', meaning their night house. They can withdraw whenever they like into their most private space, but they still allow their keepers to come in and sit with them. Here you can see them resting in their den during daytime, and also how well they accept our presence in their most intimate space.