Ambassador Norrick – Serval
8th of October 2017 – we sadly had to let Norrick go. Far too young to die but another victim amongst cats to kidney failure. Like his brother Mick, Norrick was also already phrone to this disease when he arrived at our place. February this year we almost lost Norrick already, and the vet advised to put him asleep straight like they always do. Due to his young age and the previous loss we were determined to fight the disease and see if he still had a chance to survive. For a week he stayed at vet-hospital on a drip, and the right medication. When he started eating a bit and became more assertive again, the vet suggested to take him home but they already said he probably wouldn't make it. Of course we were realistic enough to see this could either go right or wrong. Luckily his situation improved remarkably. Norrick became a dad to three wonderful kittens when Joy gave birth on April 1st and Norrick proved to be an excellent and loving daddy too. 8 months longer we could keep Norrick with us and the family and it was worth it. Sadly the kidney failure did strike back, and now appeared to be fatal, so the only animalfriendly thing we could do now was to stop the suffering and let our sweet boy have the peace and quiet he deserved. He will never be forgotten and will forever live on through his kids (daddy's boy) Fennick, Fonzi and Faye.  Missed by us, his kids and female Joy.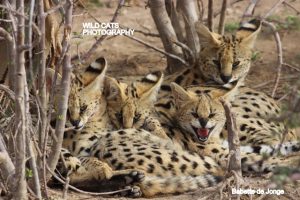 July 4th 2016 –  we were happy to welcome our new male serval (Leptailurus serval) ambassador: Norrick! Norrick was born at Honingkranz (Karoo Cat Research i.a.w. Cat Conservation Trust) 5th of August 2014 in a litter of three. With the sad loss of his one year older brother Mick, he will be the new friend, keeping our pretty female Joy company.
Date of Birth: 5th of August 2014
Parents: mother Nala, wild born/Eastern Cape and dad Krato (captive born Karoo Cat Research CCT)
Sisters: Nadja and Nadine (both released in a reserve)
Norrick sired one litter of two, of which surviving son Orion (Karoo Cat Research/CCT)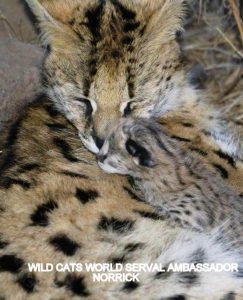 Updates:
July 6th 2016: Norrick is settling in nicely. He and Joy were properly introduced already and love each other's company. Curious Norrick is a bit distracted by the new (far) neighbours, in a positive way, he isn't stressed even though he never heard or saw leopards and lions before. Happy for Joy to have company again. Norrick certainly has Mick's qualities, sweet face and dark fur…being the one year younger brother of Mick. Soon hopefully some pics of the new couple together.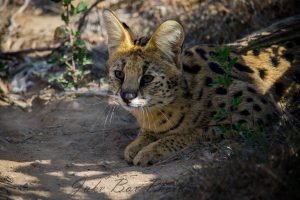 July 4th 2016:  With the sad loss of Mick, Joy needed a new friend, so we are happy, today we could welcome male Norrick (Micks brother, one year younger), born 2014 at Karoo/CCT. He was brought to her by Marion from CCT. The first introduction, both on one side of the fence, was full of interest from both sides, with the usual (serval) hiss, but for sure Joy will love some new company, and she wouldn't say no to a handsome male like Norrick.