Our Pallas Cat Conservation Project is supporting new partner Lyon Zoo, France, raising funds for the PICA project also aiming to support the resident male and female in the Zoo, creating a great new home (enclosure)  in the hope they are going to breed successfully, very essential for the species!
To help us with this Lyon Zoo gave us permission to find (symbolic) adoption parents for the male or female (or both) in order to get funds in for the essential Pallas Cat Conservation program, supporting the wild species.
So, do you want to help the Pallas Cat, as well as the lovely male and female, ambassadors of their species, in Lyon Zoo/France, then please (symbolically) adopt the male, female, or both. Here's more info on them…
Lyon zoo has 2 pallas cats, a male and a female.
Lyon:
Male Pallas Cat :  No name, so we temporarily call him Lyon.
Born at Cotsworld Wildlife Park and Gardens (UK) on the 17/04/2010
Arrived at Lyon zoo (France) on the 22/05/2013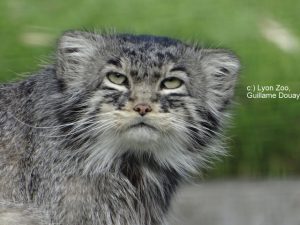 Photos, permission by Lyon Zoo.
Zoë:
Female Pallas Cat : No name, so we temporarily call her Zoë (Zoo)
Born at Novosibirsk Zoological Park (Russia) on the 21/04/216
Arrived at Lyon zoo (France) on the 23/03/2017
No Photo (just yet)
They are part of the EEP (European Endangered species Programme) from EAZA (European Association of Zoos and Aquaria). This program is coordinated by Mr David Barclay ( RZSS Highland Wildlife PArk, Scotland).