FELIX'S STORY
Felix was born November 7th 2011 in Hoopstad. We already had his sister Feline as a first ambassador leopard for the Wild Cats World project, and we were looking for a leopardfriend of the same age. We were shocked to find that Feline's brother, Felix, still appeared on a Trading list, offering leopards, lions and other animals to the (Canned) hunting and petting industry mainly. We decided to have him come over and be the leopardfriend that we so badly wanted for Feline, to play with and just to be leopard with. It was a very emotional moment when they were firstly introduced to each other and Felix embraces his little sister.
We didn't want a life in the petting industry for them, nor have them exposed to any exploit or hunting. With the both of them we started our leopard conservation project in Kirkwood.  Here we could start a conservation project and sanctuary focused on South African native species, in our own care and with our own (limited) volunteer project.
Felix sired two sons, with Felicia, from the first litter Solo and the second litter Chui. On 16th of March 2018 Solo left to be soft-released.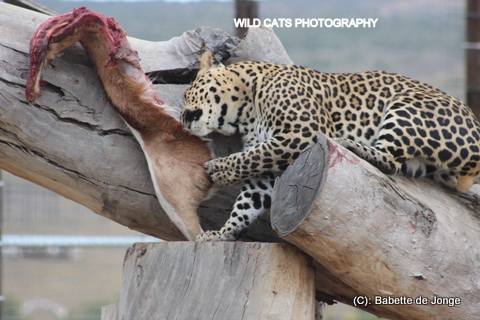 Feline and Felix were very fond of each other from the start
. They slept together, played together, cuddled…but were real leopard when it was eating time, so then they had to be seperated. Unfortunately Feline bit him too hard in the tail while playing, so now Felix is missing half of this tail, but still good friends.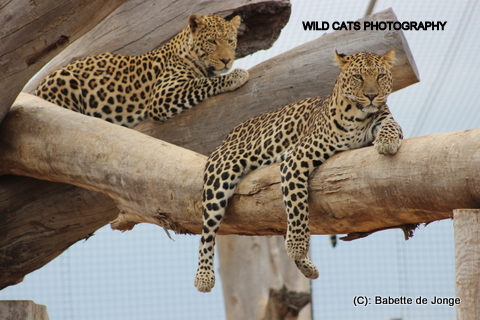 It took quite a long time to get the necessary permits in the Eastern Cape to start the leopard project, so it was only June 12th 2012 when the two leopards could finally be moved to their final home: a huge place where they enjoy themselves tremendously with their natural surroundings: rock piles, treestumps, waterpool, and lots of space to run and play! Felix and Feline are the first ambassador leopards of the Wild Cats World project until two new, unrelated, leopards will be introduced to make couples with the two when they reach sexual maturity
.
Update October 2015: The other side of leopard
October 2013: Meet Wild Cats World's ambassador leopards Feline, Felix, and Félipe in their 'den', meaning their nighthouse. They can withdraw whenever they like into their most private space, but they still allow us (Babette and myself) to come in and sit with them. Here you can see them resting in their den during daytime, and also how well they accept our presence in their most intimate space.