The four young leopards born and raised (by their mothers/parents) at Wild Cats World have been successfully relocated to a huge re-wilding (phase I) camp in Mpumalanga Province, where lots of rehabilitation and releasing of leopards already had been done. Happy to say Olive, Solo, Beau & Bahati are settling in nicely, but we didn't expect anything else of a highly adaptable species like the leopard. For the first re-wilding they will stay here, and the next step will be relocation to a huge boma in the National Park en Private Game Reserves (non-hunting) that showed interest in them already.
The project is named Phoenix-four, after the wild female 11 months old Phoenix. She has been rehabilitated and will be joining our leopards for further re-wilding. But she indeed is truly wild already. Plan for now is to have her with the 2 B's, Olive will be with a rehabilitated gorgeous male and Solo with a gorgeous wild female…. All suitable leopards will be released in the wild again.
This is all made possible with the incredible help and dedication from a wonderful team. First of all CJ and Paul from Wild Heart Wildlife Foundation (WHWF), Deon, Onderstepoort vets and University Pretoria. Without all of them we, Dutch, wouldn't be able to make this possible. So very grateful for this.   Dreams coming true now!
In short the (one and only true) story of the Phoenix-Four: the 4 youngsters have been born at our project with sole purpose to be released. Their parents we rescued from a hunting list and exploited life, and we gave them the best life possible. These human-raised leopards gave birth and raised successfully the youngsters who are much wilder already than the parents, but will in the coming time be wild enough for a release. They show the right behaviour already. With our project we wanted to reach the unthinkable (for many…) as for rescue of exploited leopards, bonding with them closely, having them live peacefully as a group, with still huge respect to the owner and caretaker through every stage. Raising the cubs successfully, who are ready to go wild. Only one more stage and our mission is complete!!!!!!
Keep following the leopards!!!! Remember: if this all succeeds, THERE'S HOPE FOR THE SPECIES!!! And isn't that what we all want???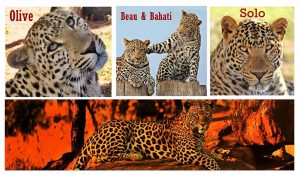 TO TRULY LOVE IS BEING ABLE LETTING THEM GO….WILD.
Here's the first pictures of the amazing leopards Olive, Beau, Bahati and Solo in their new huge camp, Phase I of their re-wilding programme, though the people involved instantly saw the wild already is truly in them.
The four young leopards were born in our facility, with the sole purpose of being released, and it is only because of Eastern Cape Officials not granting permits to the Private Game Reserves to release (our) leopards, uncastrated that is, this process did take longer than expected.
A few "sanctuaries" were contacted but were as expected not interested in true leopard conservation or well- being, but just on personal grudges & gain, and small talk, for which we are very grateful as a brand new door opened with the best of space for the leopards, and a new chance for a release in a National Park and Private Game Reserve that already showed interest.
Phase I is to relocate the four to a new place that offered the best of wild space, where they will stay without any human interference for the coming time.
So amazing and touching to see the four beauties, who have been born and raised at our place, in their new area, showing true leopard behaviour. How wonderful having to search for them, and get a glimpse. A dream coming true, and a huge step forward to reach our actual mission.
Of course we know that at any time, all have a say, and there's always negative people around, who try to make something so beautiful look ugly. This doesn't affect us though, and for sure doesn't affect the leopards, who had a wonderful life already growing up with a loving leopard family, in our best care, and now received the ultimate proof of our love for them: a way to freedom. So let's hope this will be as good as we all hope and think it will be.
Everything needs time and lots of funds, but rest assured that we always do what we promise, and the next promise is to the remaining leopards and other species in our care, we only reach for the ultimate improvement for them as well!!!
WILD CATS WORLD FOR THE WILD CATS!!!