Lots of exciting moments at Wild Cats World in September 2016. To mention just a few: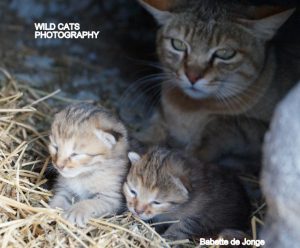 – On September 20th our African wildcat female Louise (daddy: Max) gave birth to two healthy kittens. Louise, like last time, is an exceptional mom and the kittens are growing fast. We kept daddy Max with Louise and the kittens again, as he proved to be a great daddy already the first time (with sons Maurice and Milow). As soon as the kittens are sexed we have to think of two nice names again; suggestions are welcome of course!
– From a wonderful, non-hunting Private Game Reserve, we got the request to home our two young leopards Solo and Olive in a huge boma, their cubs to be released in the huge reserve being part of the Big Five. Of course this would be mission-complete for us in our WCW Leopard Conservation/Education Project. If permit-wise all turns out positively, we will soon be able to share more info about this.