Little Madiba, R.I.P.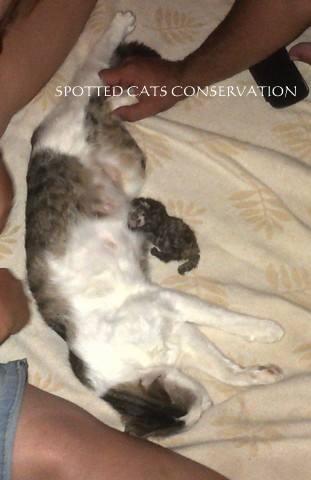 In 24 hours the world lost 2 fighters: a great human being, Nelson Mandela ("Madiba") but also our tiny little black-footed cat kitten. The surrogate (domestic) mothercat did an excellent job and the first days the weight increased but sadly the last 2 days he got it bad and stopped drinking. Beauty gave birth to this kitten, a male, and to a second still born. She sadly didn't take care of the kitten the first day, as she was still in labour. That's why we decided to give it a go with the domestic mothercat, a much better option than bottlefeeding. The bond between two got closer, and also when the little one wasn't feeling well the mothercat licked him and gave him comfort. This afternoon he passed away, but we didn't want our firstborn to die without a name, so we thought Madiba was the perfect name for our little fighter, to honour him and also the icon Mandela. May they both rest in peace and find the road to freedom….forever!!!!!!
I have walked that long road to freedom. I have tried not to falter; I have made missteps along the way. But I have discovered the secret that after climbing a great hill, one only finds that there are many more hills to climb. I have taken… a moment here to rest, to steal a view of the glorious vista that surrounds me, to look back on the distance I have come. But I can only rest for a moment, for with freedom come responsibilities, and I dare not linger, for my long walk is not ended!
– Nelson Mandela –