Conservation
Wild Cats World volunteer Sasan Amir from Germany made this incredible
video as first impression of his visit to us and our cats, and to South Africa. Starring a.o. Wild Cats World cheetahs and leopards……are you already inspired to come over? Just enjoy this amazing video.
If you can find it in your heart to support the Wild Cats World sanctuary, you will not only contribute to the gorgeous cats on these pictures, just a few of the residents at the Wild Cats World sanctuary. You will also support employment opportunities.
By taking the best of care of the wild cats and other animals, we create jobs and support local economy.
As for the cats: they want to have the best of space, food, care, company… a life as wild as possible. We want to provide this – as a non-profit organisation our means are limited – but we still do what we can.

Do you want to support us?
Please write to info@wildcatsmagazine.nl to discuss ways to support us.
Or please make a donation to the Paypal account: info@wildcatsmagazine.nl

See our About page for Dutch and South African bankdetails to make a transfer!

Thank you so much!!!!
The Wild Cats World team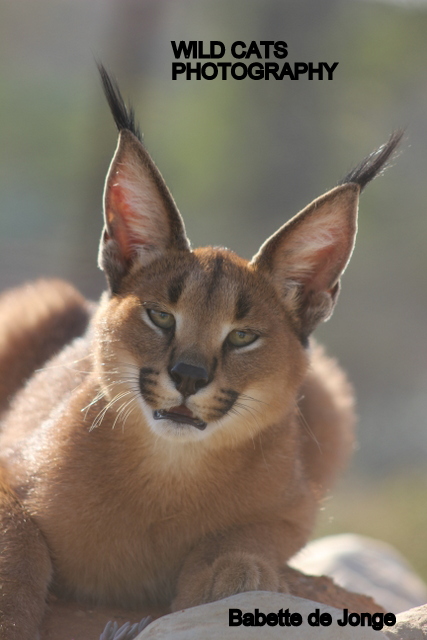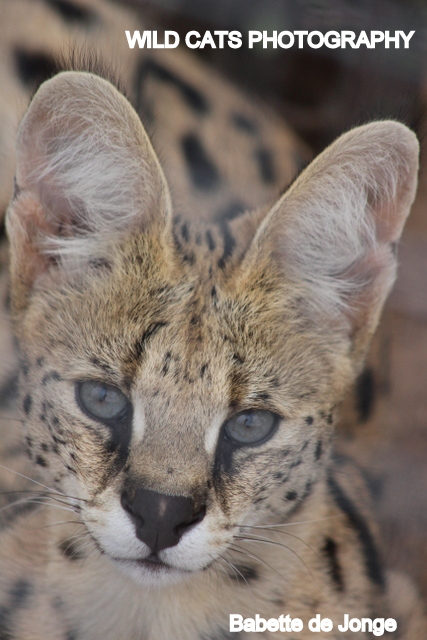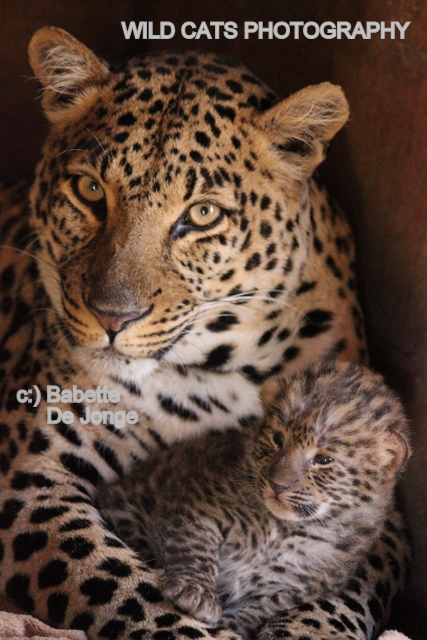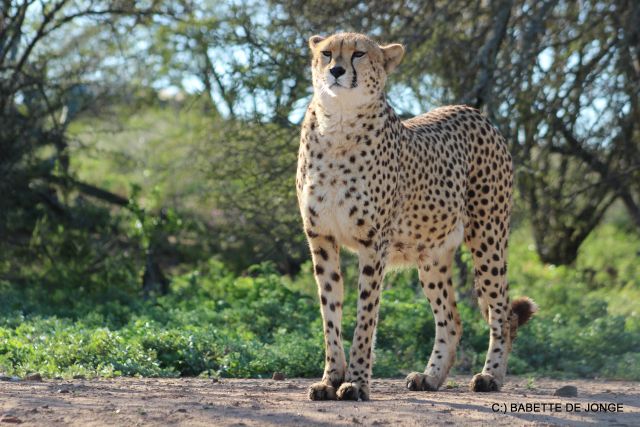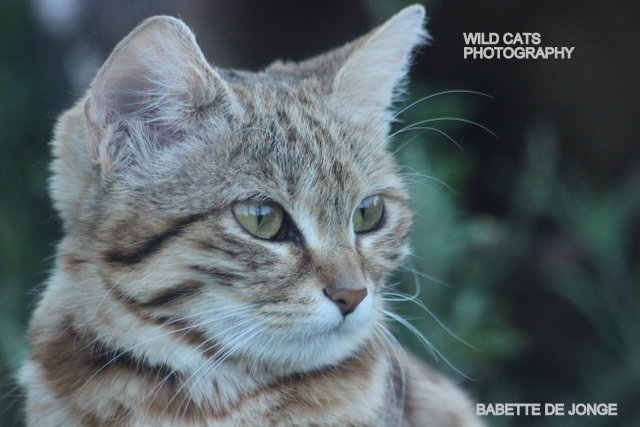 What we said all this time, the threat to healthy Leopard numbers is severe. Leopard Conservation is essential, but how is it conducted in South Africa?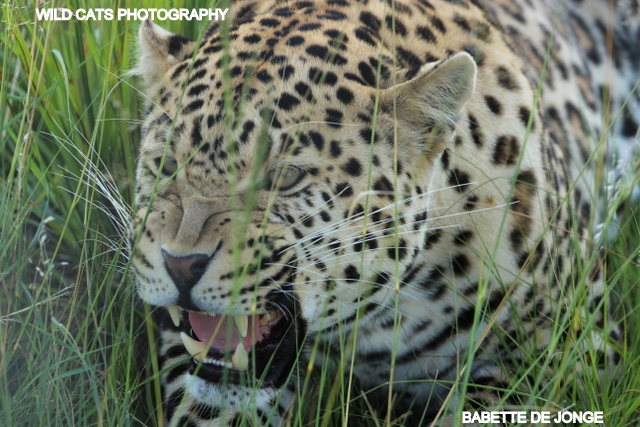 Apart from all mentioned, another serious threat is the capturing, keeping and killing of wild leopards in captivity with approval of all so-called conservation organisations. These also claim to protect the species but, as we found out, don't take the threat seriously and take advantage of it for their own ego and income. And then they say no to healthy blood (for breeding) which merely shows how fucked up SA conservation is.
We don't want to jeopardize our good leopard genes any more until something is changing big time.
We are the only leopard conservation program in South Africa (run by Overseas people, what irony) who have just the best interest of the leopard and its survival at heart. Yet the country decides to ignore good intentions, but instead is choosing a road to extinction.
We will keep fighting for the leopard, but in a different way. The in-breeding goes for all species in the smaller areas like Private Game Reserves who these days are nothing more than a huge zoo. They rely on people to regulate numbers and breeding, so nothing is natural about it. Of course there are lots of the problems for cheetah and Lions. The "release and conservation" efforts are nothing more than a way to keep the exploit going.
Read the article about it on The Conversation.
Yes THIS (see photo!) is exactly what we think about all the animal abuse… exploitation, trade, bone and Hunting 'industry' in South Africa.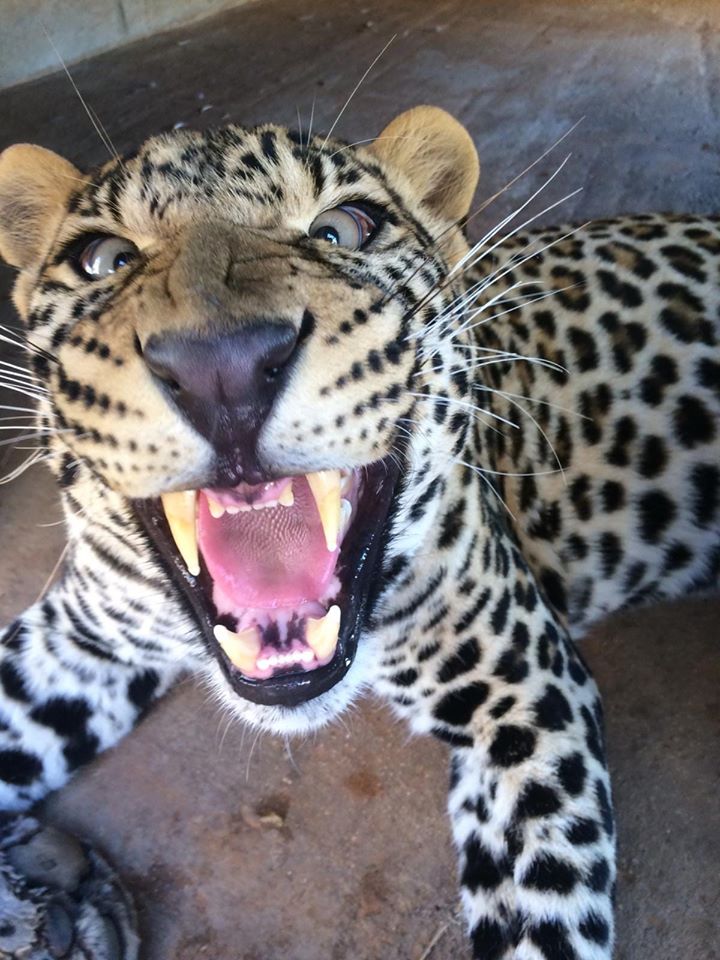 Thanks to the best Leopard ambassadors we have been working for most of 2019 on a huge scale Investigation as for the mentioned before. Name and shame and revealing time soon…
It is scary that everybody somehow and in some way is involved in this business. Foundations, welfare organisations, conservation… huge laugh, in fact the biggest threat to Wildlife as it appears now. Learnt so much past time… hard to describe. Yes the book will be there in the end too!
Thanks to Caib our volunteer from Scotland for the great picture, Chui @ Wild Cats World.
In memory of Olive (and all others), one of the many victims of South Africa's disrespect to wildlife: poached and stripped. Olive Foundation, by Wild Cats World, raises funds for all activities fighting against poaching, stripping, trading, hunting…..snares. As well as to rescue her three friends out of the same "hell hole" and construct a nice and safe home for them.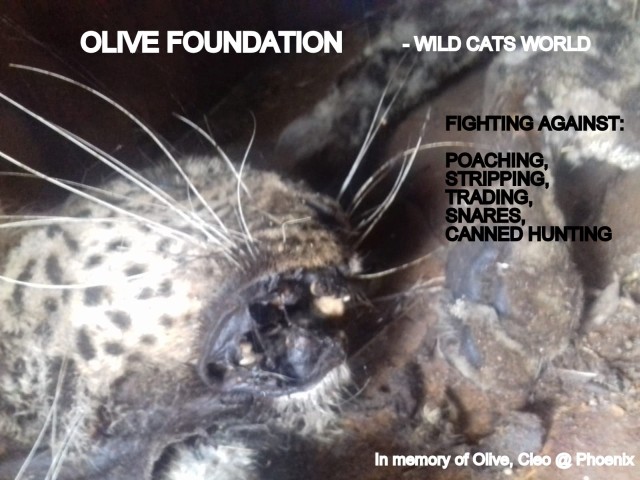 Please do support Olive Foundation with this essential work. Her death being not in vain, we hope she will be the symbol of the rescue of many big cats and other wildlife awaiting the same ill fate.Thanks.
Paypal: info@wildcatsmagazine.nl
Banktransfer to: Stichting WIld Cats World
ABN Amro Bank
Bussum, Netherlands
NL22ABNA0517247135
Reference: Olive Foundation
For German speaking/reading wildcat enthusiasts. In this book author Wolfgang kindly pays attention to Wild Cats World and our conservation projects for the leopard, black-footed cats, etc.
In short….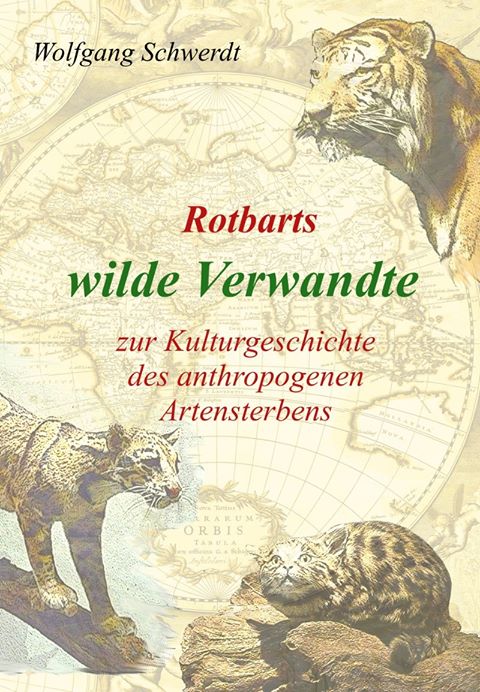 Marbled cat, Sumatran tiger, leopard, clouded leopard, or black-footed cat.
They all have one thing in common: they are on the brink of extinction.
Since the emergence of the first civilizations, they are hunted, as well as admired. The wild species and their natural habitat are decreasing rapidly
everywhere in the world.
In this book a cultural and historical journey of the early years of the 17th century, in which the fictional ship cat Rotbart (a tomcat) experienced his adventures, until modern times with its present challenges, causing the so-called sixth mass extinction of Earth's history. The wild cats are related to the Rotbart, the hero of the story.
The reader will take a journey into the world of divine rulers, cultural heroes, man-eating cats of prey, unscrupulous traders, historic eradication campaigns and passionate conservationists. Because the cultural history of anthropogenic biodiversity is characterized by greed, power, scientific passion, religious beliefs and a heavy dose of stupidity of the species, ancestors of Homo sapiens.

A different journey meeting the "wilde Verwandte"
TM and TCM incorporated by WHO – appeal to WHO members to guarantee the protection of endangered plant and animal species
A great cause we are committed to – please do sign & share as much as you can.


In case you are wondering what we are up to at this moment? It might seem quiet as for our projects and sanctuary but you can consider it to be "Calm before the storm".
Behind the scenes lots of work is in progress, we are not allowed to share any info about just yet. Once we can, rest assured, you will hear loud and clear what we have been up to the past few months. This concerns a big revelation, which will hopefully cause some commotion and increased awareness of conservation.
Apart from that we are still having meetings with new people, Officials, and organizations to come closer to our final mission. As this still needs a lot of time, and can only start after the revelation, we better not share info about it just yet. We wait to give any further up-dates until the time is ride.
The boys "going wild" (see photos) were sighted in January this year and are doing well, as well as all the cats and species we have in our sanctuary. Focus for coming time will be the South African leopard project & our South African sanctuary with African native species.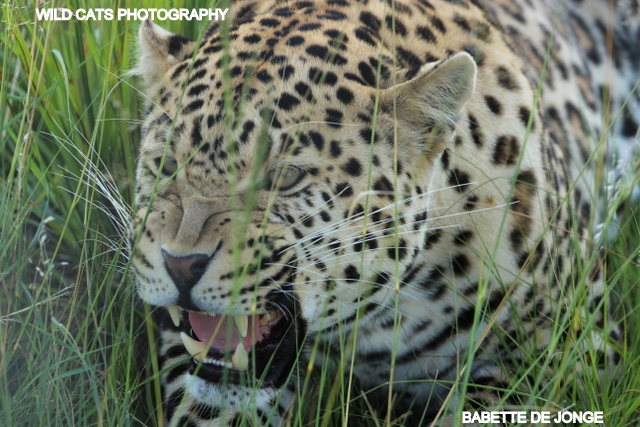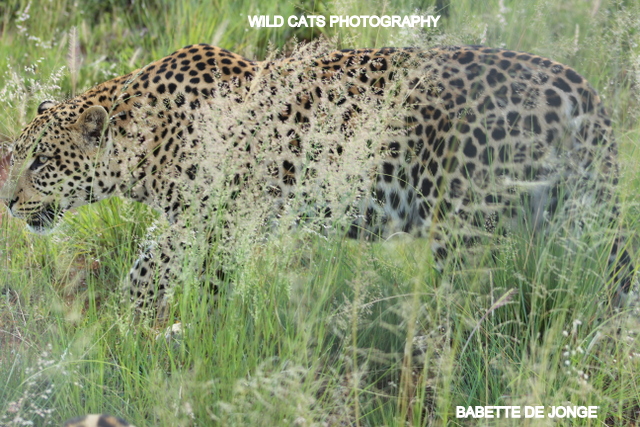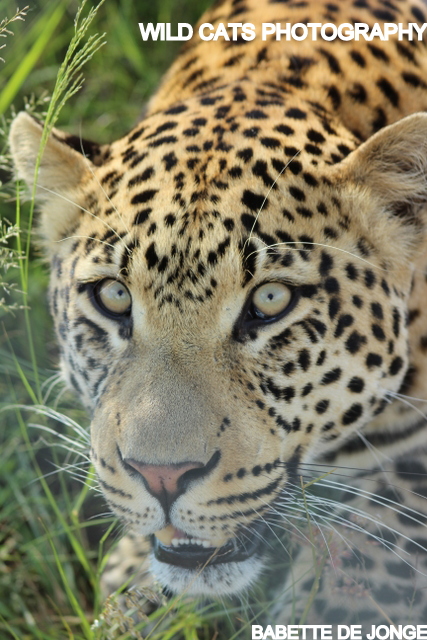 The other projects for now are put on hold for several reasons. An up-date will follow as soon as we can.
In the meantime, thanks so much for following and supporting us and the wild cats.
Like with every ending of a year we look back to what has been the past year. We gained, we lost, like every year. But of course we had a few highlights too. The relocation of four young leopards born at Wild Cats World, to live wild, in March 2018. Also we had two special births, at the black-footed cats and the leopards, all off spring growing up healthy.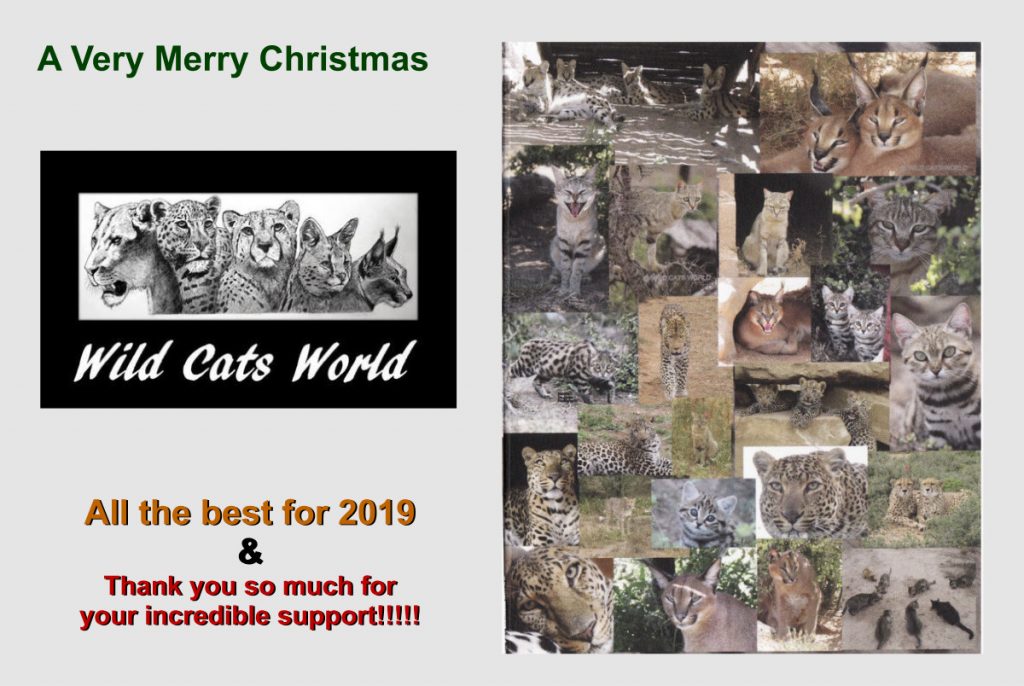 So, we can only look back and say 2018 was very successful. We came closer to our actual mission and vision and that of course feels great. Also, we learnt so much again. About what is happening in conservation. But also we learnt a lot again about people. The intention for the New Year, is to focus even more on the cats and how to do our projects without getting distracted to "noise". To be true to our own way of doing things, with welfare of the cats (as always) in mind only. To not waste time on social media too much anymore, and mostly in closed groups. Not to be confused by what others have to say.
A road we started to follow this year already, giving us a much better feeling. At Wild Cats World the cats and their well being is what matters most!
Apart from supporting the species in the wild, our main focus. We dedicate all we have to the Conservation projects and sanctuary in South Africa, with our important ambassadors. African wildcats, Black-footed cats, Caracals, Cheetahs, Leopards and Servals. The lions we rescued from the ugly Canned Hunting industry all have great forever home at other places.
We very much appreciate the continuous support by lots of followers. Some even so generous to support us with a yearly donation. We cannot thank you enough; as non-profit foundation we need all support we can get. The more we can do of course. But even without, it doesn't stop us from giving the cats the best and to grow – in every sense of the word.
Have a blessed festive season. Merry X-Mas & All the Best for 2019!
Thanks!
Today Wild Cats World and Wanicare Foundation/Chikananga Wildlife Center will have another meeting to discuss the progress of the Javan leopard Release Program. We will discuss new ideas, plans and possibilities to achieve what's best for the Javan leopard species and especially for the three wild-captured leopards (Dimas, Sawal and Ciemas) in the Rescue Center that are still waiting to be released.

We told you earlier that as much as we love to release them 'yesterday', it is not quite as simple. Many wild leopards are being caught due to conflicts with humans and their rapidly decreasing natural habitat. The problem right now is that there's no space left in the rescue center to give home (preferably temporarily) to the caught leopards. Instead they will go to a zoo, with no chance to be ever released again for sure.
Because a safe habitat for release is difficult to find, we would like to increase better medium-term enclosures for more leopards, but that means having lots of new camps and enclosures built. Alas, this is a very costly business as we know only too well of the S.A. projects where we gave the best possible space to the 4 African leopard ambassadors (all born in captivity). The question also is if it is wise to invest so much money in infrastructure at the Rescue Center, as we also need it big time to make the releases possible.
So we have lots of things to contemplate, to discuss and decide about. We hope to be able to come to some decisions in the meeting today.
The good times have arrived as more sightings are possible now of our black-footed cat female DIVA and her three cute kittens. Here's already one picture; two of the curious kittens. More will follow later in a special photo album.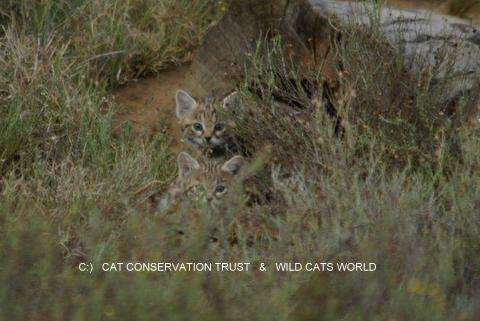 Of course you can already see more on the WCW Facebook page where we give daily up-dates about all our projects and ambassador cats. Thank god all is still going well with the three kittens and also with mom DIVA (and dad BLACKY). The kittens are 6 weeks old. Of course still exciting times as with BFC anything can happen, but so far they doing so well and Diva is such a wonderful and protective mom. Three kittens in a first litter is not bad at all!!!