caracal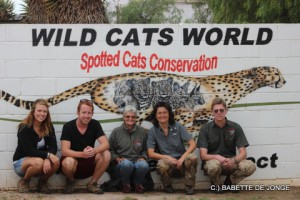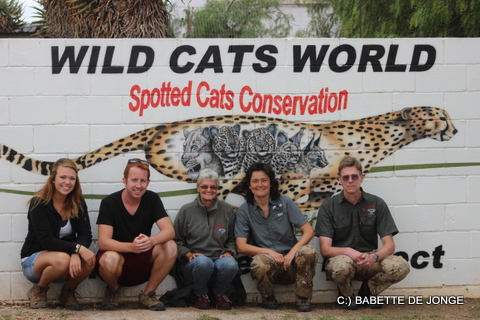 The stories of the Wild Cats World volunteers…
Also see Volunteering at Wild Cats World.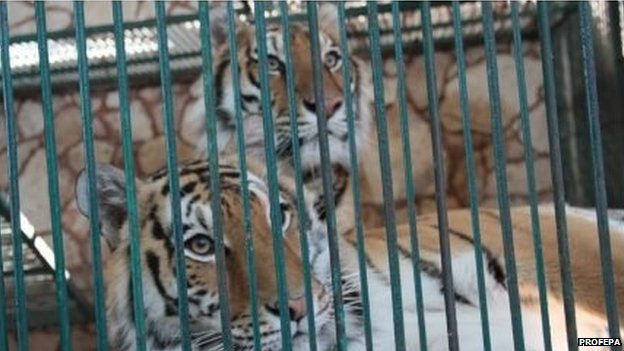 Finally… I think all of you know how Wild Cats World participated in a rescue operation from this zoo years back. Well, we took action to be able to rescue the cats from this awful place, but law decided otherwise back then. Today, almost 3 years further, we received this great news from "partner in crime" camera specialist Karla Munguia who did a great docu about her visits to this place, trying to pursue the owner to allow the cats to be rescued. We offered a safe haven at Wild Cats World then and we still do now. Fingers crossed all goes well in this rescue operation
More than 100 animals have been rescued from an overcrowded private zoo in Mexico.
Mexican environmental officials raided the zoo, which is owned by a conservative congressman, after complaints from visitors.
They found overcrowded and cramped cages piled on top of each other and unsafe conditions for visitors.
Among the animals rescued were lions, tigers, jaguars, pumas, bears, buffalos and camels.
Today Wild Cats World and Wanicare Foundation/Chikananga Wildlife Center will have another meeting to discuss the progress of the Javan leopard Release Program. We will discuss new ideas, plans and possibilities to achieve what's best for the Javan leopard species and especially for the three wild-captured leopards (Dimas, Sawal and Ciemas) in the Rescue Center that are still waiting to be released.

We told you earlier that as much as we love to release them 'yesterday', it is not quite as simple. Many wild leopards are being caught due to conflicts with humans and their rapidly decreasing natural habitat. The problem right now is that there's no space left in the rescue center to give home (preferably temporarily) to the caught leopards. Instead they will go to a zoo, with no chance to be ever released again for sure.
Because a safe habitat for release is difficult to find, we would like to increase better medium-term enclosures for more leopards, but that means having lots of new camps and enclosures built. Alas, this is a very costly business as we know only too well of the S.A. projects where we gave the best possible space to the 4 African leopard ambassadors (all born in captivity). The question also is if it is wise to invest so much money in infrastructure at the Rescue Center, as we also need it big time to make the releases possible.
So we have lots of things to contemplate, to discuss and decide about. We hope to be able to come to some decisions in the meeting today.
The good times have arrived as more sightings are possible now of our black-footed cat female DIVA and her three cute kittens. Here's already one picture; two of the curious kittens. More will follow later in a special photo album.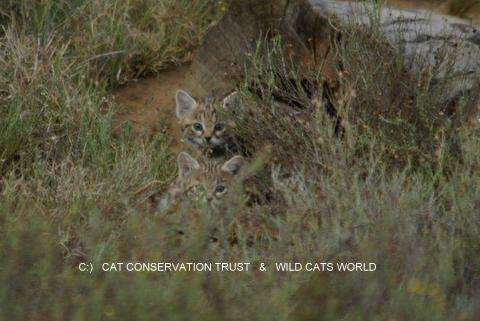 Of course you can already see more on the WCW Facebook page where we give daily up-dates about all our projects and ambassador cats. Thank god all is still going well with the three kittens and also with mom DIVA (and dad BLACKY). The kittens are 6 weeks old. Of course still exciting times as with BFC anything can happen, but so far they doing so well and Diva is such a wonderful and protective mom. Three kittens in a first litter is not bad at all!!!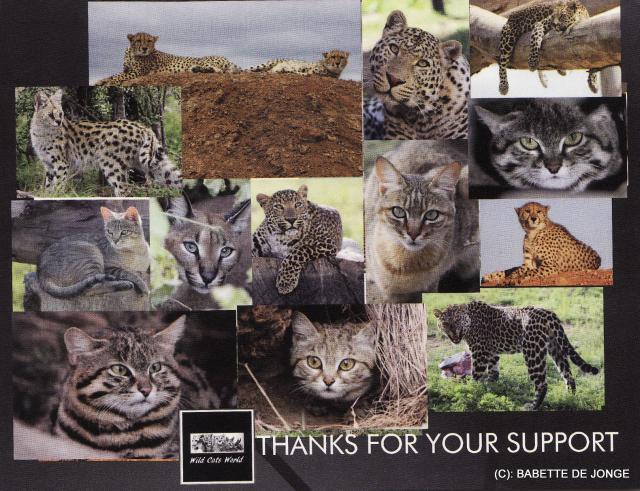 The end of 2014 is coming near, the start of a brand new year, 2015, almost a fact. It's an opportunity for all of us, to grab the moment and express our gratitude to all dear Wild Cats World supporters, the (symbolic) adoptionparents of our beloved ambassadorcats, sponsors of WCW projects, Madame X, our S.A. partners, the volunteers and caretakers and anyone showing their interest, in word and deed, to our Wild Cats World non-profit foundation, and our ambassadorcats in the S.A. "Spotted Cats Conservation" & "Black footed cat conservation" projects. We are grateful for the successful year we are about to finish, and we are looking forward to a bright future in which we continue fighting for the welfare and conservation of all wild catspecies. Thank you so much  and hopefully we can count on your incredible support, thru good and bad times, again.
Have a wonderful Christmas and a fantastic, healthy New Year!
Babette De Jonge, founder/director Wild Cats World, Spotted Cats Conservation.
Proud Ambassadors of the S.A. project:
African Wildcats, Sid & Louise
Black-footed Cats, Beauty, Blacky & Diva
Caracal, Leo
Cheetahs, Speedy, Spiky, Sunny Leopards, Feline, Felix, Félipe, Felicia
Serval Joy
With mixed feelings we will give you another up-date about our "Javan Leopard Release Program" in cooperation with Wanicare Foundation and Cikananga Wildlife Rescue Center, who work hard for the leopards on ground level and provide "our" three leopards Sawal, Ciemas and Dimas in the Release Program a (temporarily) home in the Rescue Center.
The sad part is that as for the (future) releases there's unfortunately no real news to tell. It is after all Indonesia we are talking about and the situation is very difficult. But though the main mission in our (co)-project will at any time be an eventual release of the leopards, we are forced to think further now. There's some progress though in some way which we like to share with you and we have made an alternative plan to focus on while "waiting" for the first possible release. As of course the individuals that are waiting in captivity, hopefully temporarily, which is what we still strive for, deserve the best of welfare. Good news is that Forestry Department finally understands the need to take action to protect the Javan leopard species.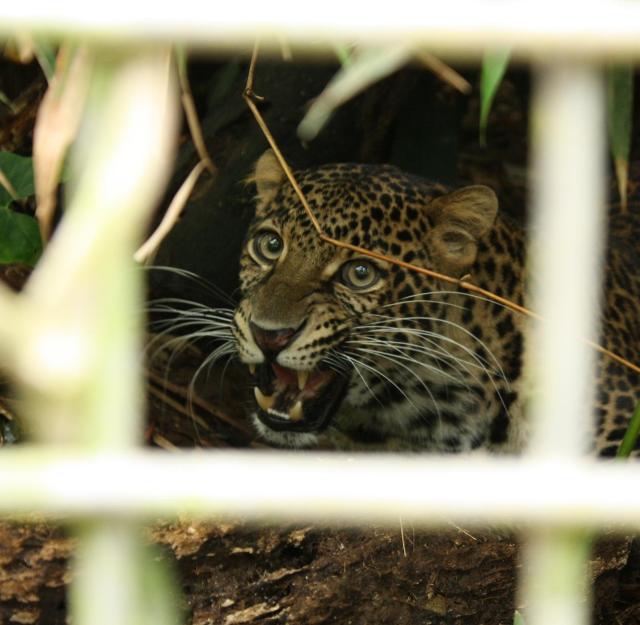 The end of October there was a meeting at the Taman Safari Zoo in Bogor discussing the future of the Javan Leopard with several organisations, and to try and set up a plan to avoid extinction in the wild of the species. Different options were discussed like building a new sanctuary especially for the Javan leopard. In addition, there will be intensive research done to the wild population, as for numbers, where they live but also possible data for the release of leopards on Java, or how new areas can be improved and prepared for new leopard populations to be released. Taman Safari Zoo in Bogor (pretty good for Indonesian standards) wants to start a breeding program for the Javan leopards and they are about to start a studbook. They asked one of the three males that we have in our release program and we were asked if Dimas would be a good male to move there. He is in the rescue center longest of all three males, but due to age and condition the other two males Ciemas and Sawal will be the first two to be released if it comes to that in the near future. The enclosures at the zoo are a lot bigger than the ones at the Rescue Center, of course not only being there for the leopards. All surplus or injured wildlife, like monkeys, rodents, reptiles, etc. find their way to the sanctuary. It is so sad that the human population keeps growing but the habitat for all these animals, every piece of nature, is decreasing rapidly. The sad reality of today.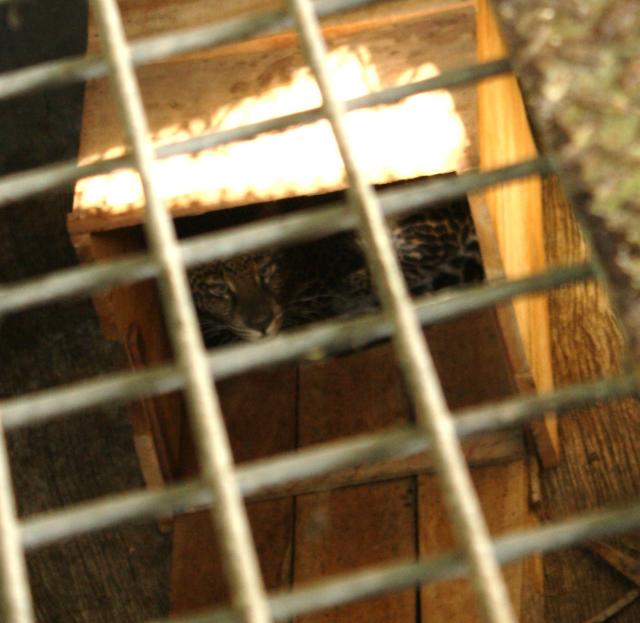 The relocation to a zoo (even though a better one than the average one) who would start a breeding project for captivity instead of sharing our mission to release individuals in the wild again, was not something we in WCW could live with. So, Willemijn from Wanicare paid another visit to Tasman Safari Zoo to come to the same conclusion. The plan is now to construct better and bigger enclosures for the resident males and for any leopards that will be brought in again after a conflict with humans in their natural habitat, to avoid them ending up in a zoo that already happened as the wildlife Rescue Center didn't have any space anymore. Indonesian zoos, also Tasman Safari, is offering photo sessions and similar activities with cubs and young animals for money, so this is something we will never agree to.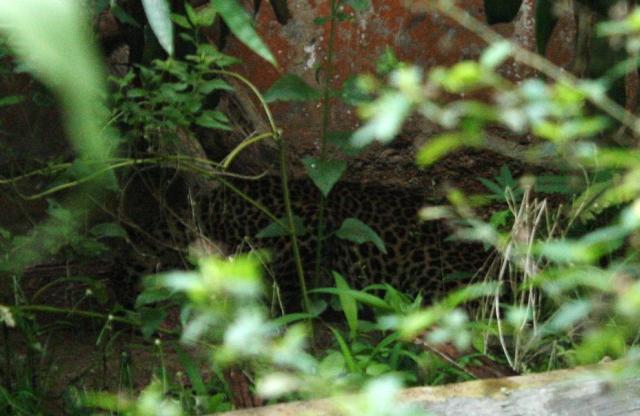 Constructing better enclosures doesn't mean this is now main aim, as for both Wanicare Foundation, Cikananga Wildlife Center and Wild Cats World this will at any time be a Release Program. So the mission will always be future releases, but also to conserve the species. We cannot lose the Javan leopard like nature already lost the Javan tiger. Not if it is up to us. For all activities of course lots of funds are needed, so we would be grateful to any kind of financial support, which will be used for either feeding the leopards, constructing the new enclosures, medical treatment if necessary but also tracking collars and the investigation and other work on ground level to make future releases possible.
For donations by Paypal please use info@wildcatsmagazine.nl
This is Nina (II), the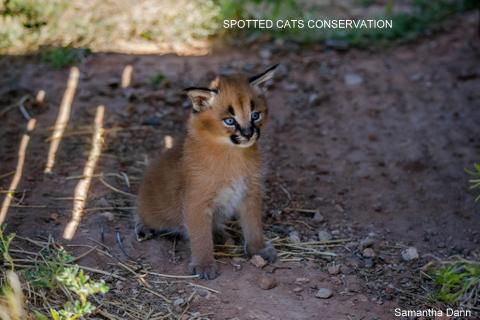 daughter of our male Leo and his loving female Lea….. We named her Nina as the first female cub born in our caracal conservation project, alongside her lovely brother Thilido. The project is dedicated to our first female ambassador Nina who was intentionally injured and left to die by… (sighhh…) in the Netherlands. As you all know that story, we just continue positively now as this Nina (and so is her brother) are symbolic to new life, new hope, new beginnings…
The proud parents Lea & Leo are taking such good care of them. They are loving and protective, and you can see how well this 4-week old cutie looks… mother's milk and care of course being the best for them, and that shows!
Thanks for our caretaker Samantha Dann for sending this lovely picture.
Like any non-profit organisation we of course also rely on kindness of sponsors and on donations/adoptions. With the ambassadors eating around 22 kilo fresh game meat each day, providing them with the best of care, medical treatment and camps/enclosures, you can imagine how much your support is needed and appreciated. Beside this we currently have many other (co)-projects world-wide supporting the wild species and natural habitat, and also for this it is money, money. money that is needed.
So if you are looking for a nice Christmas present for yourself or your beloved ones? Try the (symbolic) adoptions we can offer you, of cheetahs, leopards, caracals, servals African wild cats or Black-footed cats? We thank the kind adoption parents and sponsors who have helped us so greatly already. More…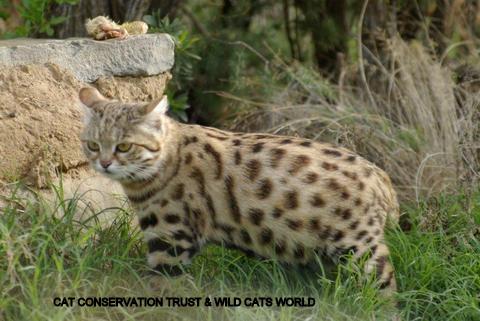 Diva gave birth…. and this time for real!!!! As you know this little black-footed cat lady had us all fooled once before. After that we all were in doubt if she "just" turned fat or if she still would be pregnant, though her shape was still a sign to hope for the last option.
At CCT they even had her and Blacky separated for a while to check upon her, what she is eating and how her faeces looked. The past few days she didn't eat well. This morning she was found under a log and in the afternoon she didn't seem to have moved, looking rather worn out.
Then suddenly there was something visible next to her, 2 or possibly 3 kittens. Of course it's early days yet and the first litter of Diva, so the first days are very essential to give her a lot of rest and a  stressfree start as a mother. Fingers crossed all will be fine and they are all healthy. Like Beauty's girl BIBI who is still doing great, 7 weeks now.
We'll keep you up-dated!
(WCW i.c.w. Madame X)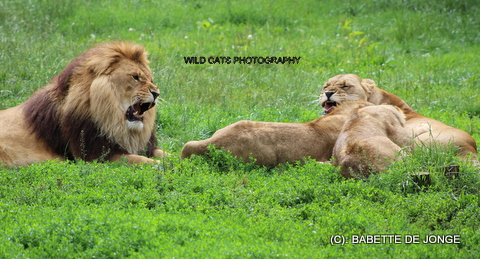 Five Canned Hunting lions recently moved to a 100 HA safe place. They went ballistic their first moments with space and safety, and no more cuddling people or guns pointing at them and their relatives. This is what you call a rescue.
Thanks Madame X for really doing something for these lions, and for letting us take part in this huge project. For not wanting any praise and not needing any funds….. you did it and no one so far has done the same!!!! We are looking forward to more projects like this in your company…… we are still aiming on free ranging cheetahs and with you everything is possible!!!! Soon we will share some more pics of the lions in their new territory.