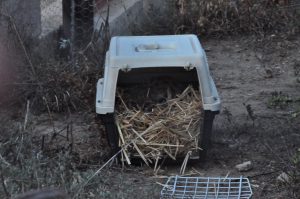 Ok, so finally we could welcome the very essential addition to our Black-footed Cat Conservation Project: male Spotty & female Lilly. Black-footed cats are the smallest cats of South Africa and the second smallest of the world, with a fierce personality that makes them look bigger 😉
We closed this species in our hearts ages ago, and after starting up our S.A. conservation project and sanctuary, we were determined to do what we can for this species. We gave shelter to three black-footed cats that ended up in gin-traps from horrible people (farmers), and we had to amputate their frontleg. This is how we started. Sadly the two males (Footy and Blacky) aren't with us anymore for some time now, and female Beauty is currently not doing so well either; we fear for her life. We still have our proud female Diva, a female presented to us as said being born in captivity. Black-footed cats are very vulnerable to stress and illnesses, esp. the threatening kidney disease "amyloidosis". Some say this species is destined to get extinct. Youngsters (in wild and captivity) almost all don't reach adulthood. In Europe the captive species has gone extinct with the last one dying in Wuppertal Zoo some years ago. In the U.S. there's still quite a few in captivity but all from one bloodline, which also doesn't help the species. In South Africa, their native country, they are also rare in captivity, and most of them are from the wild where they are already endangered.
It took us a long time to find a new couple of unrelated black-footed cats, said to have been born in captivity, but one can never be sure about that. If we in future have (lots of) surviving kittens, we hope to at least release a few, but first it is important to have a good buffer in our project, and a strong and pure bloodline for that matter.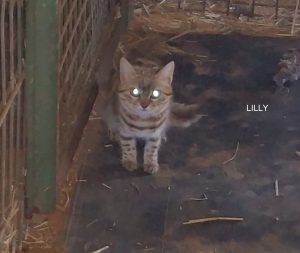 Lilly & Spotty are for sure very welcome and loved, and we, like our team, will do everything that's in our power to do the best for these two, our little Diva and the species in the wild!