We recently started a new conservation Project for the Pallas Cat (Otocolobus Manul), supporting new partner Lyon Zoo, France. Our project is supporting Lyon Zoo, raising funds for the PICA project and to give the resident male and female in the Zoo a great new home in the hope they are going to breed successfully.  
To help us with this Lyon Zoo gave us permission to find (symbolic) adoption parents for the male or female (or both) in order to get funds in for the essential Pallas Cat Conservation program, supporting the wild species. Look at our special Ambassador-page how to adopt.
Project background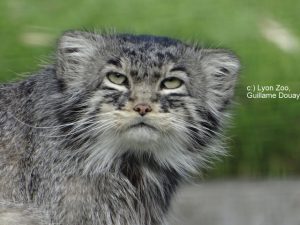 The Pallas's cat (Otocolobus manul) European breeding programme (EEP) and International studbook (ISB) have been held and coordinated by the RZSS, Highland Wildlife Park for several years and although they are only listed as Near Threatened by the IUCN Red List, they are, as a species, declining in numbers and are highly understudied in the field with their presence or absence unknown in keys areas.
As the holder of these programmes it is important that we take a pragmatic approach to species management and do what we can to improve our understanding of this animal, both in captivity and in the field. After communication with the Pallas's cat working group, of which we are a member, and further financial support from several European Pallas's cat collections 4 in-situ field support projects were chosen across the Pallas's cat range. This work will not only increase our un
derstanding of the species globally but it will highlight key areas that will allow for better targeting of conservation efforts in range countries and at the same time aid our efforts with the captive breeding programmes.
Currently our projects are focusing in Nepal, Kazakhstan, Mongolia and Iran and are not only raising the profile of the species throughout these countries but giving us a clearer picture of the threats toward Pallas's cat populations. As an elusive species that is rarely seen by man our researchers are using trail camera technology to shed new light on Pallas's cat behaviour and in turn making future conservation efforts more achievable.
Project Aims
Map Pallas's cat distribution more accurately using camera trapping technology
Gain a better understanding of the veracity of the "recognised" Pallas's cat sub-species
Aid field researchers in the provision of educational material for local villages / schools
 within range countries
Enhance the global Pallas's cat network
Aid future species assessments through the IUCN/SSC Cat Specialist Group
Highlight the importance and value of collaboration between zoos and field projects