With the end of another year coming close, I like to look back on the year 2017 and look ahead to a brandnew year 2018. Looking back on 2017, we look back with mixed feelings. On the whole we had a good and stable year. Highlights were the births at our leopards, servals and black-footed cats. The females Feline, Felicia, Joy and Lilly being excellent mommies, and also the daddies Felix, Felipe, Norrick and Spotty proved to be proud and caring daddies. Like in every year we sadly also had to say goodbye to a few beloved cats. This year we had to loose African wildcat male Max, serval daddy Norrick, who lived 8 months longer after proper treating his kidney failure, but sadly a second blow was too much and we had to let him go. A huge loss was also to loose black-footed cat female Diva; cause of death: ehrlychia, which mostly occurs with dogs caused by the brown tick. R.i.p. to all three who touched our hearts and will never be forgotten.
Major setback for us and the leopard Conservation project in S.A. was to get confirmed Nature Conservation Officials won't grant permits to the Private game Reserves Amakhala, Kariega and also not to Shamwari, to release (our) leopards. This caused a problem for us, since we did breed with the leopards for release and they were actually "ordered" to be released. So now I had to carefully think and plan ahead. The big question was: how to continue with the leopards and Leopard Conservation Program. Also for the Javan Leopard in the Release Program there were still no releases possible. This all is a very sad situation for the leopard and for us wanting the best for all leopard species who are under threat.
This setback won't keep us from doing what's best for the leopards, and we will continue to fight for their welfare and contribute to their survival. Priority is now to find a next-best forever home for the young leopards, since a release isn't very likely anymore, even though we keep trying in other Provinces. We did look around to see what the options were, and also asked a few sanctuaries if they could help out. Sadly for leopards it is very difficult to find the right place, as we only settle for the best of course. BUT…..I am happy to say, 2018 might turn out to be a very good and interesting year for us after all, with new hopes and possibilities for the leopards and our projects in S.A. I will start investigating the offered space and opportunities in January, and I must say I am very exited and passionate to do so.
So watch this space for up-dates on this any time soon. For the young leopards this for sure will be the best solution, and who knows in the end still a life in the wild is within their reach. Very close to that anyway!! In 2018 I will also make some changes in the continuation of the other projects we are involved in with Wild Cats World. More about that also soon on this website.
For now I like to wish you all a very Merry X-mas and all the best for the New Year. Thanks from the bottom of my heart for all your support, in every way, and for following Wild Cats World, all projects and beloved cats and species. We keep in touch!!!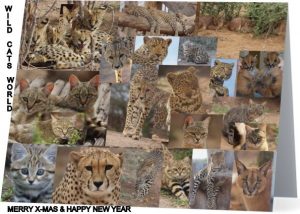 Warm wishes,
Babette de Jonge
Founder/CEO Wild Cats World