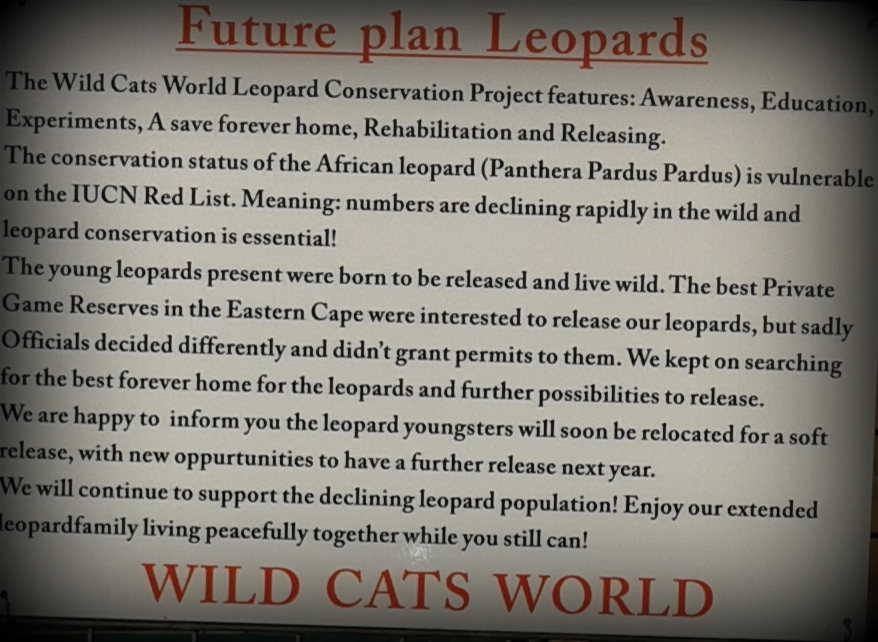 The info on this sign is shared at our S.A. conservation project, to avoid misinterpreting, unintentionally or intentionally, the essential conservation work we do for the leopard species (Panthera Pardus), the South African leopard, but also our support to the Javan Leopard, Indian Leopard, Nepal Leopard but also other subspecies, if ngo's need our support in knowledge or funds.
As for the African leopard (Panthera pardus pardus) we are at the bound of the next big step, which will lead us to the ultimate mission: a donation of fresh blood back to the wild.
The four young leopards (Olive, Solo, Beau and Bahati) who were born and raised successfully at our place are moving out shortly to another Province, to a huge re-wildings camp (details follow shortly), and after the right period of time they will as it looks now move to a huge boma part of a wonderful National Park who showed interest in the ultimate release.
Of course we had a bit of a setback when Officials in the Eastern Cape didn't grant permits for an earlier release to the Private Game Reserves, Amakhala, Kariega and Samwhari, who wanted to release (our) leopards, which also left us with full house at our sanctuary, because the youngsters have grown up now, and difficult to decide where to start looking for a new forever home or better possibility for a release, and now a new door opened for us and our leopards, and an even better one!!
Everything takes time, as some people don't realize. The 'experiment' of  keeping of leopards in a group ('Pride'), and of course our close bond with the adult leopards, above all with the females also when they gave birth, is for some a matter of dispute, and envy, but we have and had a vision & a mission, and we are coming closer to reach the unthinkable, ultimate thing. So watch this space for more info to come in the (near) future.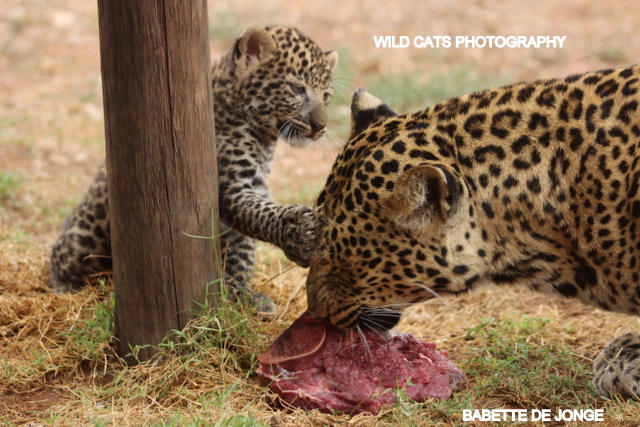 Little Chui, proud son of Felicia and Felix, born in December 2017 (see photo) has now the important job to tease the remaining adults, so that they don't have to miss their older 'kids' too much.