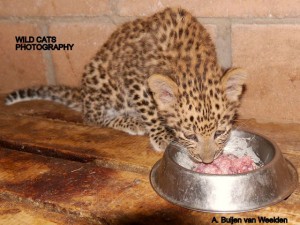 After the sad loss of little Kali we of course want to continue in a positive spirit with his sister Olive, and the other leopards. Almost 8 weeks of age, it is about time the little one starts eating meat alongside the mothermilk. Of course we preferred to do this in the natural way with the little ones nibbling mom Feline's meat, but it was clear Feline was not really in a sharing mood. No one will nibble her meat. She always was a relaxed eater but since motherhood she turned into a fierce one, hissing to everybody and everyone who is a potential threat to steal her meat, even to the little one(s).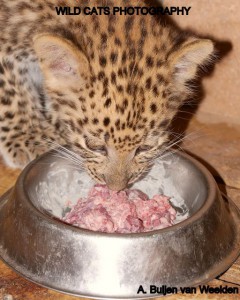 Kali already had fun with Felicia's chicken, who still is more relaxed with her food (was different when she was much younger) but further on the cubs not really showed interest in meat. Until yesterday. A mixture of minced meat, game meat and a bit of cream was something little Olive could very much appreciate. Today she already seemed to be waiting for her treat, and as you can see on the photos she now even started eating the meat-mix herself from the bowl.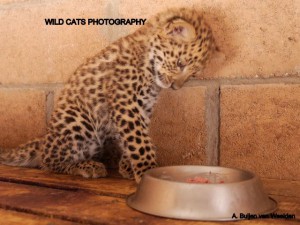 Feline was outside eating her own dinner, we didn't want her near as for sure she would not share this treat with her little one. Funny to see that when both finished their meal, Olive went straight on to mom Feline who offered her milk supply and both were very satisfied again.