Ambassadors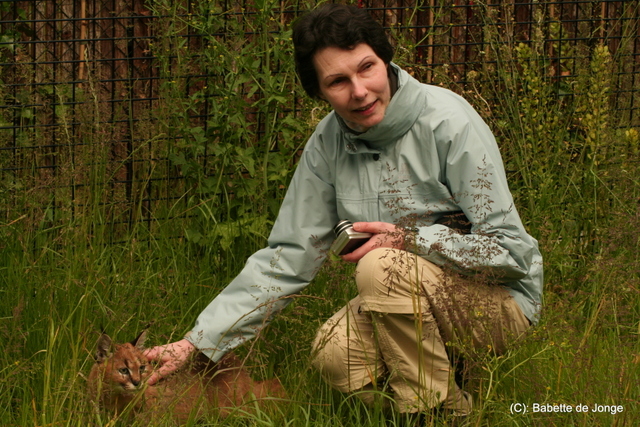 With the passing of Simonne van Driessche, we lost our most loyal supporter and friend. The (symbolic) adoption parent of leopards Feline & Felix and caracal Leo……. An animal lover in heart and soul and a true follower of Wild Cats World. Always standing by with a word of support; showing incredible interest in all we do. For better and for worse.
We shall find peace.
We shall see angels,
We shall see the sky
sparkling with diamonds
R.i.p. Simonne – you will be missed and never forgotten. The word loyal is made for you, as loyal you were!!!! Thanks for everything!!!!!!
Photo: Simonne meeting caracal kitten Nina at "sanctuary" Stichting Leeuw, Anna Paulowna, Netherlands (May 2012). The poor kitten was brutally injured and left to die 4 months later at this so-called sanctuary. Simonne stayed loyal to the cause of Nina all the way; she stayed loyal to all our projects and wild cats.
Team Wild Cats World and all wonderful wild cat ambassadors love to express our gratitude for your wonderful support throughout another year. A year with lots of difficulties to overcome, plans to make, changes taking place. Another year full of love and care for the resident wild cats and species in our sanctuary and conservation programs.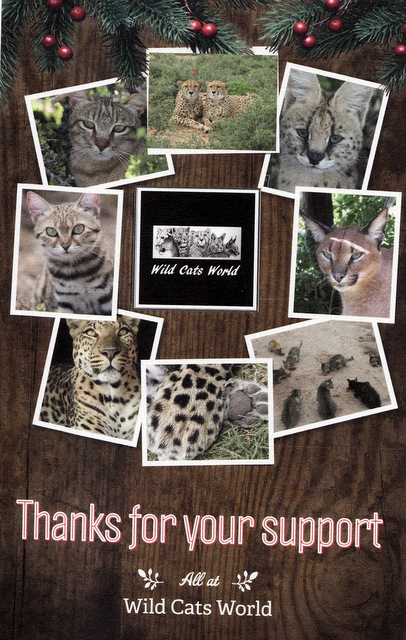 What kept us most busy and still is: the fight for the African leopard. With the "disappearance" of our female Olive on her way to the wild, we discovered many shocking things which are huge threats to the wild leopards. So a courtcase and lots more will be happening next year and also lots of other ambitious plans to start with.
But we will keep you up-dated by posts on social media and this website.
For now: have a blessed Christmas and a wonderful 2020 in good health!
Yes THIS (see photo!) is exactly what we think about all the animal abuse… exploitation, trade, bone and Hunting 'industry' in South Africa.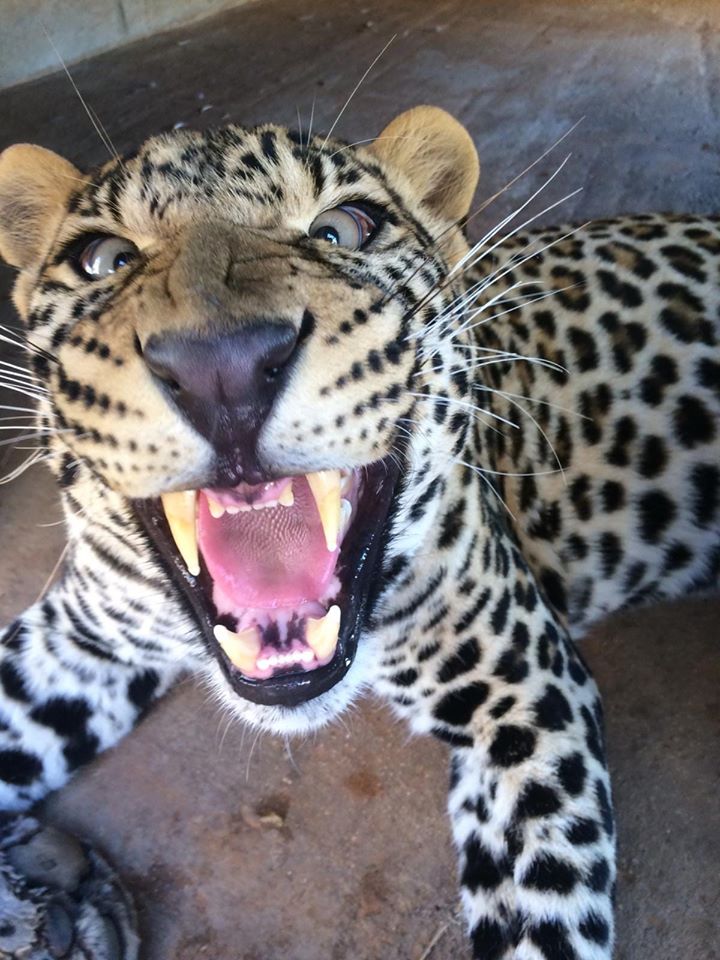 Thanks to the best Leopard ambassadors we have been working for most of 2019 on a huge scale Investigation as for the mentioned before. Name and shame and revealing time soon…
It is scary that everybody somehow and in some way is involved in this business. Foundations, welfare organisations, conservation… huge laugh, in fact the biggest threat to Wildlife as it appears now. Learnt so much past time… hard to describe. Yes the book will be there in the end too!
Thanks to Caib our volunteer from Scotland for the great picture, Chui @ Wild Cats World.
The good times have arrived as more sightings are possible now of our black-footed cat female DIVA and her three cute kittens. Here's already one picture; two of the curious kittens. More will follow later in a special photo album.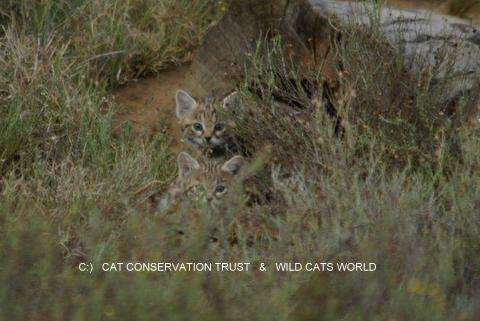 Of course you can already see more on the WCW Facebook page where we give daily up-dates about all our projects and ambassador cats. Thank god all is still going well with the three kittens and also with mom DIVA (and dad BLACKY). The kittens are 6 weeks old. Of course still exciting times as with BFC anything can happen, but so far they doing so well and Diva is such a wonderful and protective mom. Three kittens in a first litter is not bad at all!!!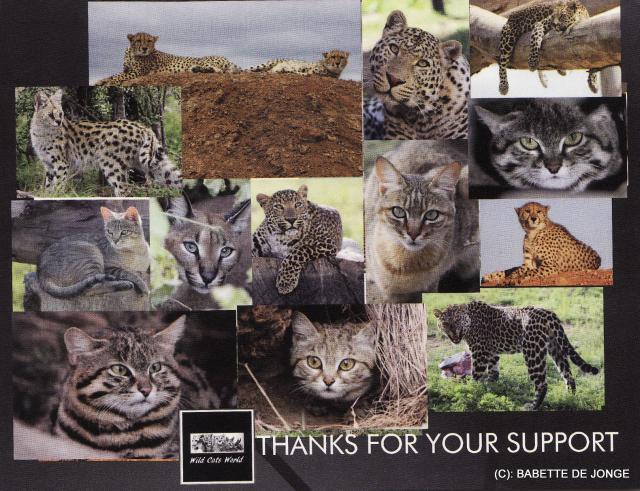 The end of 2014 is coming near, the start of a brand new year, 2015, almost a fact. It's an opportunity for all of us, to grab the moment and express our gratitude to all dear Wild Cats World supporters, the (symbolic) adoptionparents of our beloved ambassadorcats, sponsors of WCW projects, Madame X, our S.A. partners, the volunteers and caretakers and anyone showing their interest, in word and deed, to our Wild Cats World non-profit foundation, and our ambassadorcats in the S.A. "Spotted Cats Conservation" & "Black footed cat conservation" projects. We are grateful for the successful year we are about to finish, and we are looking forward to a bright future in which we continue fighting for the welfare and conservation of all wild catspecies. Thank you so much  and hopefully we can count on your incredible support, thru good and bad times, again.
Have a wonderful Christmas and a fantastic, healthy New Year!
Babette De Jonge, founder/director Wild Cats World, Spotted Cats Conservation.
Proud Ambassadors of the S.A. project:
African Wildcats, Sid & Louise
Black-footed Cats, Beauty, Blacky & Diva
Caracal, Leo
Cheetahs, Speedy, Spiky, Sunny Leopards, Feline, Felix, Félipe, Felicia
Serval Joy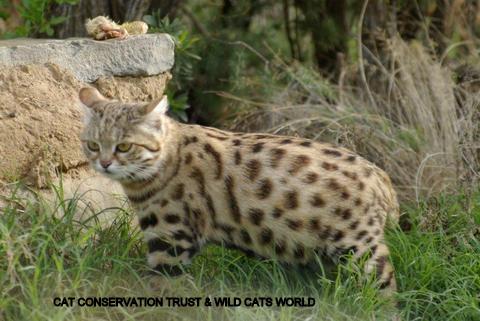 Diva gave birth…. and this time for real!!!! As you know this little black-footed cat lady had us all fooled once before. After that we all were in doubt if she "just" turned fat or if she still would be pregnant, though her shape was still a sign to hope for the last option.
At CCT they even had her and Blacky separated for a while to check upon her, what she is eating and how her faeces looked. The past few days she didn't eat well. This morning she was found under a log and in the afternoon she didn't seem to have moved, looking rather worn out.
Then suddenly there was something visible next to her, 2 or possibly 3 kittens. Of course it's early days yet and the first litter of Diva, so the first days are very essential to give her a lot of rest and a  stressfree start as a mother. Fingers crossed all will be fine and they are all healthy. Like Beauty's girl BIBI who is still doing great, 7 weeks now.
We'll keep you up-dated!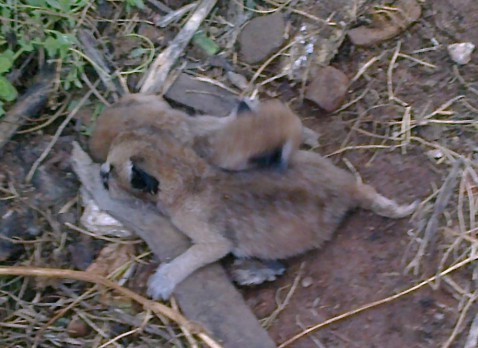 November 5, 2014 – Wonderful news to share, as female caracal Lea just now gave birth to 2 healthy cubs, which makes our (WCW) male caracal ambassador Leo a proud daddy, and us all taking part in the caracal conservation project (part of Spotted Cats Conservation, our SA project) very proud and happy too!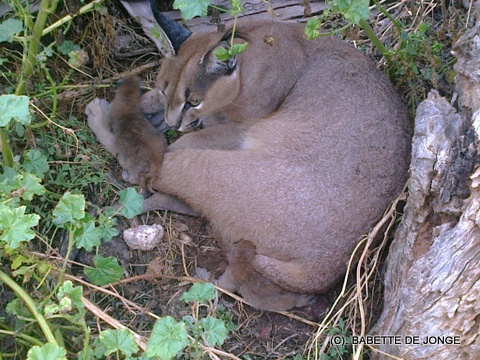 So far there are 2 healthy cubs and we think there won't be more on the way, but so far Lea is taking up the mother role excellently as you can see. We are sure both caracals will be proud and well behaved parents, and our caretaker Betty Dorffling will no doubt giving up-dates daily until we can take and share some pics ourselves. The two cubs will be an important part in our future plans in the caracal conservation project, about which we will inform you more at a later stage. For now let the cubs stay happy and carefree with their parents. The SCC caracal conservation project is a tribute to our first female ambassador Nina whose life was taken in a cruel way. But for now let's cheer!!!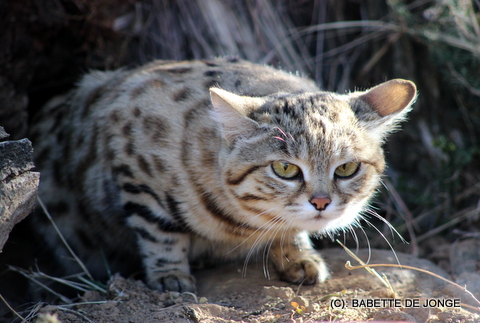 We are pretty sure our black-footed cat female Diva gave birth, 1-2 days ago, but she isn't allowing any one to see just yet. Like a true protective mommy she is hiding in the dark end of the den. When there is more news we will let you know.
Our other female Beauty and her kitten are still doing great as well!!! Exciting times!
We are especially pleased with the recent births because black footed cats are a relatively rare species. Also, they are difficult to breed.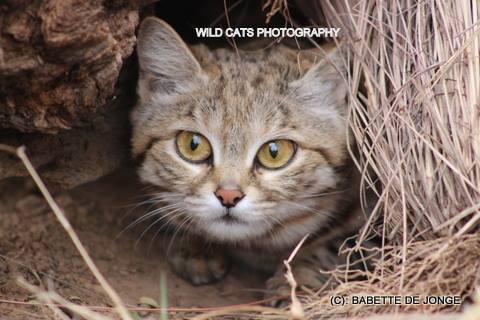 Our black-footed cat female Diva clearly is heavily pregnant. The way she looks we don't have to wait much longer, so fingers crossed that all goes well. The other female Beauty already gave birth to a kitten two weeks ago, and so far all is fine and she is taking good care of it. We'll keep you up-dated!