caracal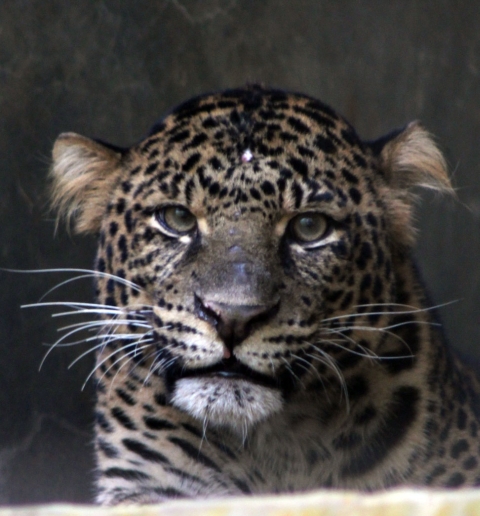 Soon we will give another up-date about the 3 leopards in Chikananga Wildlife Centre, Java, for which the battle for release is still going on. Sadly the situation gets worse and the habitat is fast decreasing. There's more and more leopard-human conflicts, and as more leopards end up being captured, lots of are ending up in zoos now as there's no more space in the Wildlife Center. This is a very horrible situation, and WCW is now thinking further ahead in the future what could be done
to save the Javan leopard species. Them ending up in the horrible zoos on Java basically means the end for these individual leopards. We have seen this in India at many places.
For a wild leopard to end up in a small cage close to the biggest enemy who are often teasing the leopards in these zoos (from what we have heard/seen) means the end. Not good for the bloodline and species but you can better do the leopard a favour by putting him down than long life sentence in a cage. We don't want to give up the fight and hope that these leopards can be released again in their natural habitat, but being realistic we must also consider other ideas to avoid leopards ending up in zoos. A difficult situation, which asks for long and deep thoughts and decisions!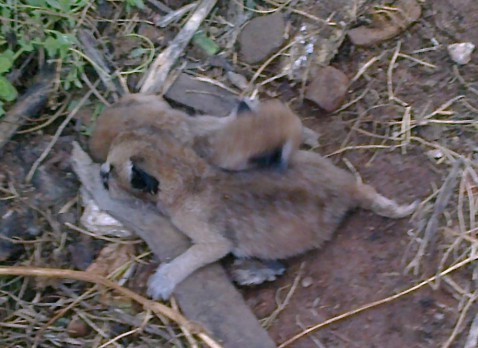 November 5, 2014 – Wonderful news to share, as female caracal Lea just now gave birth to 2 healthy cubs, which makes our (WCW) male caracal ambassador Leo a proud daddy, and us all taking part in the caracal conservation project (part of Spotted Cats Conservation, our SA project) very proud and happy too!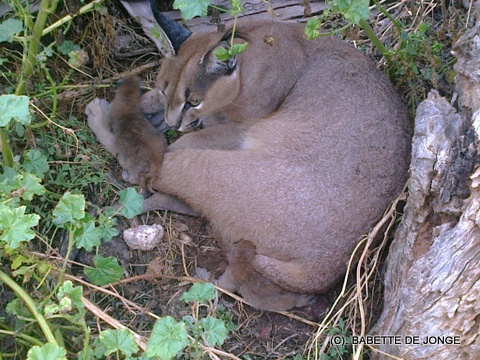 So far there are 2 healthy cubs and we think there won't be more on the way, but so far Lea is taking up the mother role excellently as you can see. We are sure both caracals will be proud and well behaved parents, and our caretaker Betty Dorffling will no doubt giving up-dates daily until we can take and share some pics ourselves. The two cubs will be an important part in our future plans in the caracal conservation project, about which we will inform you more at a later stage. For now let the cubs stay happy and carefree with their parents. The SCC caracal conservation project is a tribute to our first female ambassador Nina whose life was taken in a cruel way. But for now let's cheer!!!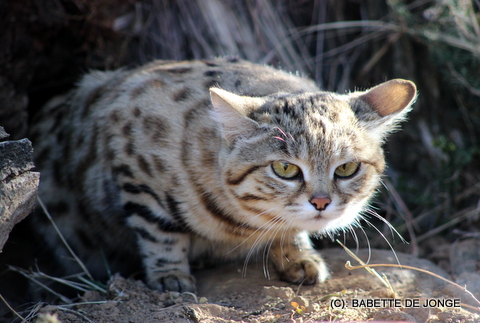 We are pretty sure our black-footed cat female Diva gave birth, 1-2 days ago, but she isn't allowing any one to see just yet. Like a true protective mommy she is hiding in the dark end of the den. When there is more news we will let you know.
Our other female Beauty and her kitten are still doing great as well!!! Exciting times!
We are especially pleased with the recent births because black footed cats are a relatively rare species. Also, they are difficult to breed.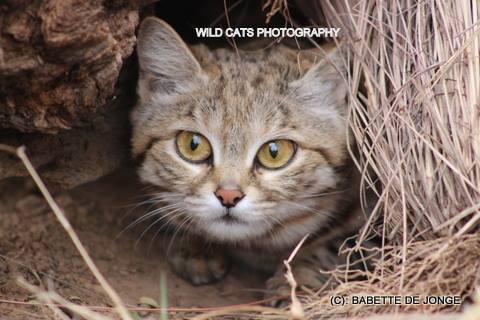 Our black-footed cat female Diva clearly is heavily pregnant. The way she looks we don't have to wait much longer, so fingers crossed that all goes well. The other female Beauty already gave birth to a kitten two weeks ago, and so far all is fine and she is taking good care of it. We'll keep you up-dated!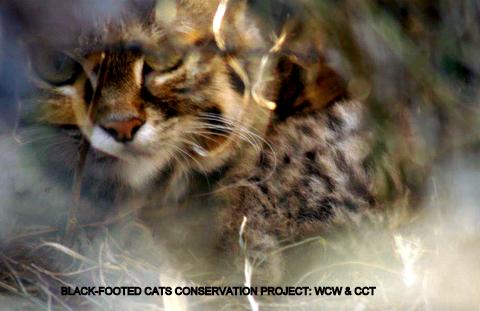 Though it is still early days and too soon to sheer, we just couldn't wait any longer to share this wonderful news with you. One of our Black-footed catfemales, Beauty, living at our working alliance for the black-footed cats (a.o.) gave birth to one kitten on Wednesday night, October 15, 2014. So still only 9 days, but up till now Beauty is taking care of her kitten in a great way. As said it is still early days, esp. for the rare Black-footed cat kittens, but all in all it is wonderful news.
Our one male Blacky of course is the proud dad to the kitten. He is now with his other female Diva, who if we are lucky is about to deliver soon too. Keep them in your prayers and fingers crossed that all goes well. It would be so great for this endangered species (both in the wild and in captivity). We in WCW know that if they will make it anywhere they have the best chance at Cat Conservation Trust!!
Also see Back footed cat conservation project.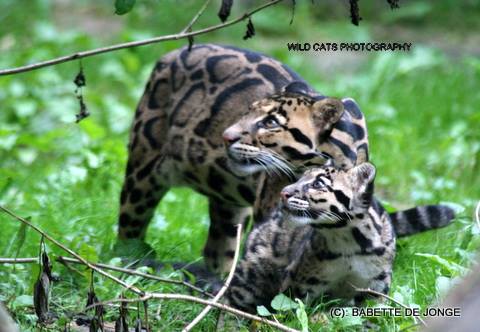 Babette and Anton (WCW/WCM) say a big thank you to the befriended Wuppertal Zoo team for naming the 3 months old clouded leopard cub BATON as a combination of our two names. We think it is a very original name and are honoured they named the gorgeous one after us!!
Despite the perfect work by our wonderful caretaker Betty Dorfling, we always love to spend quality time at our S.A. project (Spotted Cats Conservation) to do the care of our ambassador cats ourselves. Soon we will every day show new pictures of our gorgeous leopards, cheetahs, caracals, servals, African wildcats and black-footed cats, but now we will give you up-dates with a few pictures of our last visit (3,5 months ago).
Leopards (Feline, Felix, Felipe, Felicia)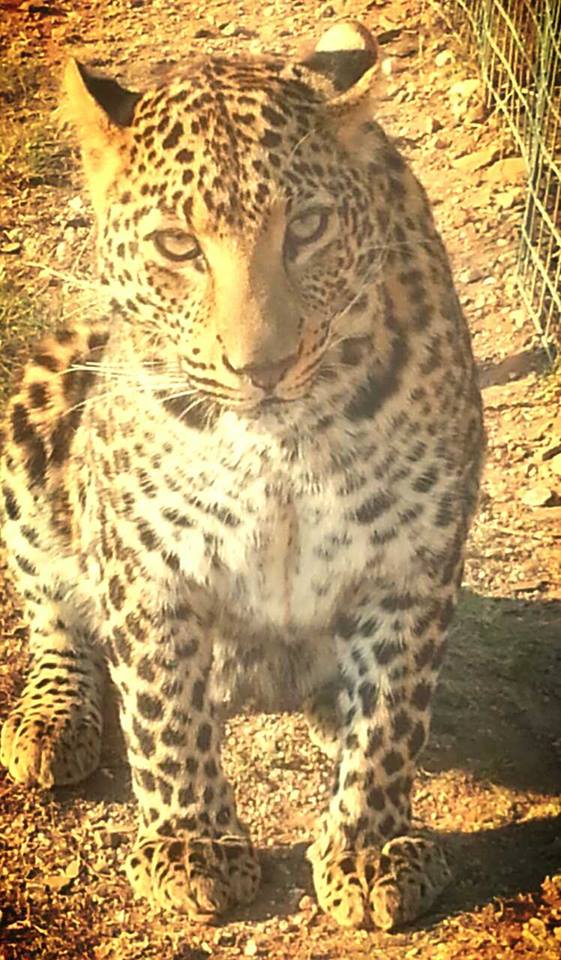 The most enthusiastic and energetic of all will always be the leopards as it seems. They never stop to amaze us. Since we decided to stop feeding any other meat than pure game meat (what they also eat in the wild), like impala, spiesbok, zebra, kudu, ostrich, etc. we can see a positive change in all our cats. They look amazingly fit and well, and they are very energetic. All leopards overwhelmed us again with lots of affection. It is so touching to see how happy they are to see we are back, and it seems like yesterday when we (only we!) enter their territory to give them some personal attention. They reward us with a typical cat-greeting (rub and hug) as also leopards do. Even though they are adult now, and even when Feline is having her moments on heat, the leopards are still all four good friends, tolerating each other and ourselves. In our care we try to give them everything they need and lots of enrichment, but they have so much pleasure to enjoy each others company and to run and play all four, using lots of space we give them and which they deserve and need. Felicia, our youngest female, after a long difficult road is so happy and healthy. She is such a loving leopard enjoying her home and her leopard friends, going from one to the other, giving them special Felicia attention (play or a grooming session). If you see this you realize this is what you wanted to achieve (for them) and that we will always keep fighting for these cats and their species to survive in their natural habitat.
Cheetahs (Speedy, Spiky, Sunny)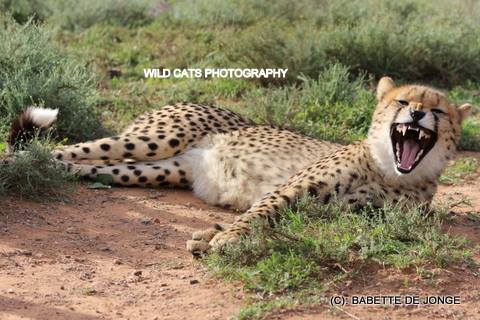 Our new male cheetah ambassador Sunny (14 months, mother-raised) finally arrived at our Spotted Cats Conservation project to join his new friends at our S.A. project.
We were happy to see Speedy and Spiky again and to connect so easily again with these (semi) wild cheetahs. Speedy has grown so much, though she still has a bit of a baby face, and she is so relaxed. Spiky is really the "man" and likes to show off and protect his girl and his food, but he tolerates us close to them in his territory.
They enjoy all the space in their new camps. Spiky showed great interest in his old neighbor female, cheetah Sahara, and she rewarded him with some positive attention. They are already used to the neighbors on the other side, Khaki and Thandi, and they don't pay too much attention to them anymore. Both still have a very good appetite, their meals are very important to them and it is so rewarding to feed them the healthy game meat. Treating our ambassadors in a respectful and natural way, is paying off as the animals are so relaxed, behaving naturally, doing their own thing, but still tolerating us and our care. No stress and stereotype behavior with our ambassadors, just come and see!
Caracals (Leo, Lea)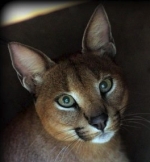 Our male caracal Leo seems to enjoy life with his girlfriend Lea. Early morning and late in the evening (night) they start running together in a playful way, during daytime they mostly are relaxing, only Lea sometimes wanders a bit thru the enclosures. Leo is mother-raised but getting more and more used to people in his territory and outside, Lea was raised by humans after having brought in as an orphan wild caracal cub (when her mother no doubt was shot by a farmer) so she is more interested in the round-abouts of humans and people visiting our project. Luckily I could rescue a sweet domestic cat out of Lea's claws this afternoon, as her wild nature came to the surface once again, what we want of course but not affecting the less wild domestic. Both caracals enjoyed the springhare for dinner, Leo thought this was such a nice treat he had to bring it to safety, into his hiding place, Lea couldn't resist to start eating right away. Let's hope their mating will have some positive results soon, fingers crossed!
Servals (Joy, Turbo, Spirit)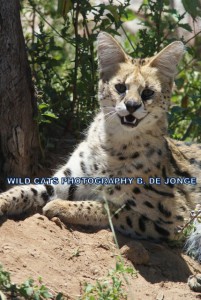 Our ambassador female Joy and her boyfriend  Turbo were staying in our black-footed cat camps temporarily neighboring female Spirit ("wild female") who is living for some time now in these enclosures, enjoying the special WCW care, since the black-footed cat ambassadors moved to CCT (Cats Conservation Trust) near Craddock/Eastern Cape, S.A. Their enclosure exists of a bigger side and a smaller side when you have to separate the cats, e.g. when the female is delivering or when they need special treatment or privacy. We now decided to enlarge the " smaller" side so they have a bit more equal space. In order to avoid stress with both servals we moved them out during this work in progress, and after our arrival we could move them back. The two female servals are mother-raised but getting more used to human presence (esp. Joy) and Turbo was human-raised but due to a bad experience when he hurt his leg and had to be treated by a vet, he lost a bit of his faith in humans and also seems more (semi) wild and not " tame". By the tour guides they are often referred to as "not so friendly servals" but of course these three just show the true nature of a serval and a wild cat… hey hiss when they see humans, but they trust the caretaker and ourselves and are very relaxed and "friendly" in our presence, but they are allowed to hiss and behave naturally. We think you just have to respect them and be relaxed in their presence, then they reward you with the same behavior. Feeding time is very important for all three servals and they are meeting us every day very eager and enthusiastic. Very rewarding. Spirit was treated with a huge guinea fowl during the latest feeding moment and she was jumping around happily.
African wildcats (Sid, Louise)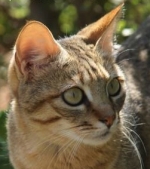 A very important species in our S.A. project is the African wildcat. So we are very happy with our two gorgeous ambassador wildcats Sid and Louise. Lots of people are more interested in bigger catspecies and see wildcats like sort of feral cats, resembling the " ordinary" domestic cat so much, but we have to give these special cats much more credit, being the ancestor to our beloved domestic cats, but also being threatened by the domestic (feral) cats as they mate and breed with the wild cats endangering the survival of their pure genes, apart from human interference (as always). Sid and Louise seem pretty shy cats unless they know a person. They don't want so many different people around them, but rely on and respect the ones giving great care to them. For sure they love the space they have in their new territory, and like true cats they are active late afternoon until early morning and relax during daytime, which makes them " boring" cats to people who don't want to invest enough time to observe them at a moment suiting them best. It is so good to see them active in the late and early hours. When we sit with them relaxed and quiet they might come so close you can almost strike them, like Sid the other day showing a great deal of interest in what we were doing. Louise has a much better appetite than her male friend, never wasting one piece of meat, trying to get some of Sid's too.
Black-footed Cats (Blacky, Beauty, Diva)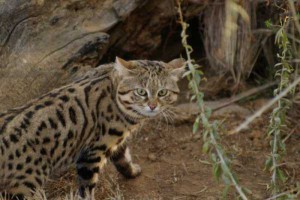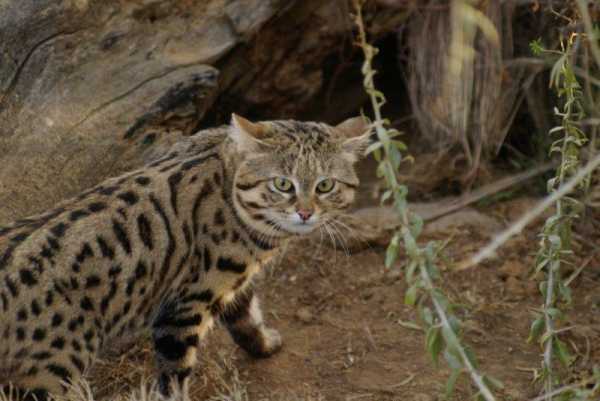 One of the most essential projects of course is the Black-footed cat Conservation Project, we first started at Spotted Cats Conservation until we decided to start working together with Cat Conservation Trust (CCT) who had great expertise in keeping, breeding and releasing this very endangered species. So we moved our three ambassadors male Blacky and females Beauty and Diva, to CCT. More about the black-footed cats and the project after our next visit to CCT to visit our ambassadors there, the smallest cat species of South Africa. Watch this space!
Hi Madame X here. Babette asked to write and explain to you all, the meaning of our association & project. This photo, a lady incognito, representing my position in this project. A little background info. A singer for life, some say I'm famous, all inferior to what's happening to the lions, but now I'm retired I have time for other passions in life. Photography of African and Asian wildlife one of them, how the mutual liking of myself and Babette got renewed. I got to know her back in the 80s as genuine and sweet girl, true to what and who she believed in, treating me as celeb always with utmost respect.
B. wrote me asking to be the human ambassador for her amazing project & foundation Wild Cats World. We had long talks, time passed, meanwhile I observed from a distance how her foundation functioned and had myself informed about many other orgs, conservationists, projects and sanctuaries, visited countries, had long talks. I managed to purchase meaningful land in European countries, in the South and some up North where I originally belong. Land not for myself but to help to make this dream and huge project come true. Years back Babette and myself got in touch again, I explained not becoming ambassador for WCW, but expressed my deep wish to be part of something big to give a better life to animals and esp lions, cheetahs. WCW was my first choice, this organisation, well no words to waste, is there for cats for animals and for them only. The respect and discretion to me and my choice to stay 'in cognito" & Babette's understanding this is why I won't be able to be ambassador for her foundation, was the start to talk further. We talk about years of preparation, now Babette has my permission to give up-dates as this is an essential project, a personal fight against the Canned Hunting business.
I am in favour of not just yet fighting the aggressive way but by other means. Fame and means help but in the whole picture there's only one thing that matters and that is the lions and to get them out of this "situation" and to be able to offer them the moon, the stars and safety. I can and with Wild Cats World by my side we will be able to achieve the unthinkable. Please don't ask too many questions,don't judge but support us, support the lions and please if you love the wild cats support Babette & Wild Cats World."
Yours faithfully, Madame X, Canned Hunting -X- Project.
Also see the -X- Project main page.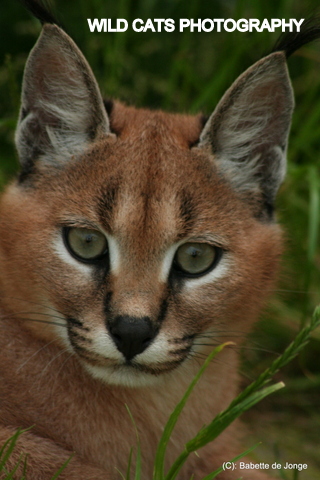 Of course you died far too young
But the memory to you is still so strong
You clearly came to us for a reason
We will remember you, throughout every season…
Showing us who were so wrong, and who were right
United we (WCW) will stand in the continuous fight
No one has the right to molest an innocent creature
A sweet lovely caracalgirl who had a bright future
Many of us did shed a tear
But some are still in denial and don't want to hear
We know we are right and forever have to miss you
Somehow we believe in the end justice will prevail too.
No more free PR for the horrible place that took your life
Hurting us deeply like a deep cut from a knife
To destroy this so-called sanctuary they don't need a helping hand
As clearly animal care and conservation is what they still don't understand
We scattered your ashes at our project in South Africa
Your spirit will guard over the caracals Leo & Lea
Wild Cats World did a small "Tour de France" on kind invitation by Parc des Félins and Zoo de Maubeuge, to talk about (wild) cats conservation. The park is of course the dream of every wild catlover, as for space and species, while Maubeuge showed us how it is possible to provide an enriched life to the animals with little means and space.
Of course we kindly accepted to see the Sri Lanka leopardcubs with their (very protective!) mom, a special birth for the species and for a small park like this.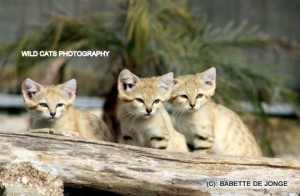 As for the sandcats (felis marguerita) we discussed the possibility to start with this gorgeous species at our WCW SA project. It would be great to have this species next to the Black footed Cats, the two smallest African wild catspecies. More about this later at a later stage. For now enjoy this photo and many more that will follow!
Update
Sri Lanka leopard cubs, endangered subspecies of the leopard (panther).
We were kindly invited to get a first glimpse of the 6 weeks old cubs at Zoo Maubeuge, the first successful litter of Sri Lanka leopard cubs of 2014 in the world-wide breeding program. The leopardmom was very protective and was hiding the cubs in the straw so it was very difficult to get a glimpse and eventually a good picture. Aren't they cute?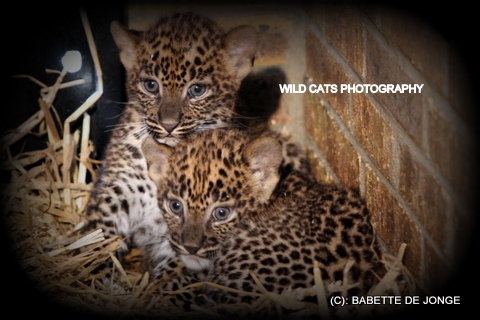 The Sri Lankan leopard (Panthera pardus kotiya) is a leopard subspecies native to Sri Lanka. Classified as Endangered by IUCN, the population is believed to be declining due to numerous threats including poaching for trade and human-leopard conflicts. No subpopulation is larger than 250 individuals.