Conservation
With mixed feelings we will give you another up-date about our "Javan Leopard Release Program" in cooperation with Wanicare Foundation and Cikananga Wildlife Rescue Center, who work hard for the leopards on ground level and provide "our" three leopards Sawal, Ciemas and Dimas in the Release Program a (temporarily) home in the Rescue Center.
The sad part is that as for the (future) releases there's unfortunately no real news to tell. It is after all Indonesia we are talking about and the situation is very difficult. But though the main mission in our (co)-project will at any time be an eventual release of the leopards, we are forced to think further now. There's some progress though in some way which we like to share with you and we have made an alternative plan to focus on while "waiting" for the first possible release. As of course the individuals that are waiting in captivity, hopefully temporarily, which is what we still strive for, deserve the best of welfare. Good news is that Forestry Department finally understands the need to take action to protect the Javan leopard species.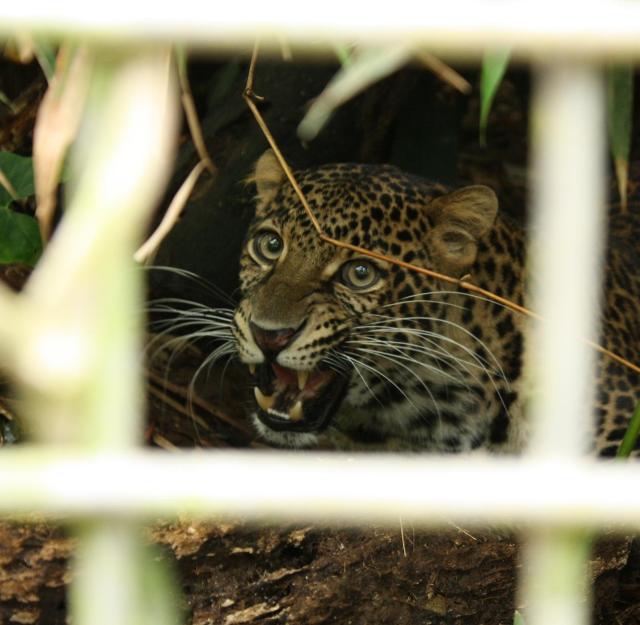 The end of October there was a meeting at the Taman Safari Zoo in Bogor discussing the future of the Javan Leopard with several organisations, and to try and set up a plan to avoid extinction in the wild of the species. Different options were discussed like building a new sanctuary especially for the Javan leopard. In addition, there will be intensive research done to the wild population, as for numbers, where they live but also possible data for the release of leopards on Java, or how new areas can be improved and prepared for new leopard populations to be released. Taman Safari Zoo in Bogor (pretty good for Indonesian standards) wants to start a breeding program for the Javan leopards and they are about to start a studbook. They asked one of the three males that we have in our release program and we were asked if Dimas would be a good male to move there. He is in the rescue center longest of all three males, but due to age and condition the other two males Ciemas and Sawal will be the first two to be released if it comes to that in the near future. The enclosures at the zoo are a lot bigger than the ones at the Rescue Center, of course not only being there for the leopards. All surplus or injured wildlife, like monkeys, rodents, reptiles, etc. find their way to the sanctuary. It is so sad that the human population keeps growing but the habitat for all these animals, every piece of nature, is decreasing rapidly. The sad reality of today.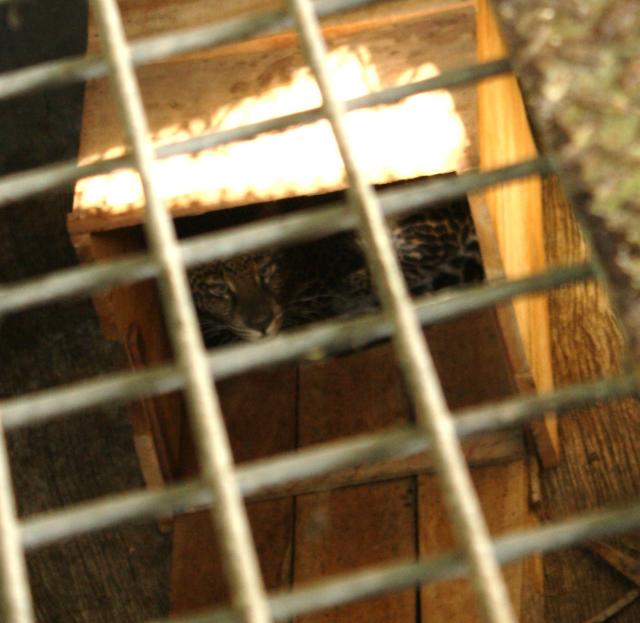 The relocation to a zoo (even though a better one than the average one) who would start a breeding project for captivity instead of sharing our mission to release individuals in the wild again, was not something we in WCW could live with. So, Willemijn from Wanicare paid another visit to Tasman Safari Zoo to come to the same conclusion. The plan is now to construct better and bigger enclosures for the resident males and for any leopards that will be brought in again after a conflict with humans in their natural habitat, to avoid them ending up in a zoo that already happened as the wildlife Rescue Center didn't have any space anymore. Indonesian zoos, also Tasman Safari, is offering photo sessions and similar activities with cubs and young animals for money, so this is something we will never agree to.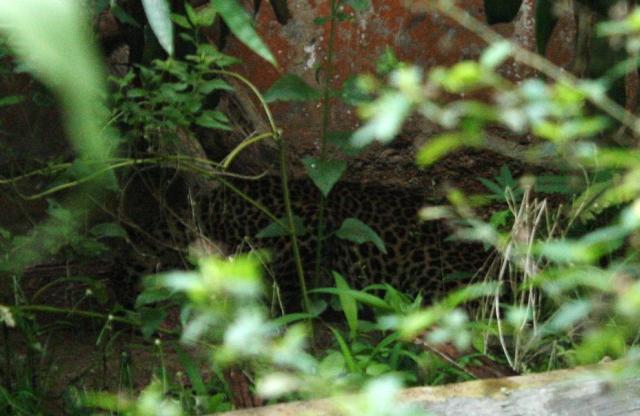 Constructing better enclosures doesn't mean this is now main aim, as for both Wanicare Foundation, Cikananga Wildlife Center and Wild Cats World this will at any time be a Release Program. So the mission will always be future releases, but also to conserve the species. We cannot lose the Javan leopard like nature already lost the Javan tiger. Not if it is up to us. For all activities of course lots of funds are needed, so we would be grateful to any kind of financial support, which will be used for either feeding the leopards, constructing the new enclosures, medical treatment if necessary but also tracking collars and the investigation and other work on ground level to make future releases possible.
For donations by Paypal please use info@wildcatsmagazine.nl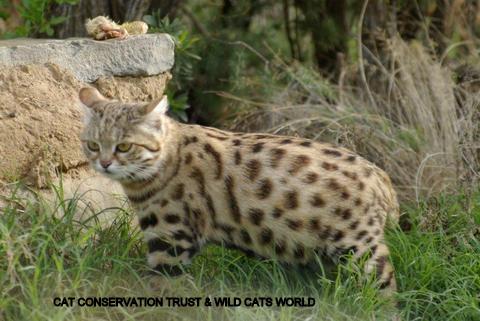 Diva gave birth…. and this time for real!!!! As you know this little black-footed cat lady had us all fooled once before. After that we all were in doubt if she "just" turned fat or if she still would be pregnant, though her shape was still a sign to hope for the last option.
At CCT they even had her and Blacky separated for a while to check upon her, what she is eating and how her faeces looked. The past few days she didn't eat well. This morning she was found under a log and in the afternoon she didn't seem to have moved, looking rather worn out.
Then suddenly there was something visible next to her, 2 or possibly 3 kittens. Of course it's early days yet and the first litter of Diva, so the first days are very essential to give her a lot of rest and a  stressfree start as a mother. Fingers crossed all will be fine and they are all healthy. Like Beauty's girl BIBI who is still doing great, 7 weeks now.
We'll keep you up-dated!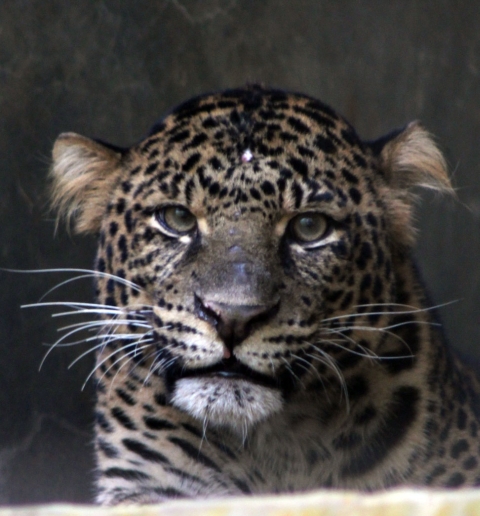 Soon we will give another up-date about the 3 leopards in Chikananga Wildlife Centre, Java, for which the battle for release is still going on. Sadly the situation gets worse and the habitat is fast decreasing. There's more and more leopard-human conflicts, and as more leopards end up being captured, lots of are ending up in zoos now as there's no more space in the Wildlife Center. This is a very horrible situation, and WCW is now thinking further ahead in the future what could be done
to save the Javan leopard species. Them ending up in the horrible zoos on Java basically means the end for these individual leopards. We have seen this in India at many places.
For a wild leopard to end up in a small cage close to the biggest enemy who are often teasing the leopards in these zoos (from what we have heard/seen) means the end. Not good for the bloodline and species but you can better do the leopard a favour by putting him down than long life sentence in a cage. We don't want to give up the fight and hope that these leopards can be released again in their natural habitat, but being realistic we must also consider other ideas to avoid leopards ending up in zoos. A difficult situation, which asks for long and deep thoughts and decisions!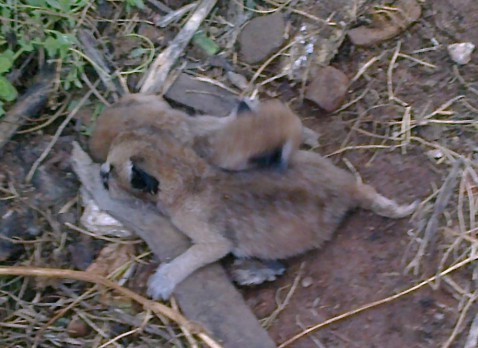 November 5, 2014 – Wonderful news to share, as female caracal Lea just now gave birth to 2 healthy cubs, which makes our (WCW) male caracal ambassador Leo a proud daddy, and us all taking part in the caracal conservation project (part of Spotted Cats Conservation, our SA project) very proud and happy too!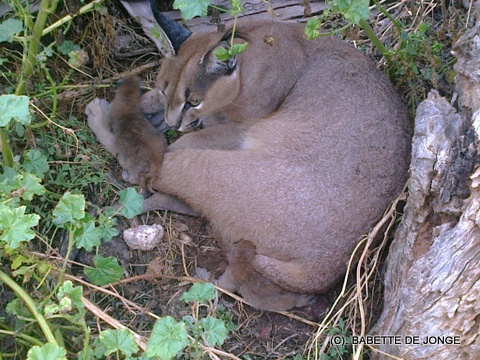 So far there are 2 healthy cubs and we think there won't be more on the way, but so far Lea is taking up the mother role excellently as you can see. We are sure both caracals will be proud and well behaved parents, and our caretaker Betty Dorffling will no doubt giving up-dates daily until we can take and share some pics ourselves. The two cubs will be an important part in our future plans in the caracal conservation project, about which we will inform you more at a later stage. For now let the cubs stay happy and carefree with their parents. The SCC caracal conservation project is a tribute to our first female ambassador Nina whose life was taken in a cruel way. But for now let's cheer!!!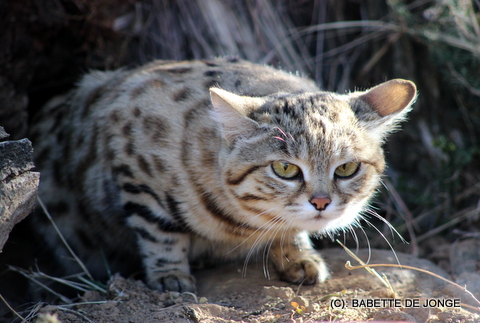 We are pretty sure our black-footed cat female Diva gave birth, 1-2 days ago, but she isn't allowing any one to see just yet. Like a true protective mommy she is hiding in the dark end of the den. When there is more news we will let you know.
Our other female Beauty and her kitten are still doing great as well!!! Exciting times!
We are especially pleased with the recent births because black footed cats are a relatively rare species. Also, they are difficult to breed.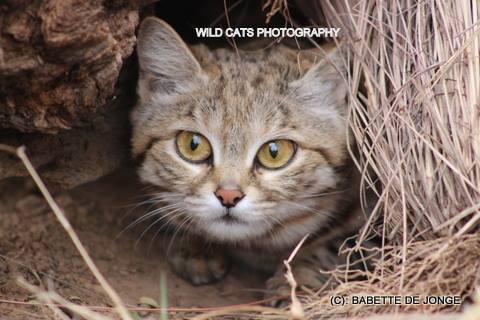 Our black-footed cat female Diva clearly is heavily pregnant. The way she looks we don't have to wait much longer, so fingers crossed that all goes well. The other female Beauty already gave birth to a kitten two weeks ago, and so far all is fine and she is taking good care of it. We'll keep you up-dated!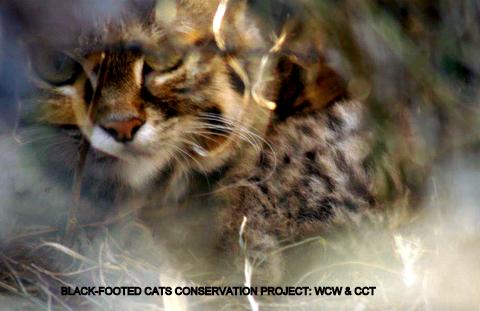 Though it is still early days and too soon to sheer, we just couldn't wait any longer to share this wonderful news with you. One of our Black-footed catfemales, Beauty, living at our working alliance for the black-footed cats (a.o.) gave birth to one kitten on Wednesday night, October 15, 2014. So still only 9 days, but up till now Beauty is taking care of her kitten in a great way. As said it is still early days, esp. for the rare Black-footed cat kittens, but all in all it is wonderful news.
Our one male Blacky of course is the proud dad to the kitten. He is now with his other female Diva, who if we are lucky is about to deliver soon too. Keep them in your prayers and fingers crossed that all goes well. It would be so great for this endangered species (both in the wild and in captivity). We in WCW know that if they will make it anywhere they have the best chance at Cat Conservation Trust!!
Also see Back footed cat conservation project.
Wild Cats World did a small "Tour de France" on kind invitation by Parc des Félins and Zoo de Maubeuge, to talk about (wild) cats conservation. The park is of course the dream of every wild catlover, as for space and species, while Maubeuge showed us how it is possible to provide an enriched life to the animals with little means and space.
Of course we kindly accepted to see the Sri Lanka leopardcubs with their (very protective!) mom, a special birth for the species and for a small park like this.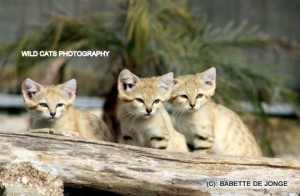 As for the sandcats (felis marguerita) we discussed the possibility to start with this gorgeous species at our WCW SA project. It would be great to have this species next to the Black footed Cats, the two smallest African wild catspecies. More about this later at a later stage. For now enjoy this photo and many more that will follow!
Update
Sri Lanka leopard cubs, endangered subspecies of the leopard (panther).
We were kindly invited to get a first glimpse of the 6 weeks old cubs at Zoo Maubeuge, the first successful litter of Sri Lanka leopard cubs of 2014 in the world-wide breeding program. The leopardmom was very protective and was hiding the cubs in the straw so it was very difficult to get a glimpse and eventually a good picture. Aren't they cute?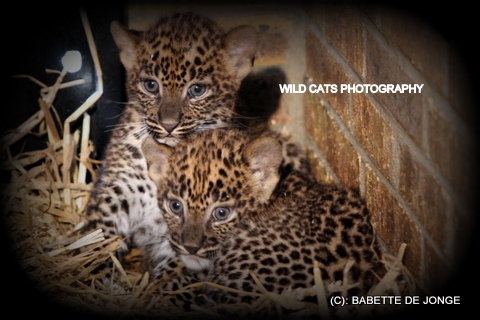 The Sri Lankan leopard (Panthera pardus kotiya) is a leopard subspecies native to Sri Lanka. Classified as Endangered by IUCN, the population is believed to be declining due to numerous threats including poaching for trade and human-leopard conflicts. No subpopulation is larger than 250 individuals.
15 MARCH 2014, AMSTERDAM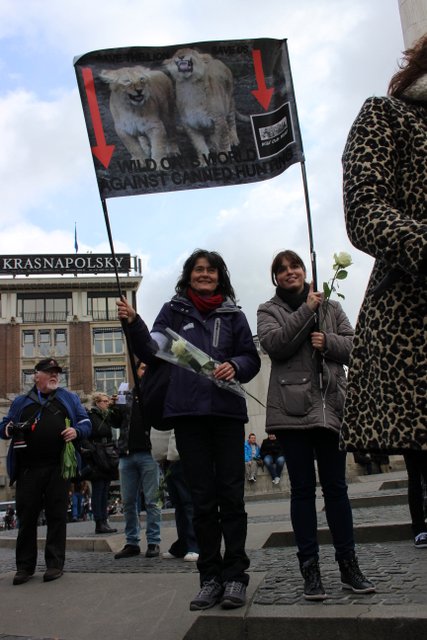 On 15 March 2014 the world united in a Global March for Lions. The March against Canned Hunting. These photos are taken during the participation (read: joining the march against Canned hunting) of Wild Cats World in the Amsterdam-March to give you all an impression of a very successful day, with many thanks to foundations Four Paws, SPOTS & WAR International for the organisation of this march.
All participants support the call on our governments to BAN the deplorable Canned Hunting Industry. We will raise awareness to educate the rest of the world regarding every stage of the life-cycle of torture of a canned lion – the world needs to know and stop supporting the cub-petting and walk with lions experience – the first steps of untold misery for cubs ripped away from their mothers soon after birth. The fraudulent luring of ignorant volunteers who pay for the "privilege" to "care for" the cubs – all destined to be killed in an enclosed camp where they will have no way of escape. Often shot numerous times to prevent "spoiling" the trophy with a shot in the head, which will be mounted on a foreign wall and the bones exported to Asia for bogus medicine – all for top dollar.
Many supporters did join the march for the lion (and other victims of this ugly killing business) against CANNED HUNTING!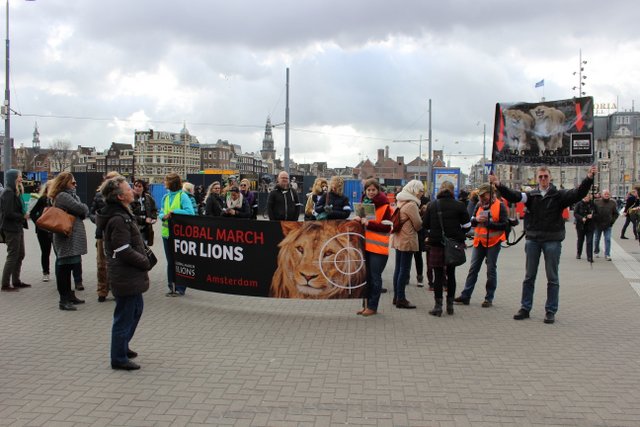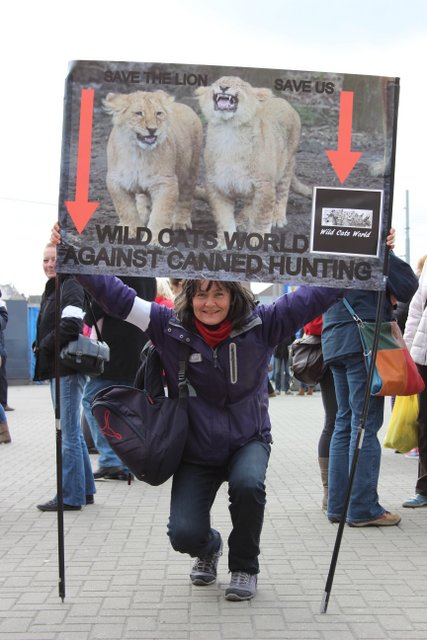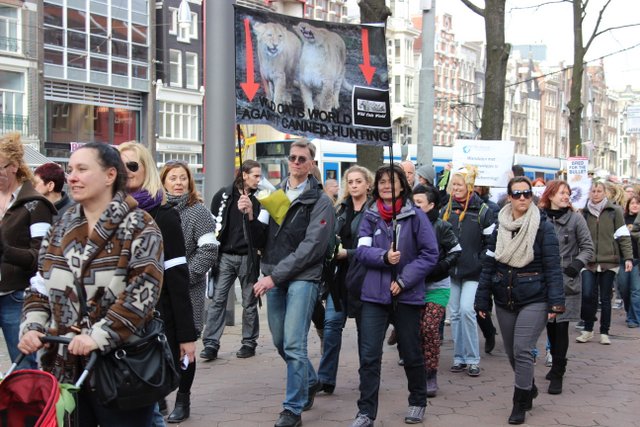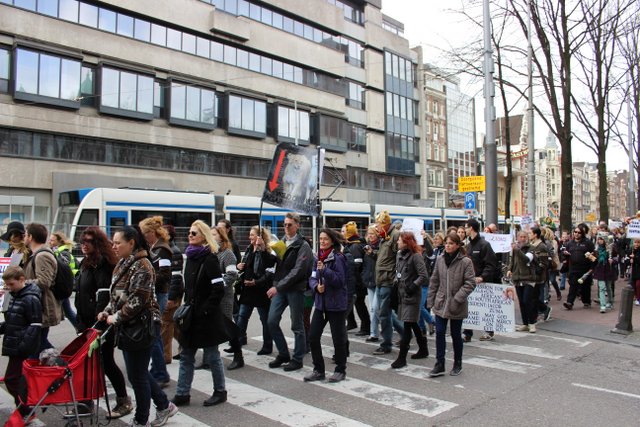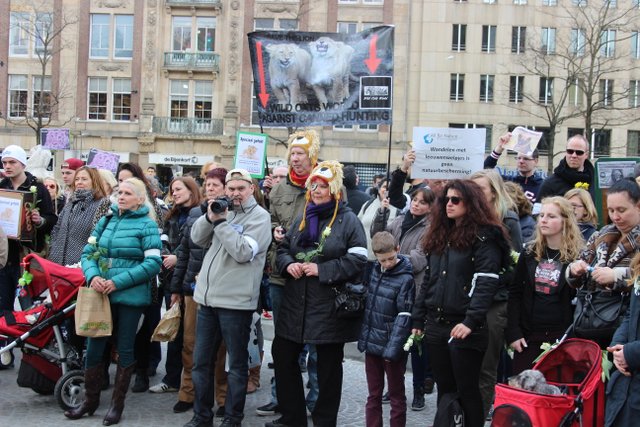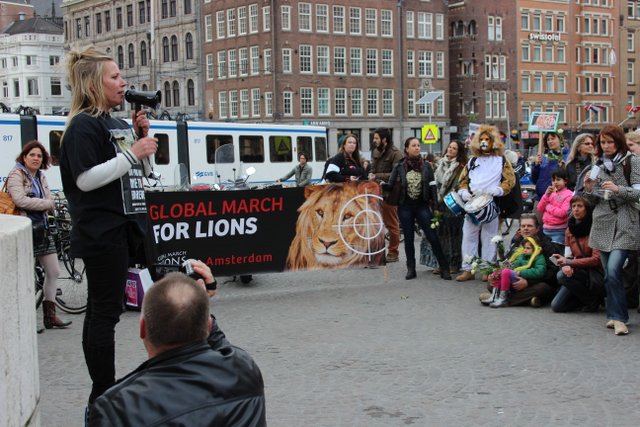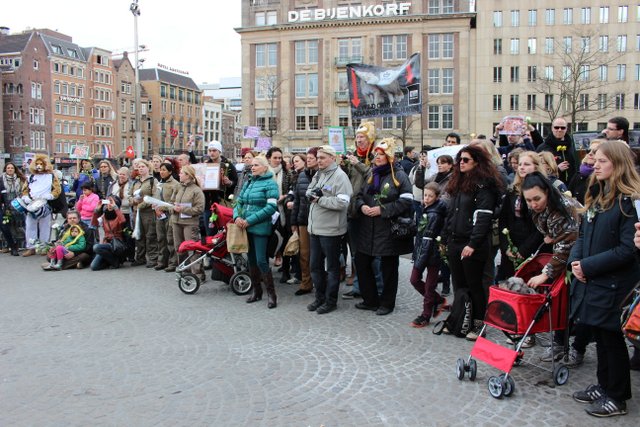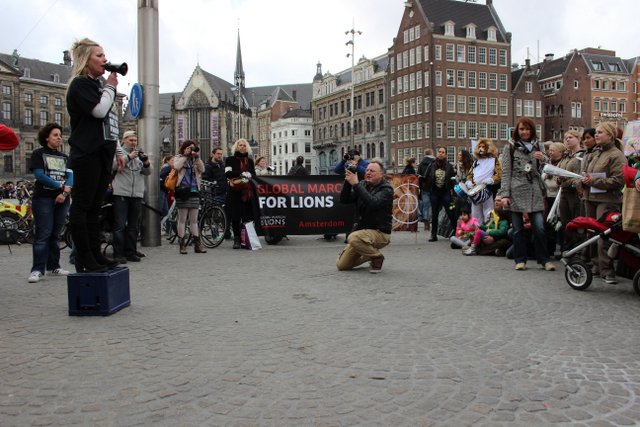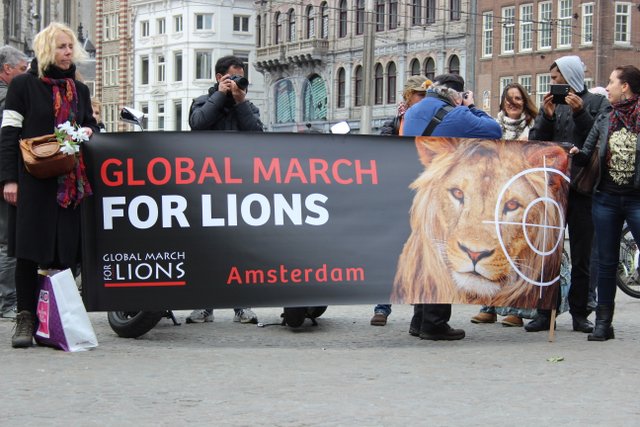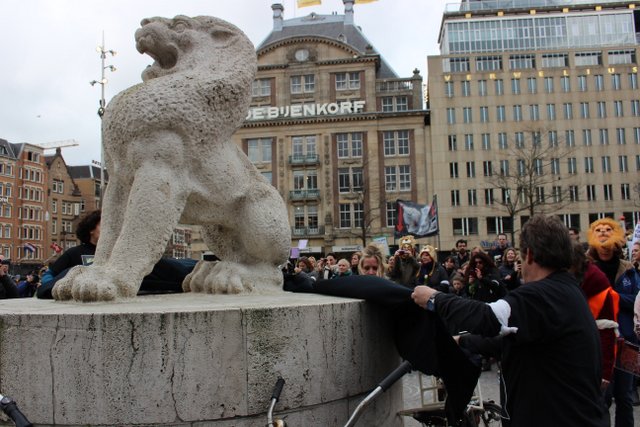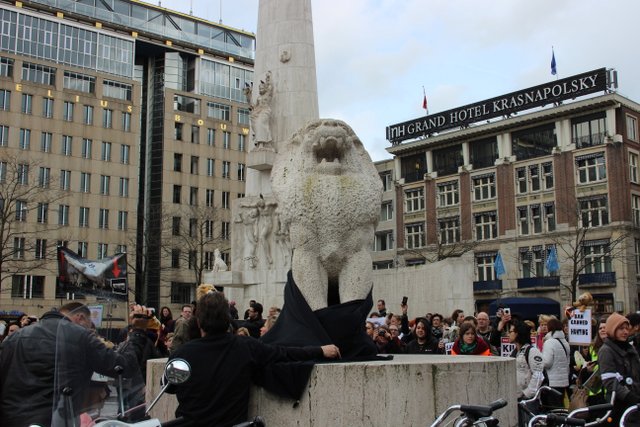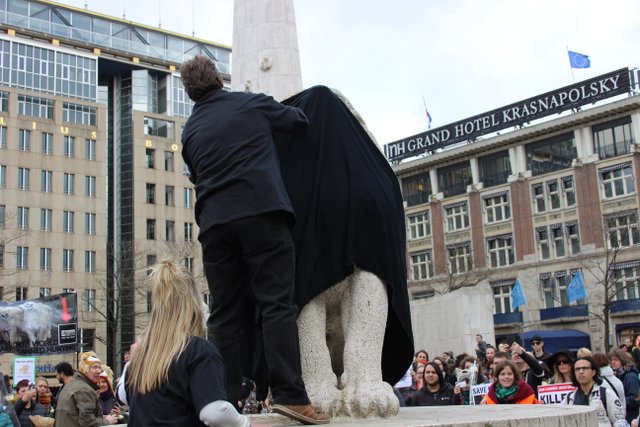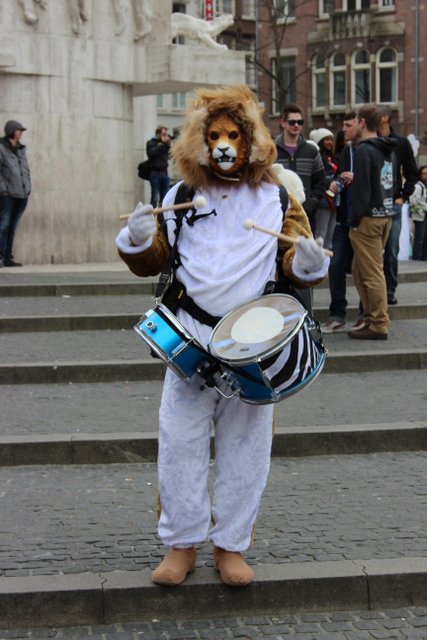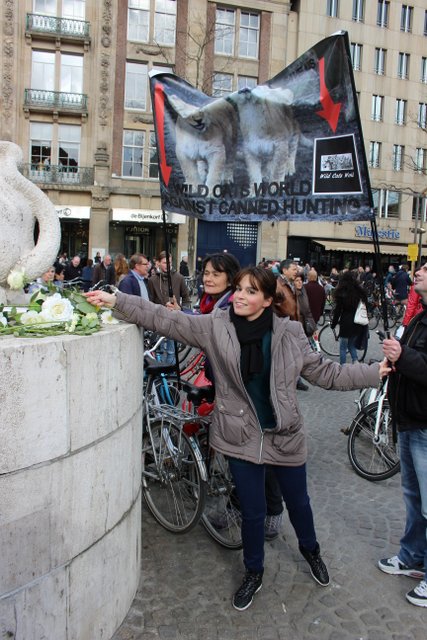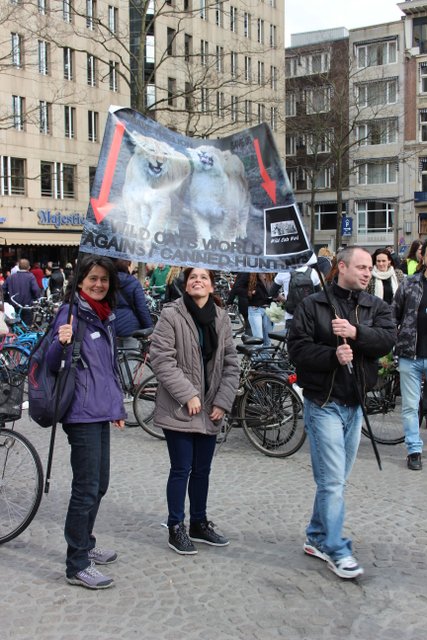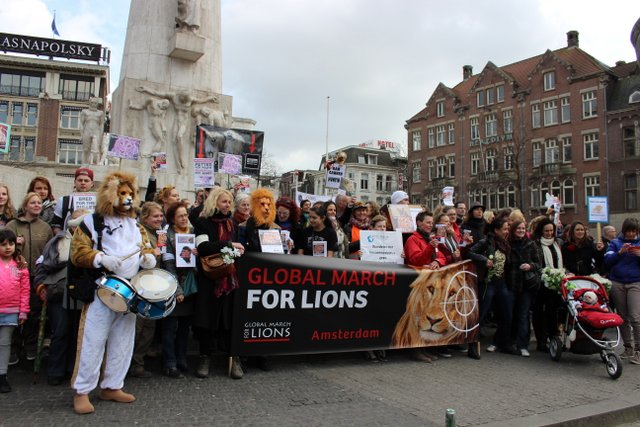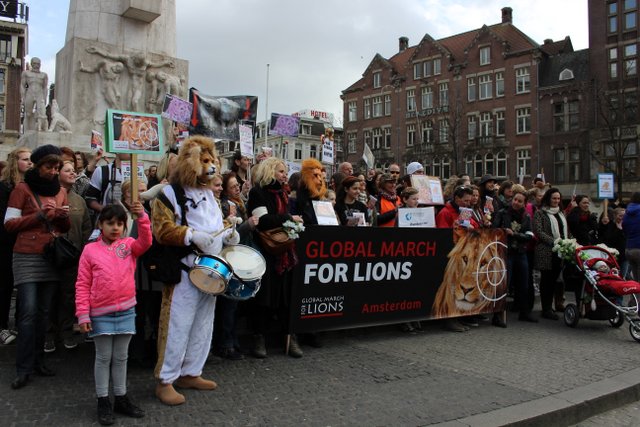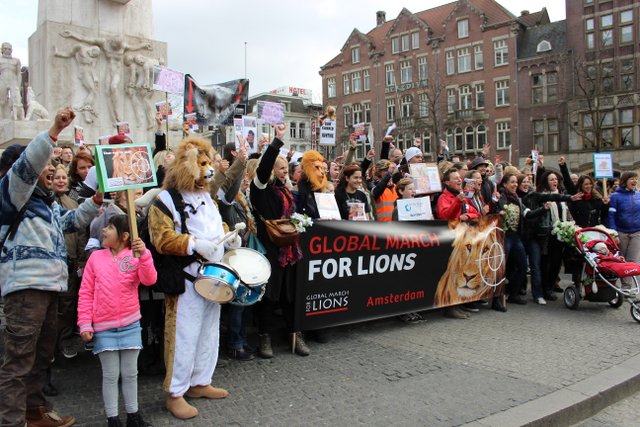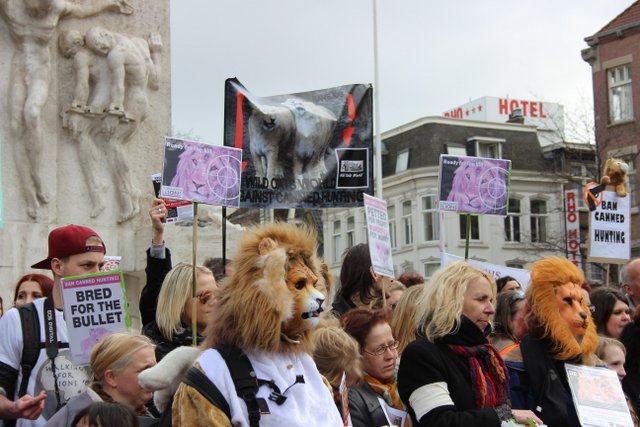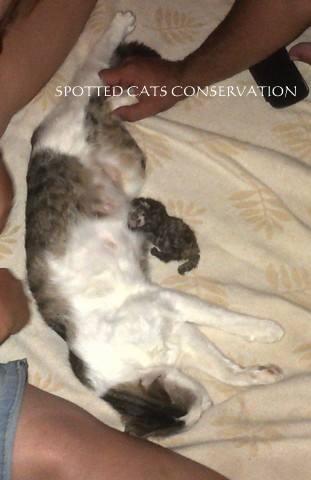 In 24 hours the world lost 2 fighters: a great human being, Nelson Mandela ("Madiba") but also our tiny little black-footed cat kitten. The surrogate (domestic) mothercat did an excellent job and the first days the weight increased but sadly the last 2 days he got it bad and stopped drinking. Beauty gave birth to this kitten, a male, and to a second still born. She sadly didn't take care of the kitten the first day, as she was still in labour. That's why we decided to give it a go with the domestic mothercat, a much better option than bottlefeeding. The bond between two got closer, and also when the little one wasn't feeling well the mothercat licked him and gave him comfort. This afternoon he passed away, but we didn't want our firstborn to die without a name, so we thought Madiba was the perfect name for our little fighter, to honour him and also the icon Mandela. May they both rest in peace and find the road to freedom….forever!!!!!!
I have walked that long road to freedom. I have tried not to falter; I have made missteps along the way. But I have discovered the secret that after climbing a great hill, one only finds that there are many more hills to climb. I have taken… a moment here to rest, to steal a view of the glorious vista that surrounds me, to look back on the distance I have come. But I can only rest for a moment, for with freedom come responsibilities, and I dare not linger, for my long walk is not ended!
– Nelson Mandela –